Please send me information about this trip
Day 1: Arrive Lima Airport / Welcome to Peru!
Depending on the time of arrival, it's a short walk to airport hotel or 1 hour by car to the city center
Day 2: Fly Lima to Puerto Maldonado
Transfer to airport where you checkin for short flight to Puerto Maldonado. Local guide will be waiting at the airport in Puerto Maldonado. It's a short drive to the local office where you repack into a small duffle bag and store excess luggage. Then begin the 68-km road and river journey (23 km by bus, 45 km by boat). We use motorized fiberglass hull boat with high fuel efficiency to take us to the lodge, with reduction in negative impact. The river journey begins as your first introduction to the jungle, and upon arrival –after time to relax and enjoy the lodge- you will be escorted into the forest in the company of our trained guide. (Private bath, hot water & meals included -BLD)
Day 3: Discover Forest Trails and Wetlands
The first day in the rainforest begins on the trail system leading to Lake Condenado. We board canoes and search for local birdlife and native animals.
Forest lake systems are the best places to spot birds and wildlife. Return to the lodge where a homemade dinner awaits. (BLD)
Day 4: Into the Deep Forest
The next day we will go much further into the forest to visit the wetland system around Lake Sachavacayoc. The forests around this beautiful lake teem with birdlife, and are home to black caiman and endangered giant river otters. Back at the Ecolodge in the afternoon, you will have lunch followed by time to relax in a hammock or explore our clearly marked trail system independently. (BLD)
Day 5: Rain Forest Lodge to Puerto Maldonado to Cusco / Walking City tour
We leave early for return journey downstream to Puerto Maldonado, where you will be transferred to the airport for flights to Cusco. Adios guide will be waiting in airport holding a sign with your name, to transfer you to hotel for check-in followed by guided walking tour of the city center. The schedule is flexible to allow you time to adjust to the altitude. (B)
Day 6: Cusco Outskirts Historical Tour / Free Afternoon in Cusco
08:30 AM guide will pick up from your hotel and drive 15 minutes to the tranquil terraced rocks of Tambomachay ruins (meaning guest house).  See Inca aqueducts, waterfalls and canals, where it is said the emperor came to bathe and perform religious rites in the water. Choose to walk 7 KM through local farms (or drive on paved road) to the mysterious Qenco temple ruins where sacrifices and mummification took place. Continue closeby to the ruins of Sacsayhuaman, one of the most significant archaeological legacies of the Incas. Due to the complexity of the layout of the mega blocks of stone, some larger than a car, the construction of Sacsayhuaman lasted more than 50 years and employed over 20,000 men in the construction. Return to hotel. Dine in restaurants of your choice. (B)
Day 7: Sacred Valley Tour By Car / Aguas Calientes
08:30 AM guide will pick you up for 30 minute drive to Chinchero where you meet Qechua weavers who demonstrate the art of Andean hand-made textiles. Continue by car to Moray and the Inca Greenhouse ruins to explore the sophisticated botanical practices of the ancient Incas. Then drive to the oldest still-occupied village with a stop for dinner before you board the evening train for 1 hour 45 minute ride through the Urubamba Valley to Aguas Calientes. Walk to hotel for check-in (option for short hikes during the day if desired). (B)
Day 8: Machu Picchu - Cusco
After breakfast in your hotel, you meet up with your Adios guide and board the shuttle bus (earliest is 5:15 am) to arrive at main entrance to Machu Picchu National Park anytime after opening at 6 am. Begin guided tour for up to 3-4 hours. Option to hike Huayna Picchu if tickets are available and you ask us to purchase in advance. Exit the park and take the shuttle bus back to Aguas Calientes where you stop for lunch if time permits. Then walk to the station for afternoon train to Ollantaytambo, where our driver will be waiting. Continue 2 hours by van to Cusco. Arrive hotel in Cusco about 4-5 hours later. (B)
Day 9: Explore Cusco on Your Own
Enjoy free time in the historical city center. Museums, markets and restaurants are within walking distance. Send out laundry at your hotel. (B)
Day 10: Cusco to Puno by Tourist Bus
6:20AM. Driver will arrive at hotel for pickup and transfer to station for 7 am tourist bus. Begin full day ride through the beautiful highlands with stops at the "Sistene Chapel of the Andes," known as Andahuaylillas, and Raqchi ruins. (Entry to the sites is optional. Buy tickets when you are there. About $12-15 USD pp.) Buttet lunch stop is included. Arrive Puno bus station where local driver will be waiting to transfer to hotel. Local guide will meet you in the hotel lobby or call by phone at 6 pm for pre-trip briefing. Walk to local restaurant of your choice for dinner. (B)
Day 11: Day trip to Islands & optional overnight homestay with Aymara family
At 06:30 AM Depart hotel to docks where you board covered boats with your private guide for 30 min trip to Floating Reed Islands. Continue to Taquile Island for lunch. (cost of lunch not included) Drop off at Luqina Peninsula with your private guide for overnight Homestay with local family (simple meals included: soup, fava beans/quinoa/rice or potato dish/hot tea. Bread and tea for breakfast. Coffee drinkers should bring packets of instant for breakfast if desired). Overnight in private cottage with private bath. Hot water possible by on-demand heater attached to shower head. Sink has only cold water tap. Bring drinking water or purifier. Headlamp/flashlights are helpful. (B)
Day 12: Return to Puno overnight
Hang out with local family on the farm/in the home, or hike to nearby sights. Afternoon pickup by boat to return to Puno by 4-5 pm. Transfer to hotel. (you will have local guide with you during the activities) (B)
Day 13: Puno to Lima
Transfer from hotel for 45 minute ride to airport in Juliaca at least 3 hours prior to scheduled flight to Lima, where you make international connection. (B)
Here's the only thing you need:
a valid passport that does not expire within 6 months of your travel dates

a roundtrip ticket to Lima, Peru

optional Yellow Fever vaccination recommended for visitors to Amazon rain forest 

a lot of sugar from Daddy

Tour Options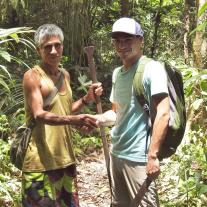 Frequently Asked Questions
Will I get altitude sickness?
It's common for most people coming from sea level to experience at least mild symptoms of altitude sickness when they arrive in Cusco, which is 11,000 ft/3430 m above sea level.  Age is not a factor for the severity of symptoms one can experience.  But fitness can be. Symptoms vary from person to person, but can include:
-headache
-nausea
-insomnia
-lethargy
-loss of appetite
Treatments may include:
-OTC pain reliever - bring your own favorite remedy for pain relief
-Oxygen. Most hotels have oxygen tanks in their lobbies and guides will carry small tanks of oxygen on hikes.  Some local pharmacies sell an individual size O2 tank for personal use.
-Coca Leaf. Locals believe that drinking coca leaf tea will help and you will find the tea leaves readily available in hotel tea bars as well as restaurants. 
-Water.  Drink extra to keep your blood flowing freely.  Dehydration leads to sludgy blood and may contribute to your discomfort.
-Diamox. (AKA "Acetazolamide" is a diuretic or "water pill") can be purchased by prescription in some western countries or over the counter in Peruvian pharmacies. 
-Treatments may alleviate the symptoms as you adjust in the first 24-48 hours.  But it's not likely that breathlessness when climbing steps or stairs will completely disappear, no matter how you treat it.  If other symtoms do not show signs of improvement within 24 hours of your arrival, please notify your travel companions or guide so s/he can monitor your progress.  In rare occasions, individuals may need to seek medical attention. 

Is it safe to drink the water?
Tap water in Lima, Cusco and other larger cities is consumed by local people every day.  But is it safe for you?  There's only one way to find out and we suggest that you not drink the tap water or use it to brush your teeth.  Bottled water is cheap and available everywhere including small towns and villages.  We support Travelers Against Plastic to reduce the use of disposable water bottles and encourage you to bring a purification device to make your own safe drinking water.  The device should be rated to purify water from microbes and viruses, not just for taste.  Purified drinking water is provided on all the multi-day hikes and during your stay in the Amazon jungle lodges.  Please bring your own water to begin the activity.
Should I travel to South America if I have a life-threatening allergy?
We've learned that there are different kinds of allergies; from hayfever to insect stings.  IF YOU HAVE A LIFE-THREATENING ALLERGY TO ANY FOOD, INSECT, MEDICATION OR NATURAL ELEMENT, WE REQUIRE WRITTEN, ADVANCE NOTICE WITH FULL DESCRIPTION OF THE ALLERGEN AND THE TREATMENT.  We reserve the right to require a doctors written approval for you to travel or ask you to provide your own treatment remedy and plan. And we ask you to notify your guide during your first meeting.  In rare circumstances we may choose to reject your reservation if we feel that your condition is beyond the scope of the training of our guides or may negatively impact other travelers.  Epi-pens are only useful in areas where you are close to medical services like Lima or Cusco.
What is the best way to travel between Lima and Cusco?
We recommmend flying between the cities because other means requires more time or is not practical for short vacations.  There is no train service between Lima and Cusco.  And while there is bus service, the drive is almost 24 hours long over paved, but winding mountain roads. There is no speedy highway.  The cost of round-trip air tickets varies from around $250 pp on the domestic carriers, including STAR PERU AIRLINES and PERUVIAN AIRLINES, to $450 pp on LAN AIRLINES and somewhere in-between on TACA (recently merged with AVIANCA) AIRLINES. The majority of the flights between the cities occurs in the morning to mid-day hours.  Afternoon flights taper off by 5 pm and there are no evening flights in either direction due to mountain weather conditions.
Where should I stay if my international flight arrives in Lima in the evening?
There is only one hotel at the Lima airport.  The Wyndham Hotel is connected to the arrivals terminal by a skybridge on the 2nd floor.  It takes literally 2 minutes to walk from the terminal to the lobby of the hotel.  The hotel is expensive by Peruvian standards (in excess of $250 per double room per night). We've seen good rates on booking.com and hotels.com  The hotel will accommodate as many as 3 to a room, but not 4. 
This hotel is best for groups who arrive in Lima late evening and plan to depart again by air the next day.  For groups planning to stay in Lima, it's best to pre-arrange a transfer to a hotel outside the airport, unless you don't mind paying the "gringo rate" when you negotiate on your own. The travel time is about 45 minutes each way when the traffic is moderate.  And the cost ranges from $35 each way and up.  If your group is larger than 3 persons, you may need a transfer in a mini-van or two taxis. 
Do I need vaccinations to visit Machu Picchu?
The altitude of Machu Picchu is 8000 ft/2440 m and higher.  Disease-carrying vectors do not thrive at higher elevations.  US passport holders are not required to get Yellow Fever vaccinations or prophylactic Malaria treatments.  Although there have been no recent cases of Yellow Fever in Peru, some countries, including the US, recommend that visitors get Yellow Fever vaccinations prior to visiting the Amazon Rainforest including Tambopata Reserve or Manu National Reserve.  We recommend that travelers check the regulations for re-entry for any countries they will pass through after leaving Peru, Bolivia or Ecuador.  Bolivia requires all foreigners to have proof of yellow fever vaccination upon entry if you plan to travel to the Bolivian Amazon jungle. (Some countries including Australia, require their citizens to get yellow fever vaccination if they enter Peru, even if they are only visiting the higher elevations) As these regulations may change from time to time, it is the responsibility of travelers to consult their own government health departments for up to date and relevant information.
This Adventure Includes
English-speaking knowledgable local guides
Airport transfers
All ground and marine transportation (cars, vans, buses, trains boats)
Shared excursions in Amazon and Lake Titicaca (small groups up to 15 ppl)
Ride in 20' motorized canoes and small double-decker mortorized boats
3 * Hotel/lodge accommodations/private bathroom, including Peruvian breakfast buffet
1 Entry to Machu Picchu National Park
1 Entry to all the sites as mentioned in the itinerary
    
Not Included
Domestic flights (3 legs) We book flights from LIM-PEM, PEM-CUZ, JUL-LIM / cost not included / estimated $500-$600 pp for all
International airfare to and from Lima, Peru
Lunches or dinners except where noted (BLD)
Bottled drinking water or other beverages (except in the Amazon lodge)
Tickets to hike Huayna Picchu or Machu Picchu Mountain - if available (add $85 USD pp)
Permit for 1 Day Inca Trail Hike (add $75 USD pp)
Tips at your discretion
Travel insurance
Entry tickets to Sistene Chapel of the Andes and Raqchi ruins (on the way from Cusco to Puno) Buy on site for approx $12-$16 USD pp
Lunch on Takile Island (about 20 soles pp - no USD accepted)
Notes
It's 13 days and 12 nights plus 1 day of travel to get home.  Total time travel 14 days.  You are paying for 13 days. 
Private trip based on your preferred travel dates. Minimum of 2 people
For most ages and abilities
Best season to travel is April through October
Optional activities:  hike 1-day or 4-day Inca trail, or add another day for an overnight homestay on Lake Titicaca
Cultural tours and activities for special interests can be included:  photography, textiles, active travelers, families, seniors
Flexible: add day hikes, picnics, cooking classes, indigenous culinary activities, hike to Huayna Picchu
If you have more time, visit Bolivia Salt Flats in 3-5 days