Please send me information about this trip
Day 1: Arrive Lima. Welcome to Peru!
Our driver will meet you at the airport in Lima, Peru and transfer to your hotel (45 minutes). Most flights arrive late in the evening. 
Day 2: Lima
Walk through the main streets, squares, and avenue of the city. Begin with Parque de Amor (Love Park) in Miraflores, with a spectacular view of the Pacific Ocean. Then you'll have a panoramic view of the Huaca Pucllana, the ceremonial center of the Lima culture. Continue to Plaza de Armas, where you'll find the Government Palace and City Hall. Visit the Cathedral and explore the Convent of Santo Domingo. (about 3 hours) Enjoy the rest of the day at your leisure.
Day 3: Lima - Nazca
The early bus will take us to Paracas - National Reserve Park and then to the clear, blue waters of the Ballestas Islands, teeming with wildlife including sea lions and many varieties of birds. In the afternoon we will arrive in Nazca for our overnight.
Day 4: Nazca - Arequipa
We'll board our flight for the best view of the Nazca lines, which is from the air.  Later that day we go to Chauchilla, (a pre-Inca cemetery).  We take an overnight bus to Arequipa.
Day 5: Arequipa
This is an easy day in Arequipa and after a good rest, we will tour the old monastery of Santa Catalina. Then we'll introduce you to our ancient friend "Juanita," one of the last Inca mummies found on Ampato Mountain.
Day 6: Arequipa - Puno
Fly to Juliaca and on the way to our hotel in Puno, we will visit the tombs of Sillustany (an old Inca and pre-Inca cemetery).  (option to travel overland by tourist bus for reduced rate)
Day 7: Puno - Uros Islands - Takile Island
After an early breakfast, we board our motor boat to travel to the Floating Reed Islands (Los Uros) where we learn how totora reed is used to build livable space and canoes. Then on to visit Takile Island, where the men are renowned knitters. After a divine homemade luncheon and a walking tour we return to Puno by boat.
Day 8: Puno - Cusco
Our bus follows the roadway as it rambles through the countryside with stops to explore the Pukara Museum, (pre-Inca site) Racchi (pre-Inca ruins) and Andahuaylillas (colonial church). Includes a stop for lunch offering a buffet of tempting Peruvian cuisine. 5 PM: Arrival and overnight in Cusco.
Day 9: Cusco
We'll enjoy a walking tour of Cusco for an easy day.  We'll visit La Plaza de Las Armas in the center of Cusco and museums including the Cathedral and Koricancha, the Inca Temple of the Sun. In the afternoon, you will enjoy an escorted, guided tour of the archaeological ruins of Sacsayhuaman, Quenco, Pucapucara and Tambomachay.
Day 10: Cusco - Ollantaytambo
An early start will take us through the Sacred Valley of the Incas, on our way to Chinchero, famous for hand-dyed and woven fabrics.  We will stop in Pisac to enjoy the beautiful market and maybe do a little shopping.  Maras and Moray, the salt ponds are on the itinerary for the afternoon before we arrive at our hotel in Ollantaytambo.
Day 11: Ollantaytambo - Machu Picchu
After our Peruvian buffet breakfast, you will visit the Ollantaytambo ruins, then board the train for a 2 hour ride to Aguas Calientes for a quick check-in at the hotel before our final ride up to the Machu Picchu National Park. Your guide provides a private, guided afternoon tour (which is the best time to avoid crowds at Machu Picchu) before returning to Aguas Calientes for the night.
Day 12: Aguas Calientes - Cusco
You can choose to return to the Machu Picchu ruins for further exploration or you can stay in Aguas Calientes to enjoy a bath in the hot springs or do some shopping.  Return to Cusco by train in the afternoon.
Day 13: Cusco
Whether you choose to spend a relaxing day wandering around Cusco or a busy day finishing your shopping, the choice is yours.  Enjoy a farewell dinner with your guide and companions.
Day 14: Cusco - Lima
After breakfast, we will take you to the airport where our services conclude. You will fly one hour to Lima for your connecting flight to your next destination or your home.
Choose your dates, then contact us for availability.  Please include the time of year you plan to travel, the number of people in your group and the title of the trip you are interested in.

Includes all accommodations in 3* hotels with private bath
Includes private transportation and transfers as described
Includes full-time, English-speaking guide
Includes trains, buses and boats
Includes private, guided tours to all the destinations as described
Includes single entry fees to all the sacred sites and archaeological tours listed
Does not include.
Tour Options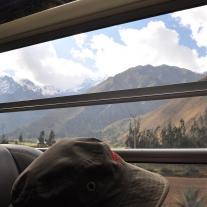 Frequently Asked Questions
Coming soon! Send your questions to info@adiosadventuretravel.com.
This Adventure Includes
All accommodations in 3* hotels with private bath
Ground transportation for activities
Shared excursion in small motorized double-deck boat on Lake Titicaca
Airport transfers as described
Full-time, English-speaking guide
Trains, buses and boats
private, guided tours to all the destinations as described
Single entry fees to all the sacred sites and archaeological tours listed
Not Included
International flights to / from Lima, Peru
Domestic flights - from Arequipa to Juliaca $234 USD pp (Puno) (subject to change)
Tourist bus from Arequipa to Puno - $44 USD pp (subject to change)
Domestic flights - Cusco to Lima $200 USD pp (subject to change)
Lunches, dinners, and bottled water
Tips at your discretion
Travel insurance
Nazca flyover - $132 pp (subject to change)
Notes
Upgraded hotels available upon request