Please send me information about this trip
Day 1: Arrive Lima. Welcome to Peru!
Most fights arrive in Lima in the evening. Transfer to hotel for overnight.
Day 2: Lima - Cusco
Return to Lima airport for 1 hour/20 min flight to Cusco, where your guide will be waiting to transfer you to your hotel. Begin a walking tour and introduction to local Peruvian culture and ancient Inca civilization with legendary stories and a visit to the main Plaza de Armas, once considered the center of the Inca Empire, and where the statue of King Pachacutec, whose brilliant vision led to the design and building of Machu Picchu, greets everyone. Continue on foot through authentic narrow Inca streets where you explore the historical city including markets and Coricancha Temple, also known as the "Golden Temple of the Sun." See the remarkable achievements of ancient Peruvians that include stone arches, Inca walls, cobbled streets, and many examples of exotic architecture. Observe the impact of colonial invasion and how the collision of two very different societies fused into one enchanting hub of modern Peruvian culture.  Overnight in hotel.  Meals in the restaurants of your choice.
Day 3: Sacred Valley of the Incas - Ollantaytambo
After breakfast, our guide and driver pickup from your hotel to begin a full day exploration of the Sacred Valley. Your first stop is in the village of Chinchero, where local Quechua women demonstrate the ancient Inca art of weaving and dyeing. Continue to the mysterious ruins of Moray, where the Inca embellished several unusual geologic sinkhole formations to create a terraced landscape masterpiece. Its purpose has been debated for decades since it was rediscovered from the air in 1931. Then drive to Maras salt ponds - a cascade of brown earth and white salt from an actively flowing underground stream that evaporates and pools in small terraced ponds on the surface above. Each pond is owned and harvested by a local family. Finally arrive at your hotel in Ollantaytambo where you prepare for the 1 Day Inca Trail hike. 
Day 4: 1-Day Inca Trail Hike - Machu Picchu - Aguas Calientes
After early breakfast, walk to the station with your backpack and board an early train for 1 hour ride to KM 104. The train stops so you can you jump off, then cross the bridge over the Urubamba River. You pass through the checkpoint to begin the 12KM/7.5m hike on one small section of one of the most famous networks of trails in the world. For the next 5-6 hours you will tread in the footsteps of the ancient ones, gradually hiking up the canyon on Inca paths and short stone steps to the ruins of Winay Wayna. Unlike Europeans, the Incas used a road system that included steep stone steps instead of lengthy zigzag switchbacks. This reduced the amount of road building needed and was an efficient way to travel on foot with llamas who were adapted to higher altitudes in the Andes mountains. This was critical to the expansion of the empire. This system was a hindrance to Europeans and armies mounted on horses as they could not negotiate the steep steps as well as switchbacks. Pass by waterfalls and lush landscape of the cloud forest as you make your way to Inti-Punku (Sun Gate) for your first glimpse of the famous citadel of Machu Picchu. Descend another 45 minute to one hour stopping for photos before exiting the national park. Board shuttle buses that run every 10-15 minutes for 25 minute ride to the village of Aguas Calientes. Walk to hotel for check in, then enjoy dinner in a local restaurant.
Day 5: Machu Picchu Tour - Cusco
Meet up with guide and take shuttle bus to the main entry of Machu Picchu. (backpacks can be stored at the hotel) Enter for 2-3 hour guided tour, to explore the structures, terraces and temples of the ancient citadel. By 12 Noon, take shuttle bus back to village for quick lunch then take train to Ollantaytambo where our driver will be waiting to take you final 2H by car to Cusco. Overnight in hotel.
Day 6: Day of Leisure in Cusco
It's your choice to visit museums, markets and restaurants, or wander the old Inca streets as you explore the city on your own.
Day 7: Cusco - Puno
After breakfast, we board our comfortable tourist bus for the day-long ramble through the Peruvian highlands on your way to Lake Titicaca. Includes stops to explore Andahuaylillas, known as the "Sistine Chapel of the Andes," and Raqchi ruins. Includes a break for lunch offering a buffet of tempting Peruvian cuisine.  Arrival and overnight in Puno.
Day 8: Puno - Takile
After our Peruvian buffet breakfast, we transfer to the docks to board our motor boat to visit the Floating Reed Islands of Uros to learn about the Aymara culture. Then on to the island of Takile, where the talents of the local men are best exemplified by their knitting skills. Lunch is a sampling of the incredible local cuisine followed by a walking tour and return to our boat. Finally, back to Puno in time for dinner in a local restaurant of our choice.
Day 9: Puno - La Paz, Bolivia
We take the local tourist transportation to the border crossing, then continue to the quaint lakeside town of Copacabana where we meet up with our local guide. From there, we get a glimpse of another way of life as we traverse the countryside on the way to La Paz. Thor Heyerdahl's Bolivian partner, and reed-boat building teacher, Paulino Esteban, who was the inspiration for the famous Kon Tiki expedition, built a small school on the edge of Lake Titicaca where young people study and learn the essentials of reed-boat bulding. Continue to La Paz for dinner and overnight.
(note: visas are no longer required for US citizens to enter Bolivia)
Day 10: Tihuanaco
After breakfast, guide will pickup from hotel and drive about 1.5 hours to the archaeological complex of Tiwanaku ruins for a private guided tour of the subterranean temple, megalithic blocks and monumental structures of the pre-Colombian settlement once a thriving empire and administrative captial of a major political state. Return to La Paz and if time permits, you can explore markets and neighborhoods of the old city. 
Day 11: La Paz - Lima
We transfer you to the airport at least 3 hours prior to your scheduled departure for our farewell, the conclusion of our service and your flight to Lima or other international destination.
Tour Options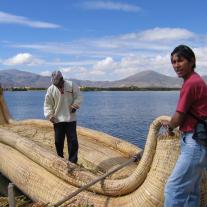 Frequently Asked Questions
Coming soon! Send your questions to info@adiosadventuretravel.com.
This Adventure Includes
3* accommodations with private bath
private transportation as described - boat service, train, private vehicle, tourist bus
full-time, English-speaking guide 
train tickets and single 1-day entry to Machu Picchu
private, guided tours to all the places as described 
Inca Trail permits (optional)       
Not Included
Any flights (we can book domestic flights and we can help you search for international flights if requested)
Border visa (US citizens $135 USD cash)
Lunches/dinners
Travel insurance
Tips
Notes
Bolivia may require entry visas or yellow fever vaccination
Itinerary subject to change
Extend your trip to Salt Flats for 2-4 days