Please send me information about this trip
Name of Trip
Click Link for Info

Open Departure Dates Every Month

1st Monday 

2nd Monday

3rd Monday 

4rd Tuesday 

Every Tuesday

Join these groups

May 18-22

 
 
 
 
(Any of these trips and others can be booked as private departures. Link to see more trips) 
How it works:
-Minimum is 2 people in double room. Maximum 8 people per group
-Single travelers can join as long as they are not the only person in the group. 
-Single supplement charges apply to single room occupancy
-Hikes begin on Tuesday to allow time to acclimatize in Cusco before you hike
-No payment is needed until 60 days prior to arrival
-3*hotels with private bathrooms and breakfast included. Let us know if you would like to upgrade to 4* 
-Please arrive in Cusco, Peru no later than the morning of the first day of your itinerary. 
-Minimum age is 16 at time of travel. For families with younger children, we recommend setting up a private trip. 
-Arrive 1 or more days early, or extend 1 or more days after the trip
-Amazon jungle adventures (4Days/3Nights) can be organized before your trip to Machu Picchu. (let us know before you book any flights)
-Travel to Lake Titicaca (3Days/2Nights) can be added after your trip to Machu Picchu. (let us know before you book any flights)
-We do not book any flights. But we're here to help you if needed. Just ask.
-Allow 2 days to travel to Cusco, Peru
-International flights arriving Lima, Peru late in the day will require overnight in Lima. Wyndham is the convenient hotel with a short 3 minute walk from the terminal.

How to Contact our US Office:
Send an email through the contact button or to: info@adiosadventuretravel.com
Call or text Jacquie in Virginia at 757-714-6649 (SMS, What's App and Signal)
Here's what we need to know in your email:
-How many people in your group and what are their ages
-How many rooms you need and how many beds in each room (up to 3 people per room)
-The month, the beginning date on a Monday or Tuesday, depending on the trip or hike your want, and the name of the trip you are choosing
-Let us know if you would like to include extensions to the Amazon jungle, Lake Titicaca or Rainbow Mountain
Tour Options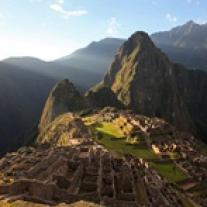 Frequently Asked Questions
Who can travel to Peru?
Healthy people of all ages are able to enter Peru with either proof of covid vaccination or proof of negative covid test within 72 hours of boarding the origin flight to Lima. Rapid antigen tests are not accepted. Check with your international airline as they are the gatekeepers of travel documents. Peru has been reviewing their covid restrictions at least once or twice every month since March 2021. We try to stay up to date and keep our groups notified if there are changes that affect their trips. It is up to each traveler to reconfirm the arrival protocols before they travel. 
What About High Altitude in Cusco?
Cusco is about 11,000 ft / 3350 m above sea level. Unless you are hiking, our tours are designed for people coming from sea level. You do not need to add extra days. Travelers who are planning to hike the easy 2-Day Inca Trail or other multi-day hikes should allow at least 2 days to acclimatize in Cusco. We can organize guided tours, or other activities to take advantage of this time to explore. Everyone is advised to drink extra water before arriving in Cusco to reduce the affects of high altitude. 
What you Need to Know About Passport Expiration Dates
The most important thing to do before planning a trip abroad is to check the expiration date of your passport. Passports are essential for buying entry tickets to Machu Picchu, train tickets and especially permits to hike the Inca Trail. Your passport must be valid for at least 6 months arrive your arrival date in Peru. If you plan to renew your passport it's essential that you tell us at the time you make your reservation. With advance notice, we can plan around travelers who need to renew their passports.