Please send me information about this trip
Visit two amazing destinations in one 10-day trip to South America. (not including 2 travel days. One on the front and one at the end.) The temperate climate of both the Andes Mountains and the South Pacific favors travel to Machu Picchu and Easter Island any time of year. 
Book three 1-way international flights: from your home to Lima, Peru; from Cusco, Peru to Santiago, Chile; and finally from Santiago returning to your home. A short local flight from Lima, Peru to Cusco can be easily booked. We will book your flights to and from Easter Island. The cost of the flights to Easter Island fluctuates and is not included in the quote.
Temperatures are about the same year round.
Day 1: Welcome to Cusco, Peru! / Best to arrive before 12N 
Adios guide and driver will be waiting for you. Transfer 15M to hotel followed by easy walking city tour. Your guide introduces you to local Peruvian culture and ancient Inca civilization with legendary stories and a visit to the main Plaza de Armas, once considered the center of the Inca Empire, and where the statue of King Pachacutec, whose brilliant vision led to the design and building of Machu Picchu, greets everyone. Continue on foot through authentic narrow Inca streets where you explore the historical city including markets and Qoricancha Temple, also known as the "Golden Temple of the Sun."  See the remarkable achievements of ancient Peruvians that include stone arches, Inca walls, cobbled streets, and many examples of exotic architecture. Observe the impact of colonial invasion and how the collision of two very different societies fused into one enchanting hub of modern Peruvian culture. Activities are flexible as you adjust to the altitude (11,000 ft)
Hotel: Cusco City Center
Day 2: Sacred Valley Tour by car / Hotel in Ollantaytambo
08:30 AM Pickup from hotel and drive about 30-40 min to Chinchero, home to the famous colonial style church and archaeological ruins and the backdrop for Qechua women & girls who demonstrate traditional dyeing and weaving. Continue 20 KM to the greenhouse ruins of Moray to learn about the sophisticated botanical practices of the Inca and how the plants were used for ceremonial purposes. Enjoy short hike around the sink holes. Then drive about 11 KM over dirt roads to Maras Terraced Salt Ponds. Here you learn how salt is harvested and the importance of salt for economic exchange since Inca times. If you like you can walk down with the guide and get up close to the ponds. Lunch will be in restaurant along the way. Each town offers its own unique view of life and traditions established long ago. Finally arrive in Ollantaytambo, the oldest still-occupied town in Peru where you visit the prominent ruins overlooking the Sacred Valley. These ruins are the last Inca stronghold when Emperor Manco defeated the Spanish in a famous battle in 1536. Checkin to local hotel. (B)
(pack in small overnight bag large enough for 1 overnight, and store excess luggage at hotel in Ollantaytambo while you go to Machu Picchu)
Hotel: Ollantaytambo Village
Day 3: Train to Machu Picchu / Afternoon visit of Citadel / Hotel in Aguas Calientes
After breakfast in hotel you will meet up with guide and walk 5 minutes to station where you board morning train (usually 7:45AM) for 2H ride to the village of Aguas Calientes. Here you will walk 5-10 minutes to your hotel for checkin and to drop your bags. Then enjoy lunch in the village. After lunch you take shuttle bus (30M) to Machu Picchu for private guided tour of the citadel (avg 2H). Return to the village for the evening and overnight. (B)
Hotel: Aguas Calientes Village
Day 4: Train to Ollantaytambo / Pisac Market / Return to Cusco
Meet up with guide and walk to station by 8:30AM to board 9AM train to Ollantaytambo. Adios driver will be waiting to take you 2H through the Sacred Valley to your hotel in Cusco stopping in Pisac village for dining and to enjoy the famous market. Continue one hour by car to your hotel. (B)
Hotel: Cusco City Center
Day 5: Fly Cusco to Santiago. Welcome to Chile! / Hotel SCL
These are the flights you should book: (subject to change by airlines)
Direct from CUS to SCL (3H:25 min) on T-W-F or on other days
Latam #2004 dep CUS 10:18AM / arr LIM 11:50PM and
Latam #641 dep LIM 13:52PM / arr SCL 18:27PM
Driver will be waiting to transport from Santiago airport - Hotel (B)
Hotel: Santiago City Center
Day 6: Day trip to Valparaiso / Hotel in SCL
9AM Transport to Valparaiso (1.5 hour) with guided city tour of Valparaiso and Viña del Mar. See cable cars, Pablo Neruda's house, seafood restaurants and sightsee the beaches,architecture and history. Return to hotel in SCL. (B)
Hotel: Santiago City Center
Day 7: Easter Island: Fly from Santiago (SCL) to Ranu Kau-Orongo / Museum / Tahai / Dance show
Flight from Santiago to Hanga Roa, Rapa Nui. 5 hours. Local guide will be waiting for you upon arrival. Transfer and check in to hotel. Visit Orongo Ancient Town. Located on the footsteps of Rano Kau Volcano Crater (with many lagoons inside), and on the side of the cliffs where the Tangata Manu ancient contest (Birdman cult) has been held with great views of the Motus Islands. Visit the Rapa Nui Anthropological Museum, close to Hanga Roa town. Sunset at Tahai ceremonial complex (the closest Moais to town) Polynesian dance show at the Kari Kari restaurant. (B)
Hotel: Hanga Roa
Day 8: Ahu Akivi / Caves / Anakena / Rano Raraku
AM. Guided tour by van to Ahu Akivi: Ceremonial platform where you find the only moai statues looking at the ocean. Visit to amazing caves with incredible pacific ocean vista, where the people of Rapa Nui used to look for shelter and places to hide. Anakena Beach. Lunch PM. Continue guided tour by van. Rano Raraku Volcano, the "industry" or quarry of Moais. This is where most of the Moais were built and you will see statues still in progress before everything stopped. With a captivating lagoon inside the crater. (B)
Hotel: Hanga Roa
Day 9: Ahu Tongariki / Flight back to Santiago (SCL) Hotel / Conclusion of Service
Visit to Ahu Tongariki at magical sunrise. These are the most famous Ahu, with 15 standing statues. Observe amazing colors of the ancient statues in the morning light.
Return to hotel for luggage followed by lunch on your own. Board flight to return to Santiago (SCL). Arrive Santiago and transfer to hotel for overnight in Santiago. Conclusion of service. (B)
Hotel: Santiago City Center
Day 10: **Free morning in Santiago / Transfer to airport at least 3.5H prior to scheduled departure (B)
**Many flights depart for the US in the evening which leaves you the day in Santiago. If you have time we can arrange city tour of SCL
Tour Options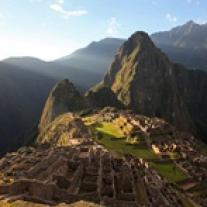 Frequently Asked Questions
It's common for most people coming from sea level to experience at least mild symptoms of altitude sickness when they arrive in Cusco, which is 11,000 ft/3430 m above sea level. Age is not a factor for the severity of symptoms one can experience. But fitness can be. Symptoms vary from person to person, but can include:
headache
nausea
insomnia
fatigue
loss of appetite.
Treatments may include:
OTC pain reliever - bring your own favorite remedy for pain relief
Oxygen. Most hotels have oxygen tanks in their lobby. Some local pharmacies sell an individual size O2 tank for personal use.
Coca Leaf. Locals believe that drinking coca leaf tea will help and you will find the tea leaves readily available in hotel tea bars as well as restaurants.
Water. Drink extra to keep your blood flowing freely. Dehydration leads to sludgy blood and may contribute to your discomfort.
Diamox. (AKA "Acetazolamide") can be purchased by prescription in some western countries or over the counter in Peruvian pharmacies.
Treatments may alleviate the symptoms as you adjust in the first 24-48 hours. But you cannot expect the feeling of breathlessness to completely disappear, no matter how you treat it. In rare cases, individuals may need to seek medical attention. Clinics are located in Cusco.
Is it safe to drink the water?
Tap water in Lima, Cusco, Santiago and other cities is consumed by local people every day. But is it safe for you? There's only one way to find out and we suggest that you not drink the tap water or use it to brush your teeth. Bottled water is cheap and available everywhere including small towns and villages. We support Travelers Against Plastic to reduce the use of disposable water bottles and encourage you to bring a purification device to make your own safe drinking water. The device should be rated to purify water from microbes and viruses, not just for taste. Purified drinking water is provided on all the multi-day hikes and during your stay in the Amazon jungle lodges.
What is the best way to travel between Lima and Cusco?
We recommmend flying between the cities because other means requires more time or is not practical for short vacations. There is no train service between Lima and Cusco. And while there is bus service, the drive is almost 24 hours long over paved, but winding mountain roads. There is no speedy highway. The cost of round-trip air tickets varies from around $250 pp on the domestic carriers, including LC PERU and PERUVIAN AIRLINES, to $450 pp on LATAM AIRLINES and somewhere in-between on AVIANCA AIRLINES. The majority of the flights between the cities occurs in the morning early evening hours. We don't recommend booking the last flight of the day due to the risk of delays because of mountain weather conditions.
Where should I stay if my international flight arrives in Lima in the evening?
There are no late evening flights from Lima to Cusco. And there is only one hotel at the Lima airport. The Wyndham Hotel is connected to the arrivals terminal by a skybridge on the 2nd floor. It takes literally 2 minutes to walk from the terminal to the lobby of the hotel. The hotel is expensive by Peruvian standards (in excess of $250 per double room per night). We've seen good rates on Booking.com and Expedia. And some visitors report that the best service is found by calling the toll-free number. The hotel will accommodate as many as 3 to a room, but not 4.
This hotel is best for groups who arrive in Lima late evening and plan to depart again by air the next morning. For groups planning to stay in Lima, it's best to pre-arrange a transfer to a hotel outside the airport, unless you don't mind paying the "gringo rate" when you negotiate on your own. The travel time is about 45 minutes each way when the traffic is moderate. And the cost ranges from $35 each way and up. If your group is larger than 3 persons, you may need a transfer in a mini-van or two taxis.
Do I need vaccinations to visit Machu Picchu and Easter Island?
Special vaccinations like Yellow Fever are not necessary unless your home country requires it for travel to South America. Travelers should consult their physicians to review and update their routine vaccinations. The altitude of Machu Picchu is 8000 ft/2440 m and higher in Cusco. Disease-carrying vectors do not thrive at higher elevations. US passport holders are not required to get Yellow Fever vaccinations or prophylactic Malaria treatments. We recommend that travelers check the regulations for re-entry for any countries they will pass through after leaving Peru,  (Some countries including Australia, require their citizens to get yellow fever vaccination if they enter Peru, even if they are only visiting the higher elevations) It is the travelers responsibility to consult appropriate authorities in their home country to determine their
This Adventure Includes
3* Accommodations with private bath and breakfast
Round trip train tickets to Machu Picchu
Round trip shuttle bus tickets to Machu Picchu
Transport to all activities
Airport transfers
Local English-speaking guide and guided tours
All entrance fees
Not Included
International flights (3 legs - Your HOME to LIM / CUS to SCL / SCL to your HOME)
1 way local flight from LIMA to CUSCO
Cost of roundtrip flights from SCL - IPC are not included in the quote. We will book those for you based on the rate at time of reservation.
Bottled drinking water / Dinners / Lunches (except where noted "L")
Gratuities (at your discretion) 
Drinks
Travel insurance
Notes
Trip can be reversed starting in Chile first and ending in Peru
There is 1 direct flight (3H/25M) each way between SCL and CUS on T-W-F (subject to change)
Upgrade hotels available upon request
Passports must be valid for 6 months after travel dates
7-Day Patagonia extension available. Best time from Nov - March