Please send me information about this trip
Begins and ends from any hotel in Cusco. It is not recommended to begin from hotels in the Sacred Valley because of the extra driving time.
5AM. Pickup from hotel by Adios driver in a private vehicle with an Adios English-speaking guide. Ask your hotel to provide box breakfast. We include box lunch and snacks with water to refill your own personal drinking bottle. The drive time is average of 4H  with restroom stops as needed on the way. Return by van about 4H to Cusco arriving by 5-6PM. 
Having a private guide is key to having safe and comfortable trip. Due to extreme high altitude over 16,500 ft/ 5000 m, it's important to wear warm layers, sturdy boots and socks, hats and gloves.
(no restrooms are available)
Choose the option which best fits the needs of your group:
Option #1 - No Hiking. Drive directly to a parking lot located near a viewing platform.
If you want to see the Bosque de Piedras, there is optional 45 minute hike uphill and 30 minute return hike (no mule rental available)
Option #2 - Hike to Vinicunca Pass. 
The hike is an average of 2H to go up, about 30 minutes at the vista, and 1H hike to go down. Mules may be available to rent one way only. (up). Anyone who is planning to rely on a mule to get there should not do this trip.
Not responsible for the weather. At high altitude the conditions can be cloudy, foggy, snowy and colors may not be visible. No refunds are available. Best season to go is dry season from April to November. 
Tour Options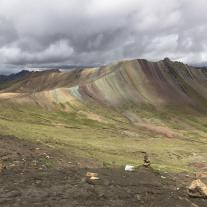 Frequently Asked Questions
Can we set up our trip to Rainbow Mountain any time we want?
The Rainbow Mountain hike is "open" every day. But because of the very high altitude, it's best if you schedule this excursion after your trip to Machu Picchu to allow as much time as possible for acclimatization.  It's most likely to be clear during the dry season from April to November. All trips depart Cusco early in the morning and return the same day. 
Why does this trip cost more than the trips you see for sale in Cusco city center?
The tour operators in the center are providing transportation to and from the Vinicunca pass trailhead in buses that hold from 15-40 people. They may include one assistant. They all leave Cusco at the same time and arrive at the trail head around the same time. We intentionally schedule our private trips earlier to get there before the buses and crowds. Our groups are in small vans with a private driver and an English-speaking guide. The quality of the experience is important to us. 
How many routes are there to Rainbow Mountain? Which one is best?
There are now at least 3 routes but only 1 route which does not require any hiking. Driving conditions vary from route to route and the larger buses are limited to the routes with bridges and roads to accommodate that size vehicle.
Are there restrooms available?
No
Can we arrange an overnight trip to Rainbow Mountain?
Yes. We can provide camping equipment, a trail chef, hot meals, and turn your trip into a 2 day excursion to the mountains. 
Can you pick us up from a hotel in the Sacred Valley?
No. This adds additional driving time, and extra expense to the transportation cost. It's best to begin and end in Cusco.
This Adventure Includes
private driver
private vehicle
private English-speaking guide
box lunch
snacks
1 refill drinking water
1 sports drink
use of trekking poles
Not Included
box breakfast
additional drinking water
mules are not available on this route because there is no hiking

 
Notes
There are at least 3 routes to Rainbow Mountain.
In case you choose a route that involves hiking, mules may be offered for rent by local people at a price that you can negotiate for. (We cannot guarantee mule availability. Anyone who thinks they will rent a mule instead of hiking should not go. Mule rental is one way)
Tip. Schedule the trip to Rainbow Mountain at the end of your trip to Peru to allow time to acclimatize to high altitude
Dress warmly. The weather can change suddenly.