Please send me information about this trip
NEW! Book Now Button takes you to WeTravel, a third-party booking platform where you choose your dates and book your trip instantly.
Or inquire about private reservations for any date.
Call or text our US Office 757-714-6649 or 757-270-9293
The first thing to know about Rainbow Mountain is that it is a range of mountains, not a single mountain. There is more than one Rainbow Mountain. If you want to see "the" Rainbow Mountain portrayed on Instagram, that one is called Vinicunca. The other route with "light" hiking is called Palcoyo. People who are capable of walking around Machu Picchu can walk around Palcoyo.  I described both routes below.
We let ou choose if you want to go to Palcoyo route with light hiking or Vinicunca with 2-3 hours of hiking. 
Checacupe Inca Rope Bridge. (can be added to either route)
One of the additional highlights of our 1-day trip to Rainbow Mountain is that we can include an extra stop at Checacupe Inca Rope Bridge and Colonial Bridge on the way back to Cusco. Add $20 USD per person cash for the entry fees. Adios tour guide will collect the additional funds when you are picked up.  Your return to your hotel in Cusco may be a little later. (add up to 1 additional hour)
Here's what you need to know about the day trip to Rainbow Mountain:
-The BOOK NOW button is for the Palcoyo Route with light hiking. If you want the Vinicunca route, send us an email until we get the new page set up!
-For most ages. Anyone who can walk around Machu Picchu should be able to explore Palcoyo on foot. 
-Due to the extreme high altitude,(16,000 ft,/4850 m) it's best to save the day trip to Rainbow Mountain until the end of your trip to Peru.
-Pickup and drop off is from any hotel in Cusco. It is not possible to pickup from hotels in the Sacred Valley as they are located in the other direction of the drive.
-Pickup time is 5AM and estimated return is 4PM. DO NOT book flights, trains or anything critical later the same evening, in case we are delayed in getting back to Cusco. That's just how it is. 
-Horses can be rented at Vinicunca for about 60-80 soles per person (CASH ONLY). The horses take you most of the way up, but you will need to hike the remaining 20-30 minutes to the vista. And the hike down can take at least an hour.
-There are no horses for rent at Palcoyo. But they are not needed.
-Day trip to Rainbow Mountain are in small groups up to 6 people with 1 private driver and 1 English-speaking tour guide. 
-Ask your hotel to provide box breakfast
Colors at the Rainbow Mountain. The vibrant images you see on social media are likely enhanced by editing software. The true colors of the Rainbow Mountain are hues of earthy tones created by the mineral content of the soil. The depth of color can be affected by the angle of the sun, the amount of cloud cover and other weather-related conditions. 
All our day trips to Rainbow Mountain are small, private groups. We believe that having a private guide is key to having a safe and comfortable trip. Due to extreme high altitude over 16,000 ft/ 5000 m, it's important to wear warm layers, sturdy shoes and socks, hats and gloves. By leaving Cusco at 5AM, our groups are likely to arrive at the parking areas before other groups and large buses. 
Rustic restrooms are available. Keep in mind that running water has "not a prayer," and regular maintenance is not likely. Sound like fun? Then you should keep reading.
Rainbow Mountain Palcoyo Route Day Trip:
5AM-4PM Altitude 16,000 ft. Begins and ends from your hotel in Cusco
Adios driver and English-speaking tour guide will pickup from your hotel in Cusco and begin driving 3.5-4 hours. You may stop in small villages on the way to use the restroom. (Ask your hotel to provide box breakfast) There are two routes to choose from for the Rainbow trip. 
Palccoyo - Light Hiking. Includes a drive through the stunning Red Valley up to the parking area. From there it's a short 10 minute walk up stone steps to a flat landing for your first view of the colored strata characteristic of the rainbow mountain. The locals have built a beautiful stone path that gradually goes up to a higher saddle to get closer to the view and access to enter the "Piedra de Bosque." (Stone Forest). There are no horses at this location. The amount of hiking you do is up to you. Anyone who is capable of hiking around the Machu Picchu ruins should be able to navigate the terrain.
If you prefer to hike the Vinicunca Pass send us an email with your dates and number of people. (this is the route you see on Instagram) Most popular and requires about 3 hours of hiking roundtrip. 2 hours up and 1 hour down. Horses/mules are available to rent. Wranglers will have their horses saddled and waiting for tourists to pay to ride 1 way up close to the viewpoint. Then you hike the remaining 20-30 minutes to see the wonder! When you rent a horse, (pay the wrangler in cash about 60-80 soles) the wrangler leads the animal while you ride. These animals are small, working farm animals, not steeds of speed and pedigree. The horse tack is very basic. Horses are not recommended for extremely large people. The horses and humans use different trails because horse hooves tear up the muddy terrain. Horses can be ridden one way. You're expected to hike back down.
Rainbow Mountain Climate/ Weather: 
conditions at high altitude are unpredictable and subject to change quickly. Your chances of seeing the rainbow are good during the dry season from April through December, but can't be guaranteed.
Keep in mind that the intense colors you see on social media are enhanced by editing software. Rainbow Mountain true colors are earthy and can be affected by sun and cloud conditions.
Not responsible for the weather. At high altitude the conditions can be cloudy, foggy, snowy and colors may not be visible. No refunds are available. Best season to go is dry season from April to November. 
Can you tie the knot on Rainbow Mountain?
Yes! We're happy to report that it is possible to arrange a shaman-escorted ceremony near the rainbow. 
Follow this link to read more
 about our 1-day wedding ceremonies for adventurous romantics!
Choose from two routes. One involves hiking and the other not so much. 
2-Day Rainbow Mountain and Qeswachaka Rope Bridge Mini-Adventure
We can turn the 1-day trip to Rainbow Mountain into a 2-day mini-adventure by combining it with a trip to
Qeswachaka Rope Bridge
. This bridge is part of the original network of old Inca roads. Every June, 4 local communities come together to replace the rope bridge. The bridge is open the rest of the year for visitors to explore. This trip includes 1 night in an authentic Qechua adobe house in a small village on the way. 
Day 1 - Drive from Cusco to Rainbow Mountain 3.5 hours through the picturesque Red Valley to the parking area. where you begin exploring on foot. After 1-2 hours of wandering, you return to the van and begin the drive to a small Qechua village stopping for picnic lunch in a picturesque setting on the way. 
Settle into the (unheated) adobe home which is now used as a "tambo," where you experience 1 night in an authentic qechua village. 
Overnight in unheated adobe house in warm beds. Flushing toilets, but no hot water. Hot dinner inlcluded.
Day 2 - After breakfast in the house, you begin a 2 hour drive to the Qeswachaca rope bridge. Hike around the bridge, then drive back to the adobe house where your lunch will be waiting.
Return to your hotel in Cusco by 5-6PM.  Includes meals: 1B + 2L + 1D) 
For information on cost and scheduling, please contact jacquie @ adiosadventuretravel.com  / 757-714-6649
The cost for a private 2-day trip for 2 people is $492 each. 
Includes: private van, driver, English-speaking guide, chef, meals 1-breakfast + 2 lunches + 1 dinner, drinking water refills, entrance fees, 1 night accommodation, use of trekking poles, bedding
note: house has electricity and cold water hand pump. It is not heated and there are no hot showers. 
Not included: tips, travel insurance, Cusco hotels, 
Tour Options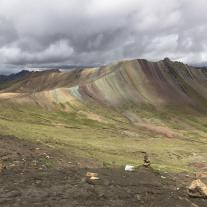 Frequently Asked Questions
Can we set up our trip to Rainbow Mountain any time we want?
The Rainbow Mountain hike is "open" every day. But because of the very high altitude, it's best if you schedule this excursion after your trip to Machu Picchu to allow as much time as possible for acclimatization.  It's most likely to be clear during the dry season from April to December. All trips depart Cusco early in the morning and return the same day. 
Why does this trip cost more than the trips you see for sale in Cusco city center?
The tour operators in the center are providing transportation to and from the Vinicunca pass trailhead in buses that hold from 15-40 people. They may include one assistant. They all leave Cusco at the same time and arrive at the trail head around the same time. We intentionally schedule our private trips earlier to get there before the buses and crowds. Our groups are in small vans with a private driver and an English-speaking guide. The quality of the experience is important to us. 
How many routes are there to Rainbow Mountain? Which one is best?
There are now at least 3 routes but only 1 route which does not require any hiking. Driving conditions vary from route to route and the larger buses are limited to the routes with bridges and roads to accommodate that size vehicle.
Are there restrooms available?
Kind of. There's no plumbed facilities. But there are toilets that can be flushed with buckets of water. Maintenance is sketchy. 
Can we arrange an overnight trip to Rainbow Mountain?
Yes. There is a 2-day mini-adventure that includes Rainbow Mountain and Qeswachaka rope bridge.
Can you pick us up from a hotel in the Sacred Valley?
No. This adds additional driving time, and extra expense to the transportation cost. It's best to begin and end in Cusco.
This Adventure Includes
private driver
private vehicle
private English-speaking guide
box lunch
snacks
1 refill drinking water
1 sports drink
use of trekking poles
Not Included
box breakfast
additional drinking water
mules are not available on the Palcoyo route because they are not needed

 
Notes
There are at least 3 routes to Rainbow Mountain.
In case you choose a route that involves hiking, mules may be offered for rent by local people at a price that you can negotiate for. (We cannot guarantee mule availability. Anyone who thinks they will rent a mule instead of hiking should not go. Mule rental is one way)
Tip. Schedule the trip to Rainbow Mountain at the end of your trip to Peru to allow time to acclimatize to high altitude
Dress warmly. The weather can change suddenly.