Please send me information about this trip
Day 1: Arrive Lima - Fly Lima to Cusco 
After clearing customs in Lima, you will board your domestic flight to Cusco where your guide will greet you at the airport and transport you to your hotel. Once settled and if time permits, you will enjoy a walking tour of Cusco followed by dinner in the restaurant of your choice. City Tour begins at the great temple of the sun, known as The Golden Qoricancha, (closed on Sundays) located a few meters from the Plaza de Armas. This impressive temple is considered a sacred and treasured Inca structure. It is said that the temple housed a large group of Inca priests responsible for worshiping  the moon and the sun gods. And at the time the conquistadors arrived, the walls were covered with solid gold and so many gold ornaments and gold  jewelry, that it took weeks to melt all the gold for shipment to Spain. We continue the tour stopping along the ancient Inca streets, to the divine Cathedral of Cusco, considered by many to be one of the most splendid in all of South America. Tour ends at your hotel. (flights arriving Lima late evening can overnight at Wyndham hotel at the airport.  Walk from terminal to hotel lobby over short skybridge)
Day 2: Cusco Outskirts Tour (by foot or by car)
You continue your exploration of the complex urban center of the Incan empire with the Cusco city outskirts tour. Begins with 15 minute drive to the tranquil terraced rocks of Tambomachay ruins (meaning guest house), with aqueducts, waterfalls and canals.  It is said that the Inca emperor came here to bathe and perform religious rites in the water. Choose to walk 7 KM through local farms (or drive on paved road) to the mysterious Qenco temple ruins where sacrifices and mummification took place. Not far are the ruins of Sacsayhuaman, one of the most significant archaeological legacies of the Incas. Due to the complexity of the layout of the massive blocks of stone, some bigger than a car, it is said that the construction of Sacsayhuaman lasted more than 50 years and employed over 20,000 men in the construction.  For those who choose to walk, the terrain is mostly descending through local farms and a beautiful valley with views overlooking the city. Allow 3-4 hours by car / 4-5 hours by foot. Return to hotel. (B)
Day 3: Cusco - Sacred Valley - Ollantaytambo 
08:30 AM Your day starts with the usual Peruvian buffet breakfast before we start our van ride to explore the Sacred Valley. Pickup from hotel and drive about 30-40 min to Chinchero, home to the famous colonial style church and archaeological ruins and the backdrop for Qechua women & girls who demonstrate traditional dyeing and weaving.  (One of the best indigenous markets is on Sunday in Chinchero) Continue 20 KM to the greenhouse ruins of Moray to learn about the sophisticated botanical practices of the Inca. Then drive about 11 KM over dirt roads to Maras Terraced Salt Ponds. Here you learn how salt is harvested and the importance of salt for economic exchange since Inca times. Each town offers its own unique view of life and traditions established long ago. Finally arrive in Ollantaytambo, the oldest still-occupied town in Peru where you visit the prominent ruins overlooking the Sacred Valley.  Board 19:00 evening train for 1.5 hour ride through Urubamba valley to the village of Aguas Calientes where you walk 10 minutes to your hotel for checkin.  (B)
Day 4: Ollantaytambo - Machu Picchu 
Our day begins when we catch a bus to travel 30 minutes up the switch-backs to the entry of the Machu Picchu National Park. Your guide assists you into the park and escorts you through the ruins while telling amazing stories about the history and lore of the plants, animals and culture that once inhabited the sacred space. Take the bus to return to Aguas Calientes where you board the train to Ollantaytambo. Continue by car to Cusco for the night.
Day 5: Cusco - Guayaquil (or Quito), Ecuador 
Transfer from hotel to the Cusco airport for your flight to Ecuador. All flights stop in Lima for international connections to Quito or Guayaquil. Arrive in Ecuador where you board the hotel shuttle bus to your hotel for the night.
Day 6: Ecuador Mainland to San Cristobal Island, Galapagos
Transfer to airport for checkin at least 3 hours hours before scheduled departure to San Cristobal Island. Welcome lunch with guide / checkin to hotel /checkout snorkel equipment which you will take on every island. Explore Frigate hill, interpretation center and sea lion beach. Dinner is in restaurant of your choice. (BLD) 
Day 7: Day boat trip to Kicker Rock - Snorkeling 
08:00 AM Guided boat trip for snorkeling at Kicker Rock/ sea lions, rays, hammerhead sharks.  2:30 pm /Return to hotel for free afternoon. Guide will brief you about air taxi flight next day / 25 lb weight limit combined weight of checked bag & carryon (BL)
Day 8: Fly to Isabela Island - Snorkel & Walk around Tintoreras
Transfer to airport / Small plane to Isabela 45 min / Driver will meet you & transfer to hotel. Lunch on your own. Pick up for transfer to dock about 2:30 - 2:45 pm to board boat to Tintoreras Islet to explore on foot. Here, white-tip sharks known as "tintoreras" come daily to rest on the bottom of the sea. We can also observe penguins, sea lions, and marine iguanas, as well as go snorkeling with sharks and other colorful tropical fish.  Return to hotel where you walk to dinner. (BL)
Day 9: Day boat trip to The Tunnels - Snorkeling
After breakfast, pickup for transfer to the dock for day boat trip to The Tunnels. Includes box lunch. Striking geological formations are home to collection of sea creatures including Blue Footed boobies, sea horses, star fish, sea lions, hammerhead sharks. Trek on lava arches & bridges then 2 snorkels.  Return to dock and transfer to hotel by mid-afternoon. Free afternoon to explore village. (BL)
Day 10: Boat Transfer to Santa Cruz - Tour of Highlands - Dine on Kioska Street
6 am Early speed boat (2.5 hrs) to Santa Cruz Island / Guide takes you to hotel for checkin, then eat breakfast.  Begin tour of highlands by car. Bring shoes/strapped sandals (not flipflops) and hat, sunscreen, bottled water. Return to hotel. Walk to small local restaurants on KIOSKA STREET for fresh seafood.  (BL)
Day 11:  Transfer to Airport - Flight to Mainland - Make International Connection
Transfer to airport  (1 hr/ 20 min) at least 3 hours prior to scheduled departure. The car will stop at the Itabaca Channel where you will transfer your luggage to a ferry boat which costs $1 USD pp and takes 5 min to cross. Then you will board a large bus for 5 min ride to airport. (no added cost)  Flight to GYE or UIO (Quito) where you make your international connection later the same evening or transfer to hotel for overnight if needed. (B)
Day 12: Arrival in home country
(Itinerary can be reversed starting in Ecuador and ending in Peru)
Tour Options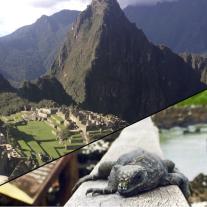 Frequently Asked Questions
This Adventure Includes
All airport transfers and hotels during transfers
All accommodations in comfortable 3* or 4* hotels based on dbl occupancy (upgrades available)
Meals as indicated (BLD)
All land transportation including taxis, buses, private vehicles & trains.
All entry fees to all the places listed EXCEPT the entry fees to the Galapagos Islands National Park - $100 & $10
Shared excursions in the Galapagos
English-speaking, licensed guides
RT Domestic flight between Ecuador & Galapagos (begins or ends from Guayaquil or Quito, Ecuador)
Not Included
International and Domestic flights -(except to Galapagos)
You will need to book the following flights: 1) One way from your home to Lima, 2) One way from Cusco to Ecuador - GYE or UIO, 3) One way from Ecuador to Home or other destination
Many airlines allow you to book multi-city flights which allows you to travel one way to several cities
It is possible to reverse the itinerary and start your trip in Ecuador
Galapagos National Park Entry Free $100 USD CASH pp / $20 Visitor Card
Lunches & dinners in Peru & during transfers (recommended budget $30 pp, per day)
Travel Insurance - we strongly recommend.
We are not responsible for expenses incurred in case of flight delays or cancellations.
Bottled water - readily available for purchase
Airport departure taxes if applicable
Tips 
Notes
Travel Time between Peru and Ecuador requires 24 hours including 1 overnight
12-Day trip begins in Lima, Peru and ends in Quito or Guayaquil, Ecuador / Can be done in reverse
Excursions in Galapagos are shared in small groups up to 15 people
We ask you to book 1 way international flights between Cusco, Peru and Guayaquil, Ecuador
Inter-island air taxi weight limit is 25 lb pp for carryon and checked luggage combined (excess baggage fee is $1 USD per pound)
Excess luggage can be stored in mainland hotel during trip to Galapagos Islands. 
Flights to the islands begin and end from the same city.  Choose Quito (UIO) or Guayaquil (GYE)