Cusco City & Sacred Valley 1 Day Tours
Buy your tickets to Machu Picchu and Huayna Picchu
If you enjoy organizing your own hotel reservations and want to leave your itinerary open & flexible, the following day tours & services are perfect for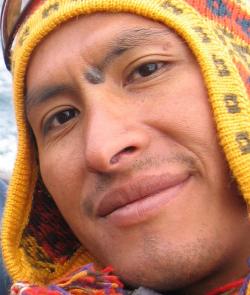 you. For travelers who enjoy walking vacations, we let you determine the amount of activity you desire in your itinerary as you discover the hidden treasures of Cusco and Machu Picchu in your own way.  
For independent travelers who want to enhance their trip to Peru, Adios Adventure Travel offers walking tours, day hikes, entry tickets & grand picnics in Cusco and Sacred Valley.  Choose any date then contact Adios US office regarding availability.  For visits to Machu Picchu, we can take care of both the train and the entry tickets including the ground transfers to and from the train stations. 
Adios Adventure Travel Guides:
Are Licensed
Speak English & Spanish (& sometimes other languages)
Have in-depth knowledge of places to see, local customs and insider tips that can make your trip special
Are your advocates in case problems arise
Click here to see up to date Machu Picchu News
Look What You Can Do in Cusco in One Day:
Just Need Tickets to to Huayna Picchu or Machu Picchu?  Let us know & we'll send someone to the office to purchase the tickets before you depart. We send you the code & you print the tickets. Or we'll have them delivered to your hotel in Cusco.  We guarantee tickets or you get a full refund.  2019 Cost per group:  Adult/$92 per adult ticket.  (2 adult tickets would cost $184 USD)  Students under 16 - $46 per ticket - must have scanned copy of passport


$492 pp - 1 Day Guided Express Service to Machu Picchu - starts/ends at your hotel in Cusco or Sacred Valley.  Our guide arrives in the morning to accompany you 1 hour/ 20 minutes by private vehicle to the train station in Ollantaytambo where you board Perurail for a 1.5 - 2 hour ramble through the Urubamba Valley.  Arrive in Aguas Calientes by mid-day and board the shuttle bus for the 30 min ride to the main entry of the Machu Picchu National Park.  Enjoy an afternoon guided tour with time to re-enter on your own before you return to Aguas Calientes to board the train back to Ollantaytambo and by private vehicle to your hotel in Cusco 10-11 pm Includes everything but meals, tips & hotels. Minimum 2 people


Airport transfers Lima/Cusco 
Our driver will meet you at the Lima or Cusco airport with private vehicle to escort to your local hotel - Min 2
$9 pp Cusco / $23 pp Lima min 2 (For hotels in Sacred Valley or Ollantaytambo, cost of $90 per group for 2-3 people. Contact our office in Virginia for customized quote for larger groups)


Private Walking tour of Cusco city center - $45 pp 
includes entry to Koricancha Temple - starts/ends at your hotel in Cusco - Minimum 2 (full description and tour details below)


Private 1 day Cusco Historical Outskirts Hike - $78 pp (4-5 hours)
Tambomachay to Cusco City Center - Minimum 2 people / add $18 for each additional person
8:30 AM Guide and private driver arrive at your hotel in city center to begin drive about 15 min to the ruins of Tambomachay. The guide hikes with you stopping for a historical tour in each place. About 7 kilometers from Tambomachay to Pukapukara, Laqo, Qenco, Sacsayhuaman and finally back to your hotel by 1300 to 1400 hours. Amazing views of Cusco. Very easy route can be done at your pace. Please bring: water,hat for the sun, rain jacket, day pack, snacks & "Turistico Boleto" entry tickets to the sites (or 70 soles for ticket)


Private Sacred Valley Tour $292 day/min 2 people & $32 each additional person (full day)
Includes: guide, driver, private vehicle - starts/ends at your hotel in Cusco or Sacred Valley.  Choose from 2 routes (see route descriptions belwow):  #1 Chinchero weavers / Moray Greenhouse / Maras Salt Ponds or #2 Pisac ruins / Pisac Market / Ollantaytambo ruins (add $35 pp entry fees or use your own Turistico Boleto tickets)


Private South Valley Tour $292 day/min 2 people & $32 each additional person (full day)
Starts/ends at your hotel in Cusco.  Drive outside the city to the rural district where you visit Tipon ruins, then continue to the famous church of Andahuaylillas, also known as "The Sistine Chapel of the Andes." (if you are going overland to Puno, the tourist buses will stop here for optional guided tour) Continue through small towns famous for serving the best cuy. (roasted guinea pig) Return to your hotel in Cusco.  (add $30 pp entry fees or use your own Turistico Boleto tickets)


Sacred Valley Mil Restaurant Guided Luxury Dining Excursion / min 2 people - $463 USD per person
Dedicated foodies will appreciate the attention to details for the ultimate dining experience. Begins from your hotel in Cusco with 2H drive through Sacred Valley to Moray to a restaurant perched right above the Greenhouse ruins.  Advance reservations are a must. Vegetarians and non-alcoholic meals are available. Average meal takes about 3 hours to enjoy 8 courses from beginning to end. Return to your hotel in Cusco or continue to Ollantaytambo for drop off at your hotel or train station.
Includes: private driver, private car, private English-speaking guide, non-alcoholic menu (no substitutions are allowed) 
Not included: hotel, tips, travel insurance, alcohol
Grand Peruvian Picnic Feast - $110 pp (Add to any Sacred Valley Tour)
Starts/ends at your hotel in Cusco or Sacred Valley.  You have the option to work up an appetite with a short hike or mountain bike ride (cost of bike rental not included), and we'll serve up a hot feast in the most elegant, breathtaking mountain setting you can imagine.  Local porters set up a "camp" kitchen & rustic dining room where they prepare the finest Peruvian dishes.  You don't eat, you indulge!  Every detail of every course is special, right down to the dessert.  Minimum 4


Pachamanca Community Meal $48 pp (vegetarians welcome) Add to any Sacred Valley Tour 
Drive to a small family owned Qechua village or farm to participate in a communal meal called "Pachamanca".  Rocks are used to to create an earthen oven in which meats and vegetables are cooked. This traditional ceremonial meal was practiced by farmers who worked in fields that were not close to home. They utilized rocks and dirt to create an efficient means of cooking food while they worked. (can be included with full day Sacred Valley tours as long as you understand that you will need to trade another activity in order to add this)


Mountain Biking in the Sacred Valley $42 pp (bike rental and transport) in addition to the cost of your SV Tour
Combined with your Sacred Valley tour.  8:30 AM. After visiting Chinchero and Maras, you arrive in Moray, where y

ou begin your Mountain Bike ride. Ride over dirt roads and rolling terrain for about 1.5 hours to the community of Pachar where you end the ride and continue by car to Ollantaytambo, t

he oldest still-occupied town in Peru. Finally you visit the prominent ruins overlooking the Sacred Valley, then drive back to your hotel in Cusco. 5 PM (or remain at your hotel in Ollantaytambo)


Market Tour and Cooking Class (vegetarians welcome) $94 pp
9:00 AM - 1:30 PM Begins at your hotel in the city center or the main plaza. Walk to the best indigenous market in Cusco for a private tour to discover the unique flavors and food customs of Peru. Nibble on giant choclo corn kernels, and marinate yourself in the sights and smells of mountain-grown potatoes, fresh "on-the-hoof" meats, cascades of fruits and vegetables and items not found elsewhere in the world. Walk to local restaurant to begin your cooking class at 11:30. Learn the art of making Chicha Morada or Pisco Sours followed by hands-on crafting of appetizers and main courses: relleno, causa palta, trucha and the popular lomo saltado. Tour ends in restaurant near main plaza. (guide will assist you to your hotel if needed)


$556 Couple 1- Day Wedding Ceremony (see page with full details here)
Our guide and driver pickup from your hotel and take you to the outskirts of Cusco where you walk about 15-20 minutes to unknown Inca ruins. The Shaman and his assistant prepare the site for your ceremony and for the next hour, you and your beloved will forever become "uno." Includes chicha or champagne and coca leaf and flowers for decoration. With advance notice we can arrange a small picnic following the ceremony. Add $45 each. Or combine with any Sacred Valley tour/activity as described below.

DESCRIPTIONS of GUIDED DAY TOURS:
City Tour in Cusco -  mostly flat, easy walking  / 3 Hours

9 AM - 12 PM. Starts at your hotel or the statue in the main plaza. Your guide introduces you to local Peruvian culture and ancient Inca civilization with legendary stories and a visit to the main Plaza de Armas, once considered the center of the Inca Empire, and where the statue of King Pachacutec, whose brilliant vision led to the design and building of Machu Picchu, greets everyone. Continue on foot through authentic narrow Inca streets where you explore the historical city including markets and Qoricancha Temple, also known as the "Golden Temple of the Sun."  See the remarkable achievements of ancient Peruvians that include stone arches, Inca walls, cobbled streets, and many examples of exotic architecture. Observe the impact of colonial invasion and how the collision of two very different societies fused  into one enchanting hub of modern Peruvian culture. Concludes in the main plaza or your hotel.
Cusco Outskirts Tour - by car / 4 hours, or on foot / 5-6 hours
8:30 AM - 1 PM (or 2 PM by foot)  Pickup form your hotel in the city center and drive about 15 minutes to the ruins of Tambomachay, a tranquil place where water is channeled from a hill towards stone formations constructed by the Incas.  It is said that the Inca emperor came here to bathe and perform religious rites in the water.  We continue our journey to the ruins of Qenqo, a site of mysterious caves carved by the Incas, to see the altar where it is believed the Incas mummified their dead. And finally to Sacsayhuaman to explore one of the most significant archaeological legacies of the Incas. Due to the complexity of the layout of the massive blocks of stone, some bigger than a car, it is said that the construction of Sacsayhuaman lasted more than 50 years and employed over 20,000 men in the construction. Return to your hotel in the city center.
 
Sacred Valley Guided Tours - Choose from 2 Routes:  Chinchero/Moray/Maras/Ollantaytambo or Pisac/Ollantaytambo

9 AM - 5 PM. Pickup from your hotel to begin the drive out of Cusco. On the way you will see typical Andean villages and scenery as you descend into the Sacred Valley. It will be obvious that you have arrived in an area the Incas revered for its lush fertile soils and advanced agricultural opportunities.
Chinchero Route: Drive about 30-40 min to Chinchero, home to the famous colonial style church and archaeological ruins and the backdrop for Qechua women & girls who demonstrate traditional dyeing and weaving.  (One of the best indigenous markets is on Sunday in Chinchero) Continue 20 KM to the ruins of Moray. The ancient ruins of Moray are different from other well-known Inca sites in the Urubamba Valley. Here the Inca found highly unusual geologic formations, which they shaped and embellished to create a landscape masterpiece. Its purpose has been debated for decades since it was rediscovered from the air in 1931. Then drive about 11 KM over dirt roads to Maras Terraced Salt Ponds. Here you learn how salt is harvested and the importance of salt for economic exchange since Inca times. Each town offers its own unique view of life and traditions established long ago. Finally we visit the impressive ruins overlooking the ancient village of Ollantaytambo. These magnificent ruins serve as an outpost that dominates the village, and if you are up for the short climb, offer an incredible view of the Sacred Valley.  During the height of the Inca Empire, the ruins were the royal estate of Emperor Pachacuti and later served as a critical stronghold for Manco Inca Yupanqui in the Inca´s final rebellion against the Spanish.The village of Ollantaytambo has interesting minor architectural elements that should not be missed. For example, down some of the side streets you will find a serpent´s head as the drainage spout. Combined with the village history and the ruins, these features make this town a prime destination of the Sacred Valley. We checkin to our hotel or return to your hotel in Cusco 
Pisac Route: Pickup from hotel and begin drive about 1 hour to the traditional village of Pisac for the opportunity to explore the charming local market where Peruvian handicrafts are on sale. It is here that many fine Andean garments and textiles are available. Option to hike to Pisac Archaeological Ruins, one of the lesser known archaeological gems of the Sacred Valley. Drive past the village and up to the parking area past sweeping agricultural terraces. The car parks and you prepare for 2-3 hour hike beginning with a short walk to the Inca cemetery where you see hundreds of holes in the mountain. Continue on the trail for another 20-30 minutes until you reach the first residential structure. Further down is the stunning temple complex constructed from exquisitely carved pink granite, featuring a sun temple, ceremonial altars, water channels and wells. After some time to enjoy the setting you are driven 10 minutes to the village.  Here you can enjoy refreshments in the cafe and check out the famous market. Continue 1 hour by car to arrive in Ollantaytambo, the oldest still-occupied town in Peru where you visit the prominent ruins overlooking the Sacred Valley. (closes 5 pm) These ruins serve as an outpost that dominates the village and if you are up for a short climb, offer an incredible view of the Sacred Valley. During the height of the Inca Empire, the ruins were the royal estate of Emperor Pachacuti and later served as a critical stronghold for Manco Inca Yupanqui in the Inca´s final rebellion against the Spanish.The village of Ollantaytambo has interesting minor architectural elements that should not be missed. For example, down some of the side streets you will find a serpent´s head as the drainage spout. Combined with the village history and the ruins, these features make this town a prime destination of the Sacred Valley. We checkin to our hotel or return to your hotel in Cusco. (Full day) Requires Turistico Boleto entry tickets. 10 day book $50 USD pp / 2 day book $30 USD pp