Please send me information about this trip
Day 1:  Cusco - Naupo Temple - Cachiccaata Village
Pickup from hotel in Cusco and drive to Naupo Templo for the ceremony. (with 3 hours drive and 30 minutes to hike in, it will take 3-4 hours) Shaman will perform ceremony with chicha and coca leaf followed by small cake and celebration drink. Continue by car to Cachicaata community for glamping overnight and romantic catered campsite dinner.
Day 2:
Cachicaata - Cusco (or Ollantaytambo)
Breakfast followed by morning hike near the village.  Then drive to Qechua farm in the Sacred Valley in the afternoon where you enjoy a Pachamanca meal to celebrate your union. Return to your hotel in Cusco or drive to your hotel Ollantaytambo to continue your trip to Machu Picchu. 
Tour Options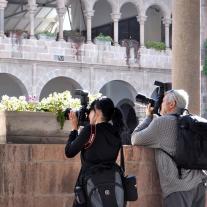 Frequently Asked Questions
Can we have our wedding ceremony inside the Machu Picchu National Park? 
It's not permitted to have ceremonies inside the park.  One of the best things about the Machu Picchu National Park is that they don't allow vendors or development anywhere near the ruins.  That's why they look so authentic.  They are!  But it is permitted to bring your wedding party inside the park.   We recommend that the ceremony take place in the Sacred Valley on a different day from your visit to Machu Picchu.

Do we have to hike to our wedding?
It's your choice.  You can choose to drive or walk. We have many special places in the Sacred Valley, not far from Cusco, to stage your ceremony.  The amount of hiking time varies from 20 minutes to 2 hours each way.  We'll work with you to choose the place that best meets your needs.  
Are there special activities that can be arranged after the ceremony?  
Yes, choose from romantic catered picnic lunch for the 2 of you, in a rural setting or a community meal called a "Pachamanca" on a Qechua farm. We also offer  "Luxury Glamping" on your wedding night.  We'll pitch a big dome tent in a private spot and include an amazing candlelight dinner, prepared and served by our cook and porters.  
Will the ceremony in Peru be legally recognized everywhere in the world?
Probably not.  Most couples have a symbolic ceremony at their destination wedding in Peru and set up a separate legal ceremony in their home country.  Best to consult your local authorities or legal representative.  
Can we get married by a local shaman?
Yes! There are many special outside places to stage a wedding ceremony.  In the Sacred Valley, our shaman will officiate at your wedding.  It can be as elaborate or as simple as you choose.
What if we want to get married by a Catholic priest?
In Peru, Catholicism is embraced by many.  Catholic priests require extensive legal documents before they will perform the ceremony. This is out of reach for most couples traveling to Peru. 
How much will our wedding cost?
Click here to see 1-Day Ceremony.  Click here to see 7-Day Romantic Getaway.  Extras can include:  grooms dinner, flowers at the ceremony, live musicians at the ceremony, Pachamanca dinner, photographer, upgraded hotels and other special requests.  The extra costs will vary depending on the # of people in your group.  (Flights/meals/tips/insurance not included)
How many people can you accommodate?
Minimum 2.  No limit otherwise.
What is appropriate attire?
Once we know what kind of wedding you want and where you want to have it, we will send a packing list. It's possible to get married in khaki and fleece or a full length wedding dress.  We'll provide information to help you decide what is best.  We have local costumes and authentic hand-made ponchos for rent. 
How do we book flights & what travel documents are needed?
Contact our US Office for  free consulation.  There are no special vaccinations or visas needed for US passport holders.  Our experienced travel advisors will assist you every step of the way.  There is no extra cost for travel planning & organizing.
Can we set up a wedding / honeymoon travel registry?
Yes, we can set up your trip and send out invitation emails or direct mail letters to your guests with instructions to contact us directly.  We can process any major credit card in any country. There is no added fee for guests to contribute. 100% of all payments goes to the cost of your trip.
This Adventure Includes
Pre-trip briefing at 6 pm the night before
All ground transportation and private driver in private cars
English-speaking guide (if you provide a camera, he will take photos of you at no extra cost)
Shaman and assistant
Accessories for the ceremony
Champagne and small wedding cake
Camping equipment for 1 night
Trail chef
Catered dinner and breakfast
Pachamanca meal
Not Included
Professional photography services
Hotel in Cusco
Lunches/dinners/bottled water except where noted
Tips
Travel insurance
Sleeping bags (bring your own or rent ours)
Trip to Machu Picchu
Notes
Dry season from May - October (very few showers)
Year round average daily high temperature in Cusco is 65
Can be combined with trip to Machu Picchu.
Hand-dyed and hand-woven Andean Ponchos available to rent for $50 USD
Ceremony is not legally binding.
Professional photographer services available:

Wedding Ceremony (2 -3 hours approximately) : U$ 100 ( 10 - 12 photos / Post Edition /  24h to send the files via WeTransfer )
Full Day with bride and groom in hotel, city and the ceremony : U$ 175 (25 - 30 photos /Post Edition / 48h to send the files via WeTransfer)
The photos are in JPG in 6000 x 4000 pixels.