Please send me information about this trip
DAY 1: OLLANTAYTAMBO – WAYLLABAMBA
Adios team will pick you up from your and begin 2.5 hour drive by private car to kilometer 82, where we meet the porters and cooks. The hike begins with amazing views of the snow capped peaks before we pass near the Inca town of Llactapata. Our porters will have hot lunch waiting for us before we continue following the Kusichaca River upstream to Wayllabamba, a typical Andean Village and the last settlement on the Inca Trail before reaching Machupicchu. We climb up for one more hour to our campsite, Yuncachimpa, for the night. (B,L,D) Distance: 10 km - 6.5 miles /Camp alt 3000 m / 9843 f
DAY 2: WAYLLABAMBA – PACAYMAYU
After hot drinks & beautifully-prepared breakfast we hike uphill for 4-5 hours towards Warmiwañuska Pass (Dead Woman's Pass). This is the hardest day because we this is the highest pass (4200 m – 13780 f). Take a few minutes to enjoy the amazing views, then we start our way down to get to the Pacaymayo Valley where lunch is waiting and our camp. (B,L,D). Distance: 12 km - 7.5 miles / Camp alt 3590 m / 11788 f
DAY 3: PACAYMAYU – WINAYHUAYNA
This day will be the longest, but considered the most beautiful part of the trail. On the way up to the 2nd pass we visit the semicircular archeological remain of Runkurakay. Walking over the original Inca Trail flagstones we pass through the elfin forest, a natural habitat for orchids, exotic endemic plants, and birds surrounded by a spectacular landscape that includes cloud forest and snow-capped mountains. On the way down we visit the Inca site of Sayaqmarka, located on a rocky promontory. Our trek continues through the cloud forest with vines, exotic vegetation (a variety of orchids, ferns. tree ferns, mosses, etc) luxuriant trees and birds. After another delicious lunch, and a guided tour of the ruins of Phuyupatamarca, we start the long way down to Wiñaywayna, were we explore another fascinating Inca citadel before we arrive at our final camp. (B,L,D). Distance: 15 km - 9.5 miles Camp alt 2700 m/ 8858 F
DAY 4: WINAYHUAYNA – MACHUPICCHU
After a very early breakfast it is easy walk to Inti Punku (the Sun Gate) to enjoy the early morning light and our first fantastic view of the "Lost City of the Incas": Machupicchu; positioned in a saddle surrounded by an astonishing landscape. After time for taking pictures, we walk downhill and enter the ruins for a guided tour of Machupicchu. Then board the shutte bus for 30 minute ride to the town of Aguas Calientes. We have time for a quick lunch before boarding the Vistadome train to Ollantaytambo where our driver will be waiting to return you to your hotel in Cusco.  (B) 
Cost is based on double occupancy per 3-person tent. 
Tour Options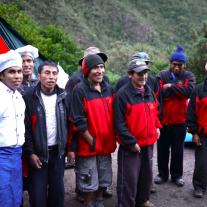 Frequently Asked Questions
How has covid-19 affected the availability of Inca Trail hike permits?
For groups who were scheduled to hike in 2020, the Peru government allowed tour operators to reschedule the hikes on later dates. For new hikes in 2021, the Peru government typically releases permits in October for the next year. Because permits have not been released yet, there is no indication that anything will be different for hikers in 2021. Adios Adventure Travel is taking soft reservations now without any payment until we know that permits are available and how much they will be. 
Will our hike be private?
All hikes offered by Adios Adventure Travel have always been in private service. This will continue after covid-19. 
Will I get altitude sickness?
It's common for most people coming from sea level to experience at least mild symptoms of altitude sickness when they arrive in Cusco, which is 11,000 ft/3430 m above sea level.  Age is not a factor for the severity of symptoms one can experience.  But fitness can be. Symptoms vary from person to person, but can include:
-headache
-nausea
-insomnia
-lethargy
-loss of appetite
Treatments may include:
-OTC pain reliever - bring your own favorite remedy for pain relief
-Oxygen. Most hotels have oxygen tanks in their lobbies and guides will carry small tanks of oxygen on hikes.  Some local pharmacies sell an individual size O2 tank for personal use.
-Coca Leaf. Locals believe that drinking coca leaf tea will help and you will find the tea leaves readily available in hotel tea bars as well as restaurants. 
-Water.  Drink extra to keep your blood flowing freely.  Dehydration leads to sludgy blood and may contribute to your discomfort.
-Diamox. (AKA "Acetazolamide" is a diuretic or "water pill") can be purchased by prescription in some western countries or over the counter in Peruvian pharmacies. 
-Treatments may alleviate the symptoms as you adjust in the first 24-48 hours.  But it's not likely that breathlessness when climbing steps or stairs will completely disappear, no matter how you treat it.  If other symtoms do not show signs of improvement within 24 hours of your arrival, please notify your travel companions or guide so s/he can monitor your progress.  In rare occasions, individuals may need to seek medical attention. 

Is it safe to drink the water?
Tap water in Lima, Cusco and other larger cities is consumed by local people every day.  But is it safe for you?  There's only one way to find out and we suggest that you not drink the tap water or use it to brush your teeth.  Bottled water is cheap and available everywhere including small towns and villages.  We support Travelers Against Plastic to reduce the use of disposable water bottles and encourage you to bring a purification device to make your own safe drinking water.  The device should be rated to purify water from microbes and viruses, not just for taste.  Purified drinking water is provided on all the multi-day hikes and during your stay in the Amazon jungle lodges.  Please bring your own water to begin the activity.
What equipment do you provide for hikes?
Porters will carry tents for sleeping, cooking, dining & urinating (we provide a special tent for "pee pee" which has biodegradable toilet for #1. We could call it the "girls'" tent, but we won't). And we provide all kitchen and cooking supplies including the food that is served.  We do not provide sleeping bags, trekking poles or big, fluffy pillows.  With advance notice, sleeping bags can be rented for $20 pp.  Trekking poles are available to rent for $20 pp for multi-day hikes and $8 pp for 1 day hikes.  Our sleeping bags are Sierra Designs/North Face/Mountain Hardwear brand mummy bags rated to 20 degrees or 30 degrees F.  If you choose to rent a sleeping bag, we ask you to provide your own bag liner.  We also provide Therma-rest Basecamp regular-size mattresses.  If you are over 6' 4/190 cm, please bring your own mattress or let us know & we'll tape 2 mattresses end to end (just kidding - like the big, fluffy pillows).  We provide duffle bags for multi-day hikes.
How do I know if I'll need an extra porter for my hike?
All multi-day hikes with Adios Adventure Travel include 2 porters per hiker.  This is our standard.  We do this as much for the porters as for the hikers.  One way to protect porters from abuse is to ensure that there are enough porters to distribute the load.  And another way to show appreciation for porters is to pay them living wages.  Which we do.  It's at your discretion to tip porters. Customary amount is $25-$35 each after the hike.  You are free to tip any amount you can afford.
Should I travel to South America if I have a life-threatening allergy?
We've learned that there are different kinds of allergies; from hayfever to insect stings.  IF YOU HAVE A LIFE-THREATENING ALLERGY TO ANY FOOD, INSECT, MEDICATION OR NATURAL ELEMENT, WE REQUIRE WRITTEN, ADVANCE NOTICE WITH FULL DESCRIPTION OF THE ALLERGEN AND THE TREATMENT.  We reserve the right to require a doctors written approval for you to travel or ask you to provide your own treatment remedy and plan. And we ask you to notify your guide during your first meeting.  In rare circumstances we may choose to reject your reservation if we feel that your condition is beyond the scope of the training of our guides or may negatively impact other travelers.  Epi-pens are only useful in areas where you are close to medical services like Lima or Cusco.
What is the best way to travel between Lima and Cusco?
We recommmend flying between the cities because other means requires more time or is not practical for short vacations.  There is no train service between Lima and Cusco.  And while there is bus service, the drive is almost 24 hours long over paved, but winding mountain roads. There is no speedy highway.  The cost of round-trip air tickets varies from around $250 pp on the domestic carriers, including STAR PERU AIRLINES and PERUVIAN AIRLINES, to $450 pp on LAN AIRLINES and somewhere in-between on TACA (recently merged with AVIANCA) AIRLINES. The majority of the flights between the cities occurs in the morning to mid-day hours.  Afternoon flights taper off by 5 pm and there are no evening flights in either direction due to mountain weather conditions.
Where should I stay if my international flight arrives in Lima in the evening?
There is only one hotel at the Lima airport.  The Wyndham Hotel is connected to the arrivals terminal by a skybridge on the 2nd floor.  It takes literally 2 minutes to walk from the terminal to the lobby of the hotel.  The hotel is expensive by Peruvian standards (in excess of $250 per double room per night). We've seen good rates on booking.com and hotels.com  The hotel will accommodate as many as 3 to a room, but not 4. 
This hotel is best for groups who arrive in Lima late evening and plan to depart again by air the next day.  For groups planning to stay in Lima, it's best to pre-arrange a transfer to a hotel outside the airport, unless you don't mind paying the "gringo rate" when you negotiate on your own. The travel time is about 45 minutes each way when the traffic is moderate.  And the cost ranges from $35 each way and up.  If your group is larger than 3 persons, you may need a transfer in a mini-van or two taxis. 
Do I need vaccinations to visit Machu Picchu?
The altitude of Machu Picchu is 8000 ft/2440 m and higher.  Disease-carrying vectors do not thrive at higher elevations.  US passport holders are not required to get Yellow Fever vaccinations or prophylactic Malaria treatments.  Although there have been no recent cases of Yellow Fever in Peru, some countries, including the US, recommend that visitors get Yellow Fever vaccinations prior to visiting the Amazon Rainforest including Tambopata Reserve or Manu National Reserve.  We recommend that travelers check the regulations for re-entry for any countries they will pass through after leaving Peru, Bolivia or Ecuador.  Bolivia requires all foreigners to have proof of yellow fever vaccination upon entry if you plan to travel to the Bolivian Amazon jungle. (Some countries including Australia, require their citizens to get yellow fever vaccination if they enter Peru, even if they are only visiting the higher elevations) As these regulations may change from time to time, it is the responsibility of travelers to consult their own government health departments for up to date and relevant information.
This Adventure Includes
Cusco airport transfers

Pre-trip briefing in your hotel lobby the day before the hike begins

Meals 3B/3L/2D during the hike (we can accommodate special dietary needs if requested in advance)

Licensed English-speaking guides

Bus ride for the shuttle from Machu Picchu back to Aguas Calientes 

Entry tickets to Machu Picchu

Permits for the Inca Trail hike 

As many porters as needed for all equipment

Massage therapist for first 3 days

Private guided tour of the ruins 

Vistadome train from Aguas Calientes back to Ollantaytambo (if available)

Private transfer from Ollantaytambo station to Cusco

Use of duffle bags for your personal gear (weight limit is 11 lbs/ 5.5kg) pp




Pee pee tent

Shower tent

Towels, soap and shampoo

Cots

Pillows

Sleeping bags with liners

2 Trekking poles per hiker

Tips for porters and guides
Not Included
International and National Flights

Personal backpack for the hike

Cusco Hotels (can be booked on request)

Lunches/dinners/bottled water, except during the hike on days 1,2 & 3

Travel insurance
Notes
Permits are available year round except in February when the trail is closed (Machu Picchu is still open)

Itinerary subject to change in circumstances beyond our control

Spend extra day in Machu Picchu. Add overnight in Aguas Calientes and return to the ruins on your own the next day.  Overnight Inka Terra Pueblo Inn.  

Add:  $400-500 pp in dbl

Menu includes, pancakes, omelettes, hot drinks including real brewed coffee with option for milk, fresh fruit, spaghetti, rice, soups, chicken, meat, dessert and wine or beer on request.