Please send me information about this trip
How do you decide what trip is best for families, couples and groups who have members with different abilities and interests and who want to share the experience of traveling to Machu Picchu?
Some want the challenge of a strenuous hike and others may prefer to experience the local culture and take the train. What do you do? 
All our trips are private and even when we subdivide your group, each subgroup is private.
This 8 Day Package trip is perfect solution for groups who have members with different interests and abilities. Let each member of your group choose the itinerary they want. While the 4 day hikers are on the trail, we organize special guided activities in the Cusco and Sacred Valley area for the members of your group who aren't able, or don't want to do the strenuous hike.
Each member can choose the itinerary they want to be in. All 3 itineraries will start out together, then reunite for a grand guided tour of Machu Picchu. 
Group #1: 4-Day Inca Trail Hike to Machu Picchu (Once permits are sold out, the group is closed. If permits are not available when you reserve, we will substitute another hike)
Group #2: 1-Day Inca Trail Hike to Machu Picchu (this is the same hike known as the Short Inca Trail or the 2-Day Inca Trail)
Group #3: Travel to Machu Picchu by Train
Day 1:  Arrive Cusco Airport (Groups 1, 2 and 3)
Adios guide and driver will be waiting holding a sign with your name.Transfer to hotel for checkin. Begin walking city tour. Your guide introduces you to local Peruvian culture and ancient Inca civilization with legendary stories and a visit to the main Plaza de Armas, once considered the center of the Inca Empire, and where the statue of King Pachacutec, whose brilliant vision led to the design and building of Machu Picchu, greets everyone. Continue on foot through authentic narrow Inca streets where you explore the historical city including markets and Qoricancha Temple, also known as the "Golden Temple of the Sun."  See the remarkable achievements of ancient Peruvians that include stone arches, Inca walls, cobbled streets, and many examples of exotic architecture. Observe the impact of colonial invasion and how the collision of two very different societies fused  into one enchanting hub of modern Peruvian culture.   Dine in local restaurants at your expense. (easy activity in mainly flat city center)
Day 2: Sacred Valley Tour by Van (Groups 1, 2 and 3)
08:30 AM Driver and guide will pickup from hotel and begin 1 hour drive to the village of Pisac and home of the famous market as well as one of the lesser known archaeological gems of the Sacred Valley. Continue past the village and up to the parking area past sweeping agricultural terraces. The car parks and you prepare for 2-3 hour hike beginning with a short walk to the Inca cemetery where you see hundreds of holes in the mountain.  Continue on the trail for another 20-30 minutes until you reach the first residential structure. Further down is the stunning temple complex constructed from exquisitely carved pink granite, featuring a sun temple, ceremonial altars, water channels and wells. After some time to enjoy the setting you loop back to the van, where you are driven 10 minutes to the village. Here you can enjoy refreshments in the cafe and check out the famous market.  Continue 1 hour by van to Ollantaytambo. Everyone checks in to hotel for 1 night. Group #1, the 4 Day Hikers will pack for the hike and store luggage here. (Groups 2 and 3 return to Cusco in the AM.) (B)
Day 3: 
Group #1 / 4 Day Hikers Begin Inca Trail / Camp
Guide will pick you up from your hotel with a private vehicle for transport from Ollantaytambo to Km 82 and on to Piscacucho where the hike begins on a strolling (kind of flat) path along the Urubamba River and then shifts uphill until your lunch stop. Along the way, get a close-up view of the archaeological sites Qhanamarca, Llactapata, and later Wayllabamba. Continue climbing for an hour to your campsite.
Groups #2 & 3 / Return to Cusco for Cooking Class / Hotel in Cusco
8:30AM Adios driver will arrive and pickup non-hikers to begin 2H drive back to hotel in Cusco. Walk from hotel to local restaurant, where you create Peruvian inspired dishes then enjoy lunch made by your own hands. Afternoon to explore the city on your own. (BL)
Day 4:
Group #1 / Hike up to Dead Woman's Pass / Camp
After Breakfast we begin climbing for 4-5 hours towards Warmiwañuska Pass (Dead Woman's Pass). This day will be the hardest because we cross the highest  pass (4200 m – 13780 f) Descend to the Pacaymayo valley for lunch and camp.Distance: 12 km - 7.5 mi / Camp alt 3590 m / 11788 f. (BLD)
Groups #2 & 3 / Cusco Outskirts Historical Tour (on foot or by van) / Hotel in Cusco
08:30 AM After breakfast in hotel guide and driver arrive for pickup to begin 20 minute drive to the tranquil terraced rocks of Tambomachay ruins (meaning guest house),with aqueducts, waterfalls and canals.  It is said that the Inca emperor came here to bathe and perform religious rites in the water. Begin easy hike about 7 KM through local farms to the mysterious Qenco temple ruins where sacrifices and mummification took place. Not far are the ruins of Sacsayhuaman, first built by the Killke culture beginning 1100 A.D. and expanded by the Inca. It's considered the largest structure built and one of the most significant archaeological legacies of the Incas. Due to the complexity of the layout of the massive blocks of stone, some bigger than a car, it is said that the construction of Sacsayhuaman lasted more than 50years and employed over 20,000 men in the construction. Return to hotel. About 3-4 hours by car or 4-5 hours on foot. The whole group must choose by foot or by car. (B)
Day 5:
Group #1 Hike the Longest Day on the Inca Trail / Camp
This day will be the longest, but considered the most beautiful part of the trail. On the way up to the 2nd pass we visit the semicircular archaeological remain of Runkurakay. On the way down we will visit the Inca site of Sayaqmarka located on a rocky promontory. Our trek continues through the cloud forest with vines, exotic vegetation (orchids, ferns. tree ferns, mosses, etc) and luxuriant trees and birds. After lunch and a visit to the ruins of Phuyupatamarca, we start the long way down to Wiñaywayna, where we will visit another fascinating Inca citadel and camp. Distance: 15 km - 9.5 mi / Camp alt 2700 m/ 8858 F (BLD)
Groups #2 & 3 Sacred Valley Tour by car Chinchero / Moray / Maras / Ollantaytambo / Hotel in Ollantaytambo
08:30 AM Pickup from hotel and drive about 30-40 min to Chinchero, home to the famous colonial style church and archaeological ruins and the backdrop for Qechua women & girls who demonstrate traditional dyeing and weaving. Continue 20 KM to the greenhouse ruins of Moray to learn about the sophisticated botanical practices of the Inca and how the plants were used for ceremonial purposes. Short hike around the sink holes. Then drive about 11 KM over dirt roads to Maras Terraced Salt Ponds. Here you learn how salt is harvested and the importance of salt for economic exchange since Inca times.  Stop for lunch in restaurant along the way. (at your expense) Finally arrive in Ollantaytambo, the oldest still-occupied town in Peru where you visit the prominent ruins overlooking the Sacred Valley. These ruins are the last Inca stronghold when Emperor Manco defeated the Spanish in a famous battle in 1536. Drive to your hotel for checkin.  Walk to local restaurant for dinner. (if you shop along the way, you can leave your purchases at the hotel with your excess luggage) (B)
Day 6: 
Group #1 Final Day of Hiking / Hotel in Aguas Calientes 
Your last day will start early. Porters will wake you with a hearty breakfast so you can get to the gate for the last checkpoint on the Inca Trail. The hike is an average of 5 hours depending on the camp and on your pace. It is about 4 hours to the Sun Gate and from there will be only one hour to Machu Picchu (arriving approximately 10-11AM), when you will take the bus down to Aguas Calientes to check into hotel and meet up with the non hiker groups later that day. (B + Box lunch) ⇢ Hiking distance 5  km
Group #2 Hike 1 Day Inca Trail to Machu Picchu / Hotel in Aguas Calientes
Adios guide will meet you in your hotel lobby and walk 5 minutes to the station. Please leave space in your backpack for box lunch provided by your guide. Board train and ride about 1H to KM 104 where you will get off with your guide and begin 12KM hike across Sungate and down to Machu Picchu. Average time is 6H. Take shuttle bus for 30 min ride to Aguas Calientes where you walk to hotel to meet up with your group.  Hiking Distance 12 KM (bring small backpack large enough to carry everything you need for the hike & 1 overnight in hotel. Store excess luggage at Tunupa Hotel) (B + Box lunch)
Group #3 Take the Train to Aguas Calientes
You can bring a small overnight bag on the train. Your excess luggage will be stored at the hotel in Ollantaytambo. 7AM Walk to station with the guide, where you board the morning train. At KM 104, the guide and 1-day hikers will get off the train while you continue to the end o the line at Aguas Calientes on your own. (Your guide will give you directions to the Hotel.) Walk a short distance to your hotel for checkin then enjoy the market, cafes and restaurants for the afternoon until the hikers arrive and meet up with you at the hotel. (pack into small carryon size bag for the train ride to Aguas Calientes. Store excess luggage at Tunupa Hotel) (B)
Day 7: Guided Tour of Machu Picchu / Return to Cusco (Groups 1, 2 and 3)
After an early breakfast, Groups 1, 2 & 3 will meet up with the guide and walk to the boarding area for your shuttle bus up to Machu Picchu where you enter with your guide for a private tour of the ruins. (earliest bus departs around 5:20 am)  Visit the guard house overlooking the agricultural terraces and then enter the main gate of the city to get up close to the temples, structures and fountains. Exit ruins and return to Aguas Calientes by bus. If time permits, you can have quick lunch then walk to the station to board the afternoon train to Ollantaytambo. Driver will be waiting to take you to pickup excess luggage and begin 2 hour drive by car to Cusco where you checkin to hotel for your last evening in the city. (Arrive by 6-7 PM. Conclusion of our service) (B)
Day 8: Depart Cusco (Groups 1, 2 and 3)
9 AM checkout. If you wish to explore the city on your own before you transfer to airport, the hotel will store your luggage. Hotel reception will help you set up taxi for transfer to airport from your hotel at least 2H prior to scheduled departure. We recommend that you allow at least 5-6 hours of layover in Lima airport if you plan to make an international flight connection.
Tour Options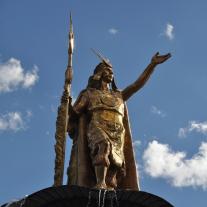 Frequently Asked Questions
Will I get altitude sickness in Cusco?
It's common for most people who are coming from sea level to experience at least mild symptoms of altitude sickness when they arrive in Cusco, which is 11,000 ft/3430 m above sea level.  Age is not a factor for the severity of symptoms one can experience.  But fitness can be. Symptoms vary from person to person, but can include:
-headache (the most common complaint)
-nausea
-insomnia
-fatigue
-loss of appetite
The best natural remedy is to drink plenty of water before you arrive at altitude and continue to drink water even at night. Coca leaf tea is available in every hotel coffee bar and restaurant. There is no way to predict if it will alleviate your symptoms. The most reliable treatment for headache is to bring your own medication. Ask your physician about prescription treatments before you travel.
Is it safe to drink the water in Peru?
Tap water in Lima, Cusco and other larger cities is consumed by local people every day.  But is it safe for you?  There's only one way to find out and we suggest that you not drink the tap water or use it to brush your teeth. Bottled water is cheap and available everywhere including small towns and villages.
We support the reduction of the use of disposable plastic water bottles and encourage you to bring a purification device to make your own safe drinking water. The device should be rated to purify water from microbes and viruses, not just for taste. We found a small, inexpensive passive portable water filter that removes not only bacteria, but heavy metals and inorganic materials like chlorine, nitrite and fluoride. Here is a link to read more, and a discount code if you choose to buy it. Drivers may carry purified drinking water to refill your personal water bottle on day tours and activities.
What is the best way to travel between Lima and Cusco?
We recommend flying between the cities because other means require more time or are not practical for short vacations. There is no train service between Lima and Cusco.  And while there is bus service, the drive is almost 24 hours long over paved, but winding mountain roads. There is no speedy highway. We recommend that you book Latam Airlines for the most reliable airline service. And we suggest you allow at least 4-5 hours layover in Lima airport if you intend to fly from Cusco to Lima for an international connecting flight on the same day. 
Where should I stay if my international flight arrives in Lima in the evening?
There is only one hotel at the Lima airport.  The Wyndham Hotel is connected to the arrivals terminal by a skybridge on the 2nd floor or by crossing a 3 lane road on the ground level.  It takes literally 2 minutes to walk from the terminal to the lobby of the hotel. 
This hotel is best for groups who arrive in Lima in the evening and plan to depart again by air the next day. For groups planning to stay in Lima, it's best to ask your hotel in the Lima city center to arrange a ground transfer, since there are no shuttle buses.  The travel time is about 45 minutes each way when the traffic is moderate. Traffic can be routinely congested during the daytime, from 7AM to 8PM.  The cost ranges from $35 USD each way and up.  If your group is larger than 3 persons, you may need a transfer in a mini-van or two taxis. 
Do I need vaccinations to visit Machu Picchu?
No. Covid vaccinations are not required to enter Peru. And other travel vaccinations are not required. The altitude of Machu Picchu is 8000 ft/2440 m and higher.  Disease-carrying vectors do not thrive at higher elevations. US citizens are not required to get Yellow Fever vaccinations or prophylactic Malaria treatments.  Although there have been no recent cases of Yellow Fever in Peru, some countries, including the US, recommend that visitors get Yellow Fever vaccinations prior to visiting the Amazon Rainforest, including Tambopata Reserve or Manu National Reserve. Even though these vaccinations are not required to re-enter the US, they may be required if you are transiting or traveling to another country before you return home. We recommend that travelers check the regulations for re-entry for any countries they will pass through after leaving Peru, Bolivia or Ecuador. Health regulations are subject to change from time to time. It is the responsibility of travelers to consult their own government health departments for up to date and relevant information.
This Adventure Includes
All land transportation - private van, train, shuttle buses - 1 round trip
All accommodations in 3* hotel with private bath - breakfast
Inca Trail permits (4 Day and 1 Day hikers)
1 Entry to Machu Picchu
Entry tickets to secondary archaeological sites as listed in all 3 itineraries
Train tickets as described in each itinerary
Full-time, English-speaking guide for each group
1 RT shuttle bus tickets
Use of Trekking Poles
1 way Cusco airport transfer on arrival
4 Day Hikers - cook, porters, camping gear, 3B / 3L / 3D / 1 Box Lunch
Meals as noted: B= breakfast, L= lunch, D= dinner, Box lunch
Not Included
Flights (if you need help choosing flights, just ask.)
Lima Hotels (Wyndham Costa del Sol at the airport / Toll free 887-999-9293)
Lunches/dinners/bottled water (budget $35 pp/day) (except as noted during hike)
Travel insurance  
Sleeping bags (bring your own or rent ours for $20 USD pp for entire trek. Please provide sleeping bag liner)
Gratuities (for guides, porters, cook, driver)
1 way airport transfer upon departure (hotel reception will assist you with the arrangements)
Notes
all 3 itineraries begin and end in Cusco, Peru
mix and match 2 or 3 itineraries to the needs of your group
groups should arrive and depart Cusco on the same day
all 3 itineraries overlap for the first 2 days and for the final grand guided tour of Machu Picchu
airport transfer, hotels, permits, train tickets and guides are included
flights are not included. We can help you choose the best flights
permits for 4 day Inca Trail hike in 2020 are available for all dates at this time.
permits for 4 day Inca Trail hike cannot be guaranteed. First come first serve
in case permits for the 4 day Inca Trail sell out, we can substitute another multi-day hike
recommended for groups of 8 or more
minimum of 2 people for 4-day hike and 2-day hike
once the permits are confirmed, it is not possible to change itineraries without additional expenses for hotels and train tickets
trip extensions to Amazon jungle and/or Lake Titicaca can be arranged for minimum of 2 people
all 3 itineraries are private and will not include people outside your group
the 3-in-1 itinerary can be combined with 4 day trip to Amazon jungle or 3 day trip to Lake Titicaca. Or both. Direct flight to Lima.

Adios Adventure Travel has an office in the US and we work with travel agents, leaders of organizations, churches, schools and private companies. We are experts in South American travel and our staff can assist you with any questions. It doesn't cost anything to ask!