Please send me information about this trip
7-Day Galapagos Islands itinerary begins every Sunday year round.
Join small groups (max 10) beginning in Quito, Ecuador every Sunday, ending in Quito the following Saturday. Contact us by email to find out availability.
If you want a custom itinerary for specific dates or without biking and hiking, just ask. 
Worried about getting seasick? We have the solution. Follow this link to read more.
Day 1 Sunday: Arrive Quito Ecuador
Arrive in Quito airport. Self-transfer to the city and checkin to your hotel. 6PM Pre-trip briefing with your escort and other members of the group.
Hotel.
Day 2 Monday: Fly Ecuador Mainland to Baltra Airport on Santa Cruz Island - Welcome to Galapagos!
5AM Pickup from hotel and transfer to the airport for a three hour flight to Baltra airport. Drive 1.5 hours through the highlands to the town of Puerto Ayora where we take 2.5 hour speedboat to Isabela Island, one of the youngest islands in the Galapagos. Isabela is mostly uninhabited by humans, and remains a sanctuary for wildlife including iguanas, flamingos, giant tortoises and even penguins. Once we arrive, we will check in at the hotel and enjoy the sunset.
Hotel (BL)
Day 3 Tuesday: Explore by Bike and Tortoise Breeding Center - Isabela Island
After breakfast we head out biking along a flat road around the side of the island. We stop to enjoy leisurely walking trails with impressive views of the various landscapes and immersion in the diverse ecosystem of the island. The highlight of our bike ride is the beach at Playa del Amor and the Tortoise Breeding Center. Playa del Amor, or Love Beach, is home to the largest population of marine iguanas on the Island. Lounging about, these creatures are exclusive to the Galapagos and have the ability to forage underwater. At the Tortoise breeding center we will learn of the dedicated efforts of workers at the National Park in the preservation of the tortoise population. After five hours of exploration in richly diverse environments we finish at the Flamingo lagoon. Once back in town you will be able to enjoy the golden sunset amidst the gentle sounds of crashing waves.
Hotel 
Day 4 Wednesday: Day boat trip to The Tunnels & Snorkeling - Isabela Island
Enter a world like no other at Los Tunneles. Striking geological volcanic formations are the perfect home to a collection of sea creatures including blue footed boobies, sea horses, star fish, penguins, sea lions and hammerhead sharks. Explore the arches and bridges above on foot, and below by snorkeling from the boat. Simple box lunch will be served on board and after we will travel back to town. 
Hotel.
Day 5 Thursday: Hike Sierra Negra Volcano and Snorkel & Walk around Tintoreras - Isabela Island
In the morning we explore the highlands of Isabela on foot as we will hike the rim of Sierra Negra Volcano for a total of 10 miles. There you can see fresh volcanic material from the last eruptions in 2018, and with clear weather you have a nice view of Elizabeth bay. In the afternoon we will take a small boat to Tintoreras Islet to explore on foot jagged volcanic rock that form small underwater canyons teeming with wildlife. Followed by snorkeling from the boat in serene crystal waters to search for many varieties of fish, turtles, and sea lions. Hotel.  Breakfast and lunch.
Day 6 Friday: Boat Transfer / Guided Tour of Highlands and Native Tortoise Reserve - Santa Cruz Island
6 am early speed boat (2.5 hrs) to Santa Cruz Island / Guide takes you to hotel for checkin. Then visit the Charles Darwin Research Station to discover the results of many years of devoted researchers and conservationist and learn about how they are helping to repopulate the island with different species of tortoise. Although you will see many different types of tortoise at the station's breeding center, our second stop of the day will take us up to 'El Chato' reserve in the highlands for an up close tour of the giant tortoises in their natural habitat. Observe the gentle giants lounging in the mud and explore the lava tunnels that dot the property.  Our day ends returning to town where you can enjoy the evening taking a stroll through Puerto Ayora. We recommend heading down to the boat docks at night as sharks and rays can be spotted playing in the lights below.
Hotel.
Day 7 Saturday: Transfer to Airport / Flight to Mainland / Make International Connection
Transfer to airport  (1 hr/ 20 min) at least 3 hours prior to scheduled departure. The car will stop at the Itabaca Channel where you will transfer your luggage to a ferry boat which costs $1 USD pp and takes 5 min to cross. Then you will board a large bus for 5 min ride to airport. Flight to UIO (Quito) where you make your international connection later the same evening or transfer to hotel for overnight if needed. (B)

Get a close look at marine iguanas. This is what you'll see on Isla de Tintoreras as well as many beaches and walkways
Tour Options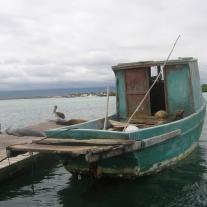 Frequently Asked Questions
Is there a luggage limit?
There are daily commercial flights from mainland Ecuador to the islands with the same standard luggage limits as most domestic flights. Check the Latam Airlines website for specific details.
Are full-length wetsuits available for snorkeling?
For those people who would like to rent a wetsuit, short wetsuits are available on request. If you prefer a full-length suit, please ask. (cost will vary from island to island)
Should I book my international flight to Quito or Guayaquil?
Most flights from the mainland will start in Quito, stop in Guayaquil and continue to the Galapagos Islands. There are 2 commercial airports on the islands. The main airport, with the most flights, is Baltra, located on Santa Cruz Island. The second airport with fewer flights, is located on San Cristobal Island.  Your group should arrive and depart from the same airport on the mainland in Quito. We will help you book the flights to the airport on the island based on your itinerary.
Can I add city tours and activities in Quito?
If you would like to extend your trip with a visit to explore cities on the mainland, we are happy to arrange hotels and guided tours, activities, cooking classes etc on request. The best place for guided tours is Quito. It's ideal to arrive 2 days early and transfer to a hotel in the city center, then continue on your trip to Galapagos.  This allows a buffer in case your international flight to Ecuador is delayed.
Can I go scuba-diving in the Galapagos Islands?
Scuba is available from the island of Santa Cruz for travelers with certification.  We can set up scuba on request which will require that we add extra days to your itinerary. It's recommended that you allow at least 24 hours to rest before flying after diving.
This Adventure Includes
Licensed Full-time English-speaking tour guide beginning in Quito 
6 nights accommodations in 3* hotels with private bath (including first night in Quito)
Mountain bikes, helmets and gloves
Sit-on-top kayak and paddles with life-jacket
Meals as noted (BLD)
All transportation to all activities described in the itinerary
Boat transfer between Isabela and Santa Cruz Islands 
Local English-speaking guide service
Snorkel, mask and fins
Not Included
International flights to Quito, Ecuador (UIO)
UIO airport transfer to your hotel in the city on arrival
Roundtrip flights from Quito to Galapagos (we will provide details for the flights you need to book on Latam Airlines)
Galapagos National Park Entry Fee & Visitors Card - $120 USD pp cash Adults (less for students)
Gratuities at your discretion
Travel insurance (mandatory) Link to Squaremouth Travel Insurance for free quote
Bottled water
Some meals  (BLD)
Wetsuit rental (usually not needed)
Notes
Rate is based on 2 people in 1 double room with private bath and breakfast
Can be combined with trip to Machu Picchu. Just ask when you send an email
Single supplement applies
Rates may be higher during holidays
Leisure days can be added on Santa Cruz Island
Extra days can be added for scuba diving on Santa Cruz Island
Two seasons:  June - Nov is Dry Season / Dec - May is Wet Season