Please send me information about this trip
This an example of a 7-Day itinerary that can be arranged year round.
Worried about getting seasick? We have the solution. Follow this link to read more.
Day 1: Fly to Guayaquil (or Quito) Ecuador
Arrive in Guayaqiuil or Quito airport. Take airport shuttle to nearby hotel for overnight.
Day 2: Fly Ecuador Mainland to San Cristobal Island - Welcome to Galapagos!
Shuttle to airport / Fly to SCY where guide will be waiting at airport / Welcome Lunch Included / Walk to the Interpretation Center where our guide will explain how the Galapagos Islands were formed, the evolution of species, the migration of the animals, and the human settlements within the Galapagos. Then, we make our way to picturesque Frigate Hill, named for the many birds flying around. From the top of the hill, about 200 (masl) we have an expansive view of the ocean and the islands nearby, including Kicker Rock. Vegetation includes native species such as the Red Mangrove and Opuntia Cacti. Lastly, we will visit Playa Mann or Playa Carola where we find one of the largest sea lion colonies in Galapagos. Enjoy the beach then return to the hotel to free time and go to dinner- Hotel (BL)
Day 3: Day boat trip to Kicker Rock/Snorkeling
We depart the hotel between 8 and 9 am and board the boat to Leon Dormido, also known as, Kicker Rock (travel time about 45 minutes). The magnificent island of rock is located off the coast of San Cristobal Island in the middle of the sea, rising 500 feet from the ocean, and shaped like a giant sleeping lion, hence its name. The rocks are remnants of a vertical formation of tufa stone and is a favorite spot for several species of seabirds. These two vertical walls with a channel in the center, provide a haven for sharks and other species such as barracuda and rainbow fish. We will snorkel for about an hour around the formations looking for sea turtles, rays, sea lions, reef sharks, white-tip sharks, hammerheads and octopus. We continue by boat about 30 minutes to Manglesito beach (wet landing), which is comprised of mangroves and a beach area. We spend about an 1 hour to walk and/or swim, including lunch on board the boat. The mangrove area is an ideal place for observation of aquatic birds, while the beach can be used as a place of recreation. The vegetation on the beach is the sesuvium and the button mangrove. In the area of mangroves, there is a gap where you can observe ducks, royal lapwings and curlews, including both native and endemic species. We will be back in San Cristobal around 3 pm for time to rest before walking to dinner in the village (BL)
Day 4: Fly to Isabela Island / Snorkel & Walk around Tintoreras
Transfer to airport / Board small plane to Isabela with spectacular bird's eye view of the islands. 45 min / Driver will meet you & transfer to hotel. Lunch on your own. Pick up for transfer to dock about 2:30 - 2:45 pm to board boat to Tintoreras Islet to explore on foot. Here, white-tip sharks known as "tintoreras" come daily to rest on the bottom of the sea. We can also observe penguins, sea lions, and marine iguanas, as well as go snorkeling with sharks and other colorful tropical fish.  Return to hotel where you walk to dinner. (BL)
Day 5: Day boat trip to The Tunnels / Snorkeling
After breakfast, pickup for transfer to the dock for day boat trip to The Tunnels. Includes light box lunch. Striking geological formations are home to collection of sea creatures including Blue Footed boobies, sea horses, star fish, sea lions, hammerhead sharks. Trek on lava arches & bridges followed by 2 snorkels. Return to dock and transfer to hotel by mid-afternoon. Free afternoon to explore village. (BL)
Day 6: Boat Transfer to Santa Cruz / Guided Tour of Highlands / Dine on Kioska Street
6 am early speed boat (2.5 hrs) to Santa Cruz Island / Guide takes you to hotel for checkin, then eat breakfast. After breakfast, you begin with a drive to Manzanillo or El Chato farm in the highlands. Here, you will have your first glimpse of a Galapagos Giant Tortoise in its natural habitat. These enormous creatures roam freely between the National Park and agricultural areas. This visit offers the ideal opportunity to view these ancient creatures munching on lush green vegetation or wallowing in the mud of the seasonal pools that attract them from the lowlands during the dry winter season. At certain times in the year, migratory shore birds can be seen, too. This guided tour includes a walk through open fields and forest. We include a hearty lunch at the farm before visiting The Twins, which are similar to craters, but formed by a collapse of the earth underneath due to lava flows that passed below it. We will also walk through the scalesia forest to encounter Galapagos flycatchers and other endemic birds. On the way back to Puerto Ayora, we will visit a lava tunnel. The remaining afternoon is at your leisure. We suggest you visit the Charles Darwin Research Station or hike to Tortuga Bay. Dine on KIOSKA STREET for fresh local seafood – Hotel (BL)
Day 7: Transfer to Airport / Flight to Mainland / Make International Connection
Transfer to airport  (1 hr/ 20 min) at least 3 hours prior to scheduled departure. The car will stop at the Itabaca Channel where you will transfer your luggage to a ferry boat which costs $1 USD pp and takes 5 min to cross. Then you will board a large bus for 5 min ride to airport. (no added cost)  Flight to GYE or UIO (Quito) where you make your international connection later the same evening or transfer to hotel for overnight if needed. (B)

Get a close look at marine iguanas. This is what you'll see on Isla de Tintoreras as well as many beaches and walkways
Tour Options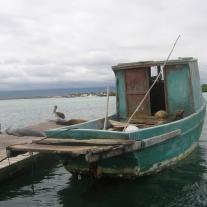 Frequently Asked Questions
Is there a luggage limit?
The inter-island air taxi has luggage limit of 20 lb checked bag and 5 lb carryon pp (25 lb total).  Excess baggage fees apply. And the airline reserves the right to send luggage on later flight.  This limit only applies to people who are scheduled to fly on the air taxi.  All other flights to and from the mainland to the islands are on commercial jetliners with 23kg checked bag weight limit.
Are full-length wetsuits available for snorkeling?
For those people who would like to rent a wetsuit, short wetsuits are available on request. If you prefer a full-length suit, please ask. (cost will vary from island to island)
Should I book my international flight to Quito or Guayaquil?
Most flights from the mainland will start in Quito, stop in Guayaquil and continue to the Galapagos Islands. There are 2 commercial airports on the islands. The main airport, with the most flights, is Baltra, located on Santa Cruz Island. The second airport with fewer flights, is located on San Cristobal Island.  Your group should arrive and depart from the same airport on the mainland.  You can choose Quito or Guayaquil. Hotels with shuttle service are located near each airport. We will book the flights to the airport on the island based on your itinerary.
Can I add city tours and activities in Quito or Guayaquil?
If you would like to extend your trip with a visit to explore cities on the mainland, we are happy to arrange hotels and guided tours, activities, cooking classes etc on request. The best place for guided tours is Quito. It's ideal to arrive 2 days early and transfer to a hotel in the city center, then continue on your trip to Galapagos.  This allows a buffer in case your international flight to Ecuador is delayed.
What is the added cost for 8 Day trip that includes Quito city extension?
Add $156 per person for minimum of 2 people in double room for 8 - Days.
Includes: 2 nights hotel, half day city tour, transfer to airport for flight to Galapagos. Does
Not include: airport transfer on arrival in Quito, meals, tips, travel insurance
Can I go scuba-diving?
Scuba is available for certified divers from the island of Santa Cruz.  We can set up scuba on request which will require that we revise your day to day itinerary. It's recommended that you allow at least 24 hours before flying after diving.
This Adventure Includes
1 Way Air taxi between San Cristobal and Isabela Islands
1 night hotel in GYE or UIO 
All accommodations in 3* hotels with private bath 
Meals as noted (BLD)
All transportation
Boat transfer between Isabela and Santa Cruz Islands 
Local English-speaking guide service
Snorkel, mask (fins are not recommended due to the potential damage to the underwater geological features, unless you're a professional diver)
Not Included
International flights to/from GYE or UIO
Roundtrip flights from mainland to Galapagos
Galapagos National Park Entry Fee & Visitors Card - $120 USD pp cash
Gratuities at your discretion
Travel insurance 
Bottled water
Some meals  (BLD)
Mountain bike rental 
Kayak rental in Santa Cruz or Isabella. Pay directly, approx. $25 pp/$2 per hr in Isabela
Notes
Minimum 2 people / Maximum 14
Can be combined with trip to Machu Picchu for 12 days total
Single supplement applies
Rates may be higher during holidays
Leisure days can be added on any island
Scuba diving can be added / Begins and ends on Santa Cruz Island
Option to hike to Sierra Negra Volcano on Isabela Island 
Two seasons:  June - Nov is Dry Season / Dec - May is Wet Season