Please send me information about this trip
7-Day Ecuador Gastronomic Adventure 
Day 1: Fly to Quito, Ecuador
Welcome to Ecuador! Our guide/driver will meet you at the airport and take you to Quito city; approx. 45-minute drive. Quito is located at 9,000 feet above sea level, so take your time to acclimate to the altitude. We recommend that you drink plenty of water and allow time for rest.
Day 2: Quito City Tour and Cooking Class (B*S)
Pick-up 10 am. The tour begins in historical colonial Quito, in the main square where the Presidential Palace, the main Cathedral, and other historical buildings. You will see the "changing of the guard" which takes place every Monday at the Main Square or Plaza Grande. Continue to Plaza Santo Domingo and walk through "La Ronda", one of the oldest streets in town, with colonial homes and shops of the early 1600s. Your walk continues to the City Museum and San Francisco Plaza, with stops to try some *Ecuadorian delicacies such as quesadillas, empanadas, tortillas, ice cream and the best hot chocolate in Quito. San Francisco is the oldest church in Quito, packed with history, legends and wonderful photo opportunities. We then visit La Merced Church with arabesque and baroque style interiors. La Compañía de Jesús church is one of the most beautiful temples in South America or perhaps the world. Finally, we walk up Panecillo Hill for a bird's eye view of the city. In the late afternoon (5 pm), we have our cooking class highlighting a typical Ecuadorian snack: "tortillas de tiesto" or corn tortillas served with chili sauce and gourmet coffee (participants make all of these delights from scratch). The "tiesto" or clay pan was widely use in Quito during the 18 th century and it is still kept today in the very traditional families. This will be a trip to the culinary past of the city. Leftovers can be packed to go with you for a late evening snack.
*NOTE: A variety of morsels and tidbits will be offered for sampling while on the move, instead of sit-down lunch and dinner.
Day 3: Otavalo Day Trip (BL)
Pick-up 7:30 am. Departure from Quito to the northern Andes region through the town of Guayllabamba to savor its typical chirimoya or custard apple fruit, unlike anything you may have tried before. At Guachalá, you will cross the equator into the Northern Hemisphere, with Mt Cayambe in the distance, the only snowcapped mountain in the world that straddles latitude zero at almost 20,000 feet (6,000 meters) above sea level. The nearby Quitsato Equatorial Marker is an experience not to be missed, where you can straddle latitude zero away from any tourist crowds. Moreover, here you will learn about the "correct" way to view Planet Earth and the constellations, with the Big Dipper and Southern Cross visibly opposite one another at the same time. Additionally, interactive experiments will prove you are indeed "in the middle" of the earth. At the town of Cayambe, savor Ecuadorian bizcochos – oven-baked biscuits served with cheese and/or brown sugar spread. Eventually, we reach Otavalo, known as "The Awakening Valley," passing by beautiful San Pablo Lake and Mt Imbabura. In 1495, the Otavalo region was conquered by the Inca Empire and in turn occupied by the Spanish Crown in 1535. Today, this is a most prosperous community of skilled textile weavers, who gather to sell their products at an open-air market as they have done for centuries, not only for business, but also for socializing at this colorful gathering place.  Elegantly dressed, the women do all the negotiating. You get more than what you bargained for, as the most exquisite woven works of art will be hard to pass up.  And the setting is spectacular, crowned by Andean landscapes of outstanding beauty: mountains, lakes and cascades, as integral elements of their lifestyle and beliefs. But that is not all. By special arrangement, you will be able to witness a healing ceremony at a private indigenous home that will be a never-to- be-forgotten experience.  A typical tasty lunch will be included to add to your immersion into the best of the Ecuadorian highlands. Return to your hotel in Quito.
Day 4:  Cooking Class & Jacchingua Dance Theater (BL)
Pick-up 10:30 am. We will meet our chef at a local market to shop for the ingredients that we will use in our cooking class. The class will be held at a local restaurant, just a block from the Basilica Church
(2-3 hours including lunch).
Suggested menu *vegetarian options available
Starter: Shrimp ceviche served with popcorn, roasted corn nuts and plantain chips.
Main course: Grilled chicken with llapingachos (potato patties stuffed with cottage cheese) and fresh salad.
Dessert: Espumilla (fruit merengue).
After we eat the delicious lunch that we have prepared ourselves, you have the afternoon free to explore on your own, e.g. Chapel of Man, cable car, Botanical Garden. At 7 pm, we depart the hotel to the Demetrio Aguilera Theater to see a dance show. The Jacchigua National Folkloric Ballet is a colorful performance comprised of over 80 dancers, musicians and stage support that highlight the culture and traditions of Ecuador. This 2-hour presentation features 6,160 pounds (2,800 kilograms) of costumes and ethnic elements in various regional dances from around the country. Under the direction of choreographer and founder Rafael Camino, some of the most popular dances are: Saraguro, Deer Hunt, Corpus Christi, and Andean Sensitivity.
Jacchigua means fiesta, and recalls the times when the hacienda owner would throw a big party for farmhands after a good harvest. Similarly, the dance group offers quite a visual feast for the audience with their lively performance. Jacchigua has participated in many national and international dance festivals and events, including the 2006 World Cup in Germany and the 2008 Ecuadorian Cultural Festival in Kópavogur, Iceland. In addition, it was declared a Living Cultural Heritage by the Municipality of Quito and the Ministry of Culture in 2009 due to its remarkable cultural contribution over the past three decades.
Day 5: Cacao Farm / Mindo Cloud Forest (BLD)
Pick-up 8 am. We drive north of Quito for about 40 minutes towards the town of San Antonio. Our first stop
is the Pululahua Crater, the second largest inhabited crater in the world, for a beautiful view of
its caldera. Then, drive to Calacalí to see the original Equator Monument, isolated from the
tourists, built in 1936, and moved to this location in 1979. We continue northwest to a cacao
farm in Puerto Quito and arrive in time for lunch. Here, we will visit their small-scale chocolate
factory to learn about the whole process from bean to bar, including a walk around the cacao
plantations and a chocolate tasting. Also see other tropical fruits and taste different
marmalades. Finally, we backtrack to the outskirts of Mindo to checkin to our cloud forest lodge for the night.
Day 6:  Coffee Farm / Quito (BLD)
Depart 10:00 am. Today, we will visit a coffee plantation in subtropical Nanegalito (10 km away) to learn all about high-altitude Ecuadorian coffee, plus coffee tasting and pairing with professional baristas. The farm is located at 5,500 feet and produces four different varieties of Arabica coffee. You will walk around the plantations to see the different coffee plants, flowers, cherries, and then the harvest, cherry selection, bean process and all. The geographical location, climate and good practices combined make of this coffee a high quality product that promotes the growth of the specialty coffee in Ecuador. Moreover, one of Quito's best barista schools and cafés has partnered up with this farm to bring you a unique cup experience. They will guide you during the coffee tasting and pairing with fruits and chocolate. Afternoon back to Quito. End the day with a farewell dinner (8 pm) at a restaurant with a magnificent view of colonial Quito, including the famous canelazo drink (hot cinnamon tea with "naranjilla" juice and a dash of sugar cane rum).
Day 7: Departure (B)
Transfer to the airport at least 4 hours prior to your scheduled departure for your flight home. 
Tour Options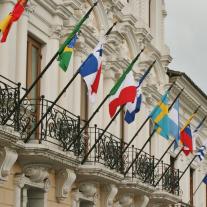 Frequently Asked Questions
Do you need previous experience with culinary-based travel or activities?
No experience is necessary.  Bring your curiosity and appetite for trying new foods. 
Who is this trip best suited for?
Families and small groups. The great thing about this trip is it has a variety of food sampling experiences which appeal to those who are trained in the culinary arts, as well as budding gourmets. As long as you love good food, you will be in great company.
Will you get altitude sickness?
The altitude in Quito is close to 10,000 ft above sea level.  If you live at sea level you are likely to feel out of breath when climbing steps or walking up inclines. It's beneficial to drink plenty of water before arriving and stay hydrated during the trip.  Most people adjust within 24 hours. 
This Adventure Includes
Airport transfers
6 Nights accommodation with private bath and breakfast
All ground transportation
All entry fees
English-speaking guide service
Meals noted: 6 Breakfasts - 5 Lunches - 2 Dinners
Ingredients for cooking classes and tastings
Not Included
International flights to and from Quito, Ecuador
Travel Insurance (everyone must provide their own or buy policy upon arrival) Get free quote from WORLD NOMADS
Tips
Some lunches and dinners as noted
Notes
Altitude in Quito is 9350 feet above sea level
Vegetarian menu for classes and meals available on request
Trip can be booked for private groups any date year round 
Hotel in Quito is locally owned and operated.
Single supplement: $226 USD
Minimum 4 people
Can be combined with trip to Galapagos Islands or Amazon jungle or Machu Picchu in Peru