Please send me information about this trip
Day 1: Welcome to Chile! City Tour - Hotel
Santiago, the capital city of Chile is home to 6 million people. Located in the foothills of the Andes Range in the north side of the country, the city is enjoyed for its contemporary vibe, Mediterranean weather, winter skiing venues, and fantastic beaches only 1.5 hours away. In the beginning Santiago was populated by native tribes called Picunches, who were controlled by the Inca empire until Pedro de Valdivia arrived from Spain in 1540 and founded the city as Santiago in 1541.
Itinerary:
Many flights arrive early in the morning. Transport from Airport to Hotel
Lunch at recommended restaurant (not included)
Private Santiago city tour. Highlights include San Cristóbal Gondola and Costanera Sky
Day 2: Flight from SCL to PA / Transfer by car to Puerto Natales / Visit Milodon Cave
Transfer to the Santiago airport for flight to Punta Arenas and continue 3 hours by van to Puerto Natales. After stop for lunch (cost not included) you drive to Milodon Cave, a huge cavern more than 200 meters deep, 80 wide and 30 high. More than 15,000 years ago the cave was inhabited by large extinct animals such as the mylodon and jaguar, and was probably a popular hunting site for the native inhabitants. The Mylodon Cave became known to the world a little over 100 years ago in 1895, when the settler Eberhard Hermann visited the cave and found a strange skin with thick hairs. It was determined to be the fur of a large extinct sloth, known as a Mylodon. This led to numerous scientific expeditions and also looters looking for remains to sell to collectors and museums, mainly in Europe. In 1968 this area was declared a Historic Monument by the Ministry of Education, and in 1993 became the Mylodon Cave Natural Monument (Monumento Natural Cueva del Milodón), joining the System of Protected Areas of the State.
 
Itinerary:
Flight from Santiago to Punta Arenas. Milodon Cave Easy Hiking with special lunch in wilderness (3 hours round trip). Guided hike through Benitez Mount on a low steep path to Condor Lookout, where we will enjoy breath-taking views of Sofía Lake and Paine Range. The only thing better than the view, will be the picnic lunch to go with it. As the name implies, encounters with condors can be expected.  We continue our walk to the cave paintings from Thuelche First Nation and beautiful sub-antarctic forest. Finally, we will enter and explore the huge Milodon Cave where scientist found extinct animals including a massive Bear.
Day 3: Day trip into Patagonia National Park / Gauchos BBQ / Horse Ride
Guided visit to the wild territory of Estancia Lazo Patagonia which in spite of the stark loneliness, abounds with natural beauty. We drive to a remote ranch (estancia) to meet the local cowboys (Gauchos) and learn about their culture and life in the pampas (flat and open lands). To learn about the Gaucho culture is to learn about their skills as horsemen. The best way to experience one day in their lives is on a horse.  And sharing the best cup of mate tea along with traditional bbq lamb on a stick. - Hotel Weskar
Day 4: Hike to Torres del Paine - Torre Central Hut
The word "Paine" (pronounced PIE-nay), means "blue" in the native Tehuelche (Aonikenk) language. Patagonia National Park is approximately 242,242 hectares. It is one of the largest and most visited parks in Chile. The park averages around 150,000 visitors a year, of which 60% are foreign tourists, who come from all over the world. The Torres del Paine are the distinctive three granite peaks of the Paine mountain range or Paine Massif. They extend up to 2,500 meters above sea level, and are joined by the Cuernos del Paine. The park was established in 1959 as Parque Nacional de Turismo Lago Grey (Grey Lake National Tourism Park) and was given its present name in 1970. In 1976, British mountaineer John Gardner and two Torres del Paine rangers, Pepe Alarcon and Oscar Guineo, pioneered the Circuit trail which circles the Paine massif. In 1977, Guido Monzino donated 12,000 hectares (30,000 acres) to the Chilean Government. And in 1978 the park was designated a World Biosphere Reserve by UNESCO.
Torres Hiking. (8-9 hours 12.6 miles round trip): The first 1.5 hours of hiking is steep with fantastic views of Lake Nordenskjöld and Almirante Nieto Mtn (2.670 m.s.n.m), with it's hanging glacier, until you reach Refugio El Chileno. Follow the trail through a millenary lenga forest (1 hour) to the base of "the moraine." Hike up a challenging ascent (45 min), whichl takes you to one of the most impressive lookouts in the park: "Base of Torres del Paine" where you will enjoy the view of Torre Sur (2,850 m.s.n.m.), Torre Central (2.800 m.s.n.m), Torre Norte (2.600 m.s.n.m) and Cerro Nido de Cóndor.
Day 5: Hike to Refugio Cuernos along Nordensjkold Lake
Hike Along Nordenskjold Lake (4-5 hours, 7.3 miles r.t). The trail goes through the Base of Almirante Nieto Mn. – part of the Paine Massif - with great views to Nordenskjöld Lake. After about 4 – 5 hours you will get to the Base of Los Cuernos where our Refugio is located, considered by many one of the most charming sites in the whole park. A perfect spot to rest and recover for the a challenging trek on the next day to "The French Valley." - Hut
Day 6: Day Hike to French Valley and Return to Italian Camp
Hike to French Valley (10-12 hours, 16.8 miles r.t) The first 2 hours are up and down with extraordinary views of Nordenskjöld Lake. Once you arrive at "Campamento Italiano" you will contact CONAF staff so you can leave your full size backpack with them and start the next part of the trek with a small day pack (food, water and warm clothes).  The ascent goes for about 1 hour and a half to the French Glacier lookout, where you'll be able to observe a hanging glacier and possibly small avalanches.  The trail continues to "Campamento Británico" and after about 20 minutes you will reach "Mirador Británico," the lookout point considered by many to be one of the most overwhelmingly beautiful spots in the Circuit.  We enjoy short rest with views of "Paine Grande", "Cerro Hoja", "Cerro Máscara", "Cerro Catedral", "Cerro Aleta de Tiburón", "Cuerno Norte". The return hike is the same way back to "Campamento Italiano", and then to Pehoé sector.
Day 7: Hike to Grey Glacier from Italian Camp
Hike to Grey Glacier Lookout then board a ferry boat from Grey Camp (3-4 hours, 7 miles r.t). The trail goes through the western side of the Paine Massif with views of the Grey Lake and Mountains. After 1.5 hours you will reach the first lookout point, where you can see Grey Glacier in the distance. Continue for 1.5 - 2 hours until you get to the main lookout, face to face with front of the massive glacier. Overnight in Grey Hut.
Day 8: Ice Hiking over Grey Glacier / Ferry Boat to Grey Lake and Grey Beach / Return to Puerto Natales
To see a glacier at close range is one thing, but to walk on its surface is quite another. With the security of foot crampons you walk, with each step crunching into the crisp snowy surface, by a vertically-walled crevasse that drops down maybe a hundred meters for a humbling and exhilarating adrenaline rush. The intense blue colors, the running water from ice melt and the intermittent cracking sounds as the glacier moves, all combine to the feeling of being at the mercy of Mother Nature. 
 
Grey Glacier is located in the Southern Patagonian Ice Field, just west of the Cordillera del Paine. It flows southward into the lake of the same name. Before dividing in two front at its end,
the glacier is 6 kilometers wide and over 30 meters high. In 1996 it occupied a total area of 270 km2 (100 sq mi) and a length of 28 km (17 mi)
Breakfast at the dining room (only full board deal).
Box lunch or lunch in dining room of the shelter.
At 8:00 hrs you must be ready to begin the adventure to the Grey Glacier. This activity takes about 4 hours. (included: equipment, trekking guide and snack)
Dinner in the dining room (only full board deal) and lodging.
Day 9: Fly PA to SCL / Hotel 
After an early breakfast, we pack the van and drive 3 hours back to Puerto Arenas where we board our 2 hour flight to SCL.  Driver will be waiting to transfer to hotel.  (no activities are scheduled because the flights can be delayed)
Day 10: Winery tour / Lunch  / Fly out / Arrive Home Next Day
Drive from Santiago to temperate wine country for a vineyard tour where you will experience the finest grapes of red and white wines of Casablanca Valley. Casablanca is one of the most important vineyards in the valley and is a region known for white wine grapes. Vines were first planted here in the mid-1980s during the revitalization of the Chilean wine industry and quickly became known for its white wines, most notably Sauvignon Blanc and Chardonnay, as well as Pinot Noir, which thrives in its cooler climate. Although the valley is located at 33°S, much closer to the Equator than any European vineyard, viticulture here is possible because of the cooling influence of the Pacific ocean, due to the cool morning fog and greater cloud cover than is found elsewhere in the north of Chile.  Micro-weather condtions at the vineyard provide unusual growing conditions that allows the production of premium quality red and white grapes in the same valley.
We discover the beautiful landscape of this boutique vineyard with a tour on horseback riding among the varieties of grapes in the charming temperate valley.  Followed by a visit to the amazing cellars for a wine tasting of the best 4 red and 4 white grapes.  We continue our visit in the valley with a stop to dine in one of the finer restaurants before returning to Santiago.  We return to the hotel for your luggage, then continue to the airport for evening departures, arriving home the next day.
 Alternative to winery tour:   Day Trip to Valporaiso or Valle Nevado ski resort with lunch in the restaurant. With short hikes to explore on foot.  Or a half day trip with cheese and wine at the Condor lookout.  Option to have a free day in Santiago on your own. 
Itinerary subject to change. 
Tour Options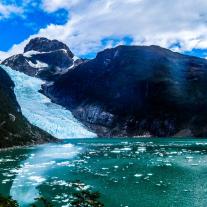 Frequently Asked Questions
This Adventure Includes
3* Accommodations with private bath and breakfast 
Roundtrip flights between Santiago and Punta Arenas
Airport transfers
English-speaking guide service
All ground transportation for all scheduled activities
Entry fees to everything listed except where noted
Huts in Torres del Paine. No need sleeping bag. Beds have linens.
Breakfast, snack, and dinner cooked by the guide in the hut
Snacks during the hike
Entrance fees
Grey ferry
Ice hiking
Pehoe Ferry
Wine tour with horseback riding
City tour around Santiago. San cristobal gondola and Costanera Sky Building entrances
Not Included
International flights to Santiago, Chile 
Lunches / dinners / drinking water (except where noted B-breakfast, L-lunch, D-dinner)
Gratuities at your discretion
Travel Insurance
Alcoholic beverages
Sturdy shoes and warm clothing
Day packs with rain covers
Notes
50% deposit required at time of booking
Contact us for information on rates for other size groups
Best time to travel is Nov - April (Chile summer months)
Itinerary subject to change
The "W" hike is moderate to strenuous level and is recommended for active travelers
Local guides will be with you in each destination.  You'll have a different guide in SCL and Patagonia area
Specialist guides will also accompany you on the ice walk
Dine in hotel restaurant or hotel can arrange taxi for short ride to Puerto Natales