Please send me information about this trip
Intro to Travel in Chile / Patagonia:  9 Days 
(expecting to travel in 2023. Let us know if you want to be notified)
This trip is carefully crafted with attention to the quality of the overall program. We have curated and selected well organized and meaningful activities designed to offer you the opportunity to explore and experience the true essence of the Patagonia region. Licensed and knowledgeable guides and drivers accompany you for all activities.  We want your trip to be authentic and meaningful.
We ask you to keep in mind that infrastructure is limited to small pockets of civilization connected by an expansive system of paved and dirt roads.  We do our best to work around glitches and changes to the scheduled activities, but we reserve the right to make last minute substitutions in case some activities are cancelled, or we are unable to provide the level of attention needed to ensure your safety.  We cannot offer refunds for changes or activities not completed.
Your satisfaction matters and in cases where we do make last minute changes, we endeavor to make substitutions that maintain the flow of the trip with the least amount of disruption.
LEVEL Of DIFFICULTY: (Easy) Walk for short periods of time on mostly flat terrain/ board boats with steps / Suitable for all ages and abilities
Summer travel season is November - March.
Day 1: Arrive Santiago, Chile
Welcome to Chile! Our driver will be waiting at the airport. Flights usually arrive in the morning / Transfer to hotel / Lunch / Short Tour of City Center - Hotel 
Day 2:  Fly from Santiago to Punta Arenas / Penguin Colony on Magdalena Island
Pickup from Santiago hotel and transfer to Santiago (SCL) airport for flight to Punta Arenas where your local guide will be waiting. Transfer to hotel, lunch on your own, then transfer to the dock where you board the ferry for 2-hrs to Magdalena Island and the largest penguin colony in Chile.  You have about an hour to explore the beautiful isolated island on foot, including "The Lighthouse" environmental interpretation center, and over 120,000 Magellanic Penguins. Located 32 km northeast of Punta Arenas, in the middle of the Strait of Magellan, Magdalena Island is a must for animal lovers. This island has been a protected area since 1982, in which it was renamed "Los Pinguinos Natural Monument". It has an interesting ecosystem, with more than 60,000 penguin couples, as well as other species, including cormorants, which come to reproduce during the summer.  Return to Punta Arenas – Hotel
Day 3: Drive from Punta Arenas to Puerto Natales / Milodon Cave Hike & Lunch
9 AM. Transport 2.5 hours by van to Puerto Natales for lunch. Then continue by van to Milodon Cave, a huge cavern more than 200 meters deep, 80 wide and 30 high. More than 15,000 years ago the cave was inhabited by what are now large, extinct animals such as the mylodon and jaguar, and was probably a popular hunting site for the native inhabitants. The Milodon Cave became known to the world a little over 100 years ago in 1895, when the settler Eberhard Hermann visited the cave and found a strange skin with thick hairs. It was determined to be the fur of a large extinct sloth, known as a Milodon. This led to numerous scientific expeditions and looters looking for remains to sell to collectors and museums, mainly in Europe. In 1968 this area was declared a Historic Monument by the Ministry of Education, and in 1993 became the Milodon Cave Natural Monument (Monumento Natural Cueva del Milodón), joining the System of Protected Areas of the State. Return by car to hotel in Puerto Natales.
Day 4: Torres del Paine National Park / Short Hike to Blue Lagoon
Half-day excursion — the best option for those who want to observe and photograph the Torres towers without strenuous walking — also offers a small but significant historical footnote. The adventure starts with a 30-minute drive through the rugged terrain of the national park's far eastern region, Laguna Amarga, where we can observe cyanobacteria with stromatolites and sometimes flamingos before continuing our journey to the Blue Lagoon. From the parking spot, we strike off on a short (half hour) walk that includes wildlife observations and views of the Paine Massif.  Animals are abundant in this part of the park, especially guanaco and birds. The avian community around Laguna Azul includes water birds, as well as condors and raptors. Gazing from the east, the perspective of Torres towers is much different than elsewhere in the park, and in some respects even more awe-inspiring. Laguna Azul is also the spot where Lady Florence Dixie, the intrepid Victorian-era British traveler, and author, first spotted the Torres del Paine mountains. She is considered to be the first tourist of Patagonia. In her 1880 book Across Patagonia, she called the three towers "Cleopatra's Needles" because the stone monoliths resembled the obelisks of ancient Egypt.
During this 4-hour round trip, we also visit the spectacular Paine waterfall, the first of three waterfalls of the Paine river.  Afternoon free time in Hotel Las Torres or equivalent. Relax in the natural surroundings or option for moderate guided hike to Granite Towers or Nordensjkold Lake (3.7miles/6km Roundtrip) Overnight Hotel in National Park.
Full day hike — Travelers who are fit may want to hike to the base of the "Granite Towers." This activity can be added at extra cost, if requested at time of booking. (min 2 people)
The first 1.5 hours of hiking is steep with fantastic views of Lake Nordenskjöld and Almirante Nieto Mtn (2,670 m), with its hanging glacier, until you reach Refugio El Chileno. Follow the trail through a millenary Lenga Forest (1 hour) to the base of "the moraine." Hike up a challenging ascent (45 min), which takes you to one of the most impressive lookouts in the park: "Base of Torres del Paine" where you will enjoy the view of Torre Sur (9350'/2,850 m.), Torre Central (9186'/2,800 m.), Torre Norte (8530'/2,600 m.) and Cerro Nido de Cóndor.(18 KM/12.6 miles & 2460'/750m ramp / 8-9 hrs approx). Hike same trail back to the trailhead and return to your hotel by van. (Difficulty rating: moderate)

Day 5: Day trip into Torres del Paine National Park 
Travel through the park by vehicle with stops at amazing lookouts and for short hikes. Stop at Petrohue Falls -Nordenskjold Lookout - Navigate Pehoe lake - Skottsberg Lookout, where you enjoy short hikes. Return to Hotel in National Park.
Day 6: Grey Lake Navigation to Grey Glacier + Short Hike
We will start with a short, flat hike over the Grey Lake Beach with possibility of sighting icebergs on the sand with the Grey Glacier in the skyline. Then continue hike for 15 minutes to the Grey Lake Peninsula Lookout, with a breathtaking view of the entire lake and native forest. Return to the beach and board the catamaran to start the navigation to the glacier. Expect possible ice falls from an ice wall around 80 meters, while you enjoy a drink inside the comfort of the main cabin. Navigate through glacial grey water (where the glacier name came from) while surrounded by Lenga Forest for a stunning experience. Return to Hotel in Puerto Natales.
Day 7: 

Navigation by Boat to Serrano and Balmaceda Glaciers in O'Higgins National Park
By boat, we navigate through the Balmaceda and Serrano Glaciers "Round Trip" with lunch included.  Once you disembark, the navigation into Última Esperanza Fjord towards Bernardo O'Higgins National Park begins. The destinations are Balmaceda and Serrano Glaciers. During the voyage the history of Puerto Natales is narrated (Frigorífico Bories National History Monument) and we will head then to Condores Cascade and cliffs. The voyage continues to Balmaceda Mount, where you will see the glacier. We continue along the route and finally disembark at Puerto Toro where we begin a walk through a native forest of coigües, ñirres and ciruelillos, until almost reaching the Serrano Glacier wall. Once on the vessel, you will enjoy an aperitif with ice taken from the glacier. On our way back, you will enjoy the typical spit-roasted lamb at Consuelo ranch. Duration 10 hours. A snack and beverages are served during the voyage. Return to hotel in Puerto Natales.
Day 8: Drive to Punta Arenas / Fly to Santiago / Hotel
3-Hour drive to return to Punta Arenas airport, return flight back to Santiago(SCL). Transfer to hotel for free evening & overnight in Santiago. 
Day 9: Leisure Day to Explore on your own / Farewell / Arrive Home Next Day

OPTIONAL 3Day Easter Island Extension
Deadline to confirm:  Aug 1, 2020 (this gives us time to reserve our hotels in Patagonia, which has limited supply)
Day 9 Optional: Valpairaiso Tour and Lunch / Return to airport for departure
After breakfast in the hotel, we begin drive to Valparaiso (1.5 hour) followed by a tour of Valparaiso city and Viña del Mar. See cable cars, Pablo Neruda's house, seafood restaurants and sightsee the beaches architecture and history. Return to hotel to pick-up luggage and transfer to airport for evening departure.  (Schedule afternoon - or evening flights after 7pm if you want to do the Valpo tour. No refund for early departures). 
Tour Options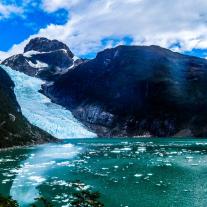 Frequently Asked Questions
How do I get to Patagonia?
Schedule your International flights to arrive and depart from Santiago, (SCL) Chile.  We take care of the rest.  
Do I need to prepare for high elevation?
No. Elevations in this trip are no higher than Blue Ridge Parkway in the Appalachian Mountains. Up to 3000-4000 feet at most.
Do I need a visa to enter Chile?
US passport holders do not need a visa to enter Chile. Citizens from other countries should check with their home embassy to determine their status for entry to Chile.
Why is the cost to travel in Chile higher than some other countries in South America?
The answer to this question has several components:
1. Chile is a member of OECD organization that promotes economic cooperation and development among other OECD countries. These countries are considered high-income destinations.
2. Other countries in South America are "developing" and their economies have different standards for wages and living standards.
3. Patagonia is isolated from major development and infrastructure. Everything is farther away and the effort to provide basic comfort and safety costs more.
This Adventure Includes
All accommodations with private bath and breakfast including Santiago
Roundtrip flights between Santiago and Punta Arenas
Airport transfers
English-speaking guide service
All ground transportation for all scheduled activities
Entry fees to everything listed except where noted
Not Included
International flights to Santiago, Chile
Lunches / dinners / drinking water (except where noted B-breakfast, L-lunch, D-dinner)
Gratuities at your discretion
Travel Insurance
Alcoholic beverages
Sturdy shoes and warm clothing
Day packs with rain covers
Notes
Deadline: please confirm by FEB 15, 2019 so we have time to reserve hotels in Patagonia where there is limited supply
50% deposit and copy of passport required at time of booking
Itinerary subject to change
Suitable for most ages 
Allow 1 additional travel day to get to Chile and 1 added day to arrive home
Easter Island Extension can be added on at the end or before the trip to Patagonia