Please send me information about this trip
One trip in July 2018 Only
Day 1: July 23 Arrive La Paz, Bolivia
Transfer to hotel for overnight. (If possible, it's ideal to arrive on July 22).
Day 2: July 24 Pampas Tour 
5:30 AM Transfer to airport for 7:30 AM flight to Rurrenabaque. Breakfast upon arrival (included) and then begin 3 day
swamp trip. At about 08:30 AM we get in our 4x4s and begin a 3 hour ride over bumpy roads to "Santa Ana de Yacuma" where we stop at a restaurant for lunch (included). After paying the entrance fee at the park (Not Incl/150 bs =22 USD) we drive 15 minnutes more to the river bank where we meet our "Pampas motorist." Our bags are loaded on the boat and we start our exploration of the natural wealth this place has to offer including; alligators, turtles, capybaras, whistling monkeys, birds such as Javiru storks, eagles, falcons, paradise birds, and much more. About 3 hours later we arrive at our camp, where we checkin to our cabins followed by a rest. As sun starts going down we navigate to an elevated vista to enjoy the sunset and a cold drink. Return to camp for dinner then rest (Notice: Electricity in Camp is provided by a generator. For ecological reasons it will stop running about 09:30 PM, so if you wish to charge batteries, or use electricity, please bring your own provisions) If conditions are good at night we may have the "Alligator Quest." You need flashlight or headlamp to spot the shiney eyes of the alligator. Back to "Swamp Camp" BLD
Day 3: July 25 Anaconda Walk
(OPTIONAL: Early walk to hear animal noises as sun rises, especially howler monkeys) Breakfast. We put on our "Wellington-style rubber boots" to start the "Anaconda walk" through the swamps. Walk for about 45 minutes on dry land and then into the swamps looking for the "anaconda."
(NOTICE: The anaconda walk is a guaranteed activity unless in rainy season the swamps become flooded, however to FIND the anaconda is something that we DO NOT guarantee since this is a wild creature and this place is not a zoo) Once back in camp we have lunch and then begin navigation for the "Piragña Fish." If you wish we may catch some for dinner. We have time for sport activity, then return to camp for dinner and overnight. Pink river dolphin swimming is also available upon request. Again it's possible to do "Alligator quest." Bring your flashlight to spot the shiney alligator`s eyes. Back to Camp. BLD
Day 4: July 26 Pink Dolphin (Bufeos) Swim
Breakfast then navigate down river to find the "pink dolphins" to swim with them (Notice: an interesting aspect of "Bufeos" is
that wherever they are present it is 100% safe to swim since they keep away alligators and piranhas) Return to camp for early lunch and
then navigate back to "Santa Rosa" to return by jeep (3 hrs) back to Rurrenabaque arriving approx. 05:00 PM. Dinner included.
Check in Hotel in Rurrenabaque. BLD
Day 5: July 27 Jungle Tour
Breakfast (included) followed by walking tour to the "Rio Beni" shores to board our boat for 10 minute crossing to the other side of the San Buena Ventura river where the "MADIDI National Park" starts. You will self pay your entrance fee (120 Bolivianos =18 Usd /Not Incl) and then return to the boat to continue 15 more minutes to a checkpoint. We navigate about 1 hour on Beni River to a detour onto "Rio Tuichi" where after 2 hours, we will arrive to our camp. On the way we might look for river animals such as deer, egrets, alligators and capybaras, and we might have to get our shoes wet (in dry season) to push the boat through spots where the water is low. We walk for 15 minutes with our food bags to our camp where we checkin to our cabins then have lunch. After lunch we start our "Jungle Walk" looking for animals, especially wild pigs and howler monkeys. On our way we will also see: rubber trees, toxic trees such as Soliman, the smelly garlic-garlic "Curare roots," and Chuchuwasy, amongst many more.
We become saturated with the jungle sensations through interpretation, animal spotting and sharing of homeopathic indigenous wisdom. Once back from our walk we return to camp for dinner and overnight (Night walk or fishing optional) BLD
Day 6: July 28 Jungle Walk
Breakfast followed byanother walk into the jungle on a different path and with chance to see new trees and animals.
Back to camp for lunch (Siesta). For the afternoon walk, we take another path around and back to camp for dinner.
We might have the "Night walk" to try to find nocturnal animals and insects such spiders and bats. Return to camp and Overnight.
Other activities or shorter walks are available upon request. BLD
Day 7: July 29 Handicrafts course. (Bolivian style!) Return by boat to Rurrenabaque
Breakfast. Our guide will teach you a few techniques and you will create beautiful and unique handcrafts such as rings and collars. Lunch and then board the boat back to Rurrenabaque. Transfer to hotel for checkin.
Day 8: July 30 Fly to La Paz
Transfer to airport for flight to La Paz where you make international connections. (or we can arrange hotel in the city center)
Tour Options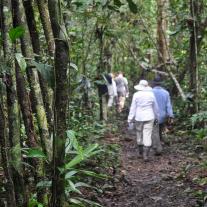 Frequently Asked Questions
This Adventure Includes
Round trip flights between La Paz and Rurrenabaque
1 Night hotel in La Paz (with private bath and hot water)
Accommodations in Swamp camps and Jungle Lodges
All meals in the 6 days in the jungle (special diets can be accommodated to some extent and with advance notice)
2 night in Rurre (the town) 
All ground and marine transportation, jeep, boat etc.
All airport and hotel transfers
English-speaking guide
Not Included
International flights or other transportation to/from La Paz, Bolivia
Meals in La Paz
Madidi National Park Entry Fee (18 USD / 120 Bolivianos pp)
Last dinner and last breakfast in Rurrenabaque
Binoculars / Telescopes
Tips (at your discretion)
Travel Insurance
Visas required for citizens of some countries including $160 USD for US (obtained at border upon entry)
Notes
Yellow Fever Vaccination required 
Altitude in La Paz is 12,500 ft above sea level
US Citizens need visa to enter Bolivia ($160 USD) which can be acquired at the border on arrival
Temperatures in La Paz will be cool in July.  (daytime around 60 F / 15 C)
Add $45 USD pp additional nights hotel in La Paz based on double/triple room