Adventure Voluntourism -
Travel and Volunteer Opportunities for Families and Small Groups
Whether you seek to lend a hand for an afternoon on your way to Machu Picchu, or build your entire trip around a service project, we can help you decide the best way to enrich your travel experience in Peru. Our model for conducting service projects is slightly different than standard NGO programs, which often focus on one community or long-term project. We have chosen not to maintain a "one-size-fits-all" ongoing service project. All our service projects are born from requests or conversations between our guides and local residents from the communities in which we travel. Some projects can be concluded in one visit. Other projects may be ongoing over the course of several visits from more than one group. 
Reasons for our flexible approach to arranging service projects: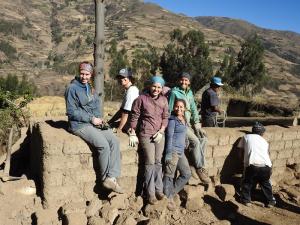 Needs change and projects change. A case can be made, that when dealing with human beings, the ideal scenario is to be a spark for positive change, but avoid becoming the "father" figure for all solutions. Villages can misinterpret your involvement and come to expect more than you are willing or capable of providing. Villages should retain their autonomy and see the benefit of short term partnerships as a means to solve an existing problem. Ultimately, they will be inspired and enabled to correct future problems on their own. This approach strengthens their cultural heritage and customs.
Having connections to several communities gives us flexibility to choose from projects that best match needs and interests of your group.
New projects can pop up anytime. Unforseen circumstances including weather calamities or changes in government procedures can be a catalyst for setting up new projects.
List of projects we have organized:
Socma village in Sacred Valley - 2 - 3 day camping while building mudbrick stoves for the school to use to cook meals for children. (this might be the only meal some kids will get that day)
Matao Pillao School Outskirts of Cusco - 1 day project to build sink in the kitchen. Public school that struggles with government mismanagement of funding. Serves children that come from families who migrated from the countryside. Because it's located near Cusco city center, this is a good project for groups with inexperienced, younger high school age students with limited travel time. For deeper understanding of their way of life, it may be possible to use local public buses for some of the transportation. In this case we would have an assigned number of students accompanied by a local guide. Gardening project. Plant veggie seeds in pots.(can be recycled containers. Will be transferred later to a bigger garden.)
Callipata village - 2-3 day project to build mud-brick structures for livestock or families. Changes in weather patterns have resulted in reduced harvests and less food to support families. The strategy is to build livestock shelters to improve non-monetary assets and enhance their economic stability. 3.5 hrs drive from Cusco. (Best for groups of 8 - 12 due to lack of infrastructure) 
Misminay village school in Sacred Valley - 1 day backpack distribution. Most students in rural communities walk to school. It is not uncommon for children as young as 5 or 6 to walk an hour or more each way to school. Students use plastic bags to carry small things or they just go without. "The Peru Backpack Project" has distributed over 600 gently-used and new backpacks to students in several rural communities over the course of 7-8 years.
Amaru village in the Sacred Valley - option for homestay with local families. Small projects may be in people's homes or in the local school. This is good location for groups that have limited time. 1-2 days. 
Trade for Trash - is an ongoing initiative that Vidal Jaquehua started in small communities surrounding the Cusco area. Targets litter, trash and accumulations of junk that are ignored in village open spaces as well as natural landscapes. Vidal has been trading backpacks or solar-powered lanterns for bags of trash collected by children in local villages or schools. This raises awareness that litter is undesirable and triggers appreciation for the charm of living in a nature-based setting. Donations of new or gently-used backpacks & new lanterns welcome.
Due to the variety of skills needed and diversity in infrastructure, we try to match groups to projects that will best serve the needs of the group as well as the community.
Several factors determine the kind of project we recommend for your group: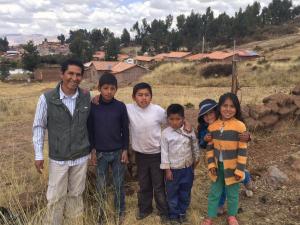 Availability. Each community determines when and what projects are needed
Age. The range of ages of all the members of your group 
Experience. Whether or not you have participated in other volunteer activities and the nature of those activities. We welcome novices! Everyone has to start somewhere
Duration of Trip. The length of time your group has to devote to a project (1 day to several days)
Size of Group. This determines where we can take you based on infrastructure in some villages.) 
The amount of supervision needed. Determined by the age and previous experience of the your group members. 
Cost of projects. This varies and is negotiated by Vidal and the community. Usually small, 1-2 day projects can be included in the quote for the trip. However, multi-day building projects may require additional funds to cover the cost of building materials.
Want to lend a hand, but short on time? Following items are always in need: (let us know the name of your hotel in Cusco and we'll arrange pickup)
Solar lights / lanterns - (brands: NOKERO, LUMINAID, LUCI LIGHT)
Gently-used and new backpacks
Gently-used hiking gear (sleeping bags for porters, hiking boots with socks)
Gently-used outerwear (adult/children fleece pullovers, adult / children's rain jackets)
1st Aid Supplies (bandaids, alcohol wipes, antiseptic cream, cloth athletic tape)
Monthly supplies for girls (disposable sanitary napkins, reuseable pads)
Soccer balls with pins/handpumps (you can never have too many of these!)
---

Sample Itinerary for 7-Day Trip with Service Project
(Recommended for groups of 6 -12. Based on double/triple occupancy)
Day 1 - Depart Home Country - Arrive Lima, Peru / overnight in airport hotel

Day 2  - Fly to Cusco/ transfer to hotel for overnight (B) Encantada
Day 3 - 4 hr drive to Callipata/set up camp/begin working on livestock shelters (BLD)
Day 4  - Continue working on shelters (BLD)
Day 5 - Continue working on shelters (BLD)

Day 6 - Work half day/drive back to Cusco / overnight in hotel (BL)
Day 7 - Transfer to airport for departure (B) Or stay & hike Inca Trail or take the train to Machu Picchu.  (Parents are invited to join us or travel with your child to Cusco and explore the city and surrounding area until students return.  Then continue together to hike Inca Trail or take train to Machu Picchu.  We'll help you with all your logistics once we know what your needs are.
Day 8 - Arrive Home if you choose to leave after the service project

Other ways to support this project:  make monetary donation or bring 1st Aid supplies, dental supplies or school supplies to your hotel in Cusco on your next trip.  We'll arrange a pickup and deliver to the village.
Includes:  airport transfers, all ground transportation, accommodations in 3* hotel with private bath, camping equipment, meals during the service project (BLD), English-speaking guides
Not included:  international flight to Lima, Peru, domestic flight from LIM-CUS-LIM, travel insurance, some meals, bottled water, tips, trip to Machu Picchu (can be added at the end)