Who doesn't love traveling with their little darlings?  Wide-eyed and fresh, the whole world is waiting for them.  And so are we.  More children are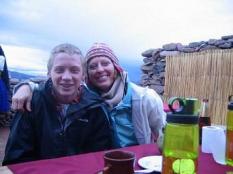 traveling than ever before.  We have children and we are aware of their special needs & interests. They are not like adults! We avoid those 'ho-hum-everybody-back-on-the-bus" tours.  (we hope none of our tours ever become like that!)
Tips for taking children to Machu Picchu:
Avoid "ruin-fatigue."  There are many ancient Inca archaeological sites beginning in Cusco and continuing through the Sacred Valley.  Adults have a say in how many sites they want to visit. For kids, we suggest a mixture of cultural tours and activities.  All the ruins may begin to look the same.  Choose kid-friendly activities on the way to Machu Picchu:  cooking classes, picnics, short hikes, visit animal sanctuary & weavers village.
Normal, active children are quite capable of hiking the Inca Trail to Machu Picchu.  However, hiking is best for families who routinely hike together.  Don't assume your child has the attention span for a full day hike on the Inca Trail if he/she has never done a full day hike before. 
Machu Picchu ruins have no amenities inside the park.  Once you enter, there are no restrooms and no food or water.  People traveling with babies and toddlers should be prepared to carry their child.  It's not possible to use a stroller and there are terraces, drop-offs and stairs without handrails.  There are very few guard rails and no warning signs.  You are solely responsible for the safety of your child.  On the plus side, children under 5 years of age can enter Machu Picchu for free.
Children's menus and special kid-friendly foods like chicken nuggets are non-existent except maybe in large airports.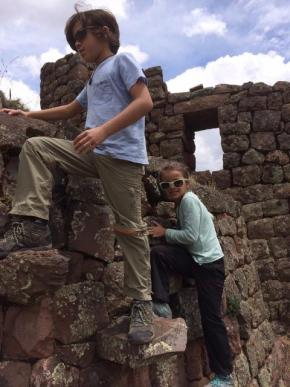 Pre-trip checklist for families:
Let us know the ages of all members of your group.  We have many options for planning activities and we have special activities and destinations that will stimulate your child's interests and imagination.
Remember that both legal guardians have to be with each child under 18 traveling across international borders.  That applies to inbound and outbound travel.  If one parent/guardian is traveling with children, the other parent must sign & notorize a letter authorizing the travel. 
Link to Travel Consent Letter at about.com/family vacation.   You'll be asked to provide your name & email address and the form will be sent to you.

Ask about adding the following kid-friendly activities to your tour:
Day hikes - Peru, Ecuador & Galapagos Islands
Camp-outs - Peru/we provide all the equipment (and help from our Porters)
Mountain biking - Peru, Ecuador & Galapagos Islands
Horseback riding - Peru, Ecuador & Galapagos Islands
Hands-on cooking fun - Peru
Wildlife & birdwatching - Amazon in Peru/Ecuador & Galapagos Islands
Grand Catered Picnic - Sacred Valley, Peru
Homestay on Lake Titicaca - Peru/step back in time
Visits to rural schools to have lunch with local children - Peru & Ecuador
Go to the top of a volcano - Ecuador
Visit indigenous markets - Peru & Ecuador
Explore the hands-on Solar Museum in Quito, Ecuador/find out if water drains in different directions in each hemispheres
Amazon River Cruise - 4-8 days/Ecuador
We have plenty of museums too, but we know that a little museum goes a long way
Want to lend a hand?  Bring school supplies or ask about 2-3 day trip to the village of Callipata to help build livestock shelters for our porters.