Machu Picchu Ruins:  map, geographical location, altitude & time zone
The ruins of Machu Picchu are located on the continent of South America in the country of Peru. The ancient Inca city is positioned in the Andes Mountains on a saddle between the mountains of Machu Picchu and Huayna Picchu at 2450 m/8040 ft above sea level. The ruins are located about 13 degrees south of the equator and surrounded on three sides by a loop of the Urubamba River.  Click here to see Machu Picchu packing guide

View Larger Map
Machu Picchu is in the GMT-5 time zone and located in a natural cul-de-sac about 113 Km northeast of the city of Cusco.
(the same time zone as Washington DC in the US but no Daylight Savings Time)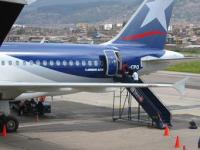 STEP 1: How to get to Machu Picchu:  International gateway - Lima
International flights arrive in Lima, Peru, located on the Pacific coast.  Many flights arrive late evening and because there are no flights to Cusco in the evening, travelers will spend 1 night in Lima.  The area around the Lima airport is not pedestrian friendly and tourists who don't stay at the Wyndham Hotel located in the airport, should arrange transfers in advance, to hotels in Miraflores, about 45 min drive from the airport.


STEP 2:  How to get to Machu Picchu: Secondary gateway - Cusco
From Lima, several airlines offer direct 1 hour/10 min flights to Cusco, which is 11,000 ft/3400 m above sea level. Most flights are scheduled in the morning
& taper off by afternoon.  It is not possible to fly to Cusco in the evening, and the return flights from Cusco to Lima end by early evening.  It is not recommended to schedule the last flight of the day if you are trying to connect with an international flight on the same day, because weather in the mountains can cause flight delays or cancellations.  Bus service is available, but takes more than 20 hours one way over curvy mountain roads.  
Need entrance tickets to Machu Picchu or Huayna Picchu?  Should you buy online or wait until you get there?  See our instruction guide
What can you see & do in Cusco and Sacred Valley of the Incas?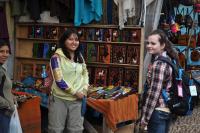 Many travelers spend a day or two checking out the historical Inca sites in Cusco while adjusting to the altitude, before heading to the Sacred Valley of the Incas. It is recommended to spend at least another day in the Sacred Valley of the Incas, exploring Pisac ruins or Chinchero, Moray & Maras on the way to Ollantaytambo, 9160 ft/2790 m, the oldest occupied town in Peru.  (or explore the sites on the way back to Cusco from Machu Picchu)
STEP 3:  How to get from Cusco to Machu Picchu

There is no public transportation through the Sacred Valley, however Peru rail offers full transportation services from Poroy station, about 20 minutes from Cusco, to Aguas Calientes (the third & final gateway city to the ruins).  Peru rail no longer provided transportation from Cusco to the train station in Ollantaytambo (about 1.5 hours) where they board trains for a 1.5 (sometimes 2) hour ride to the town of Aguas Calientes.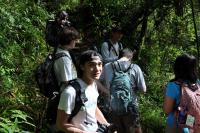 Option 1:  Hike to Machu Picchu on the Classic Inca Trail
The other way to get to Machu Picchu is by foot on the Inca Trail.  The 45 km hike takes 4-days and is only possible by hiring a licensed tour operator to buy the hiking permits for you. (also consider the easy 1-day Inca Trail hike) The operator provides guide, porters, equipment, meals and a tour of Machu Picchu.  The price should include the return transportation to your hotel in Cusco. It is not possible to hike the official Inca Trail independently.  Nor can you hike the Inca Trail backwards.  Outfitter prices vary widely and there is the possibility that if the price is extremely low it is because the porters are being underpaid.  This is a big problem on the Inca Trail and other trails and is reinforced by consumers who shop for hikes based on price alone.  "You get what you pay for," and so do the porters in this case.

Option 2: Take train to Machu Picchu from Ollantaytambo train station - about 2 hours drive from Cusco
The first trains from Ollantaytambo depart approximately 5 am, 6 am & 7 am and arrive in Aguas Calientes 1.5 - 2 hours later. There is no airport & there are no roads
to Aguas Calientes. There are no cars, taxis or motorized transportation in the village, except for the 20 tour buses that shuttle people back and forth between 5:30 am – 3 pm, in 10 minutes intervals (or when buses are full), between the town and the main entry to the Machu Picchu National Park.  
Option 3: Take train to Machu Picchu from Poroy Train Station - about 30 min drive from Cusco
The Poroy station is located on the outskirts of Cusco and can be reached by taxi.  While the majority of trains depart from Ollantaytambo, 1 train each Expedition & Vistadome depart early from Poroy, followed by 1 luxury train Hiram Bingham departing around 9 am.  All the trains offer some level of service but HB serves a complete meal en route to Aguas Calientes, arrives around 12:30 pm and then departs Aguas Calientes for Cusco about 6:30 pm.  A full 4-course dinner (with wine!) is served before arriving in Poroy at 10 pm.  Taxis will be waiting to take travelers to their hotels in Cusco.
If you are not taking the luxury train, your tour operator will arrange  private transportation for you between Cusco & the train station in Ollantaytambo.  If you are traveling on your own, ask your hotel to assist you with arrangements for the train.
What about my luggage?
Besides there not being baggage cars on the train, there is no way to transport luggage between the train and the hotels in Aguas Calientes other than by hand-carry. (some hotels will send staff to meet your train & carry your bags)  A good reason to pack lightly when you visit the ruins, even if you plan to stay overnight.  Hotels in Cusco & Ollantaytambo will store your luggage in locked rooms until you return.  Click here to see our comprehensive Machu Picchu packing guide.

Where do I get Machu Picchu entry tickets?
If you booked your tour through an operator, they will arrange all your transportation and train tickets as well as the shuttle to/from the entry to the ruins.  While it is possible to go from Cusco to Machu Picchu in one day, it is better to break up the journey with at least one overnight in Aguas Calientes or Ollantaytambo, either on the way to the ruins or on the way back to Cusco.  

Machu Picchu entry tickets can no longer be purchased at the main entry. Visitors can enter the ruins for morning shift from 6 am - 12 Noon, or afternoon shift from 12 N - 5:30 PM and all tickets must be pre-purchased online, or in person at the offices in Cusco or Aguas Calientes.  There is no senior discount and the discount for students with ISIC cards has been eliminated. Students age 16 and under are eligible for discount. It is sometimes difficult for travelers to pay for Machu Picchu tickets online.  We can purchase your tickets in advance.  You can check on availability at the Machu Picchu website or we will do it for you.   http://www.machupicchu.gob.pe/
Each ticket is valid for one entry unless you have tickets to hike Huayna Picchu or Machu Picchu Mountain. Click here to see the latest update about changes to tickets.
Click here to read our blog about driving a car to Machu Picchu. 
Can you?  Should you?
---
Click here to see itineraries for Machu Picchu Train Tours
---
Machu Picchu is open from 6 am - 5:30 pm, 365 days a year.
---
Got Questions?  Call our US office 757-714-6649 in Virginia or
click here to send us an email.