The easy 1-day Inca Trail hike can be included in most multi-day trips we offer, or as a private packaged 2-day getaway to Machu Picchu. This activity gives you the adventure of a hike combined with the comfort of a hotel including a visit and tour of Machu Picchu. The 1-Day Inca Trail hike can also be included in any itinerary. The 1-day Inca Trail hike is best suited for people who enjoy nature and walking vacations, but may not have the time or the top level fitness needed to hike the 4-day Inca Trail. No camping on this hike. Includes one night in a hotel in Aguas Calientes. We take care of all the logistics including the permits. Here's a link to our 7-Day Machu Picchu Walking Vacation
How has covid-19 affected the availability of Inca Trail hike permits?
All permits are now available at full capacity for the 1-day, 4-day and 5-day Inca Trail hikes. We are taking reservations for 2022. Don't foreget that the Inca Trail is closed every February for maintenance
Will our hike be private?
All the hikes offered by Adios Adventure Travel are in private service unless people choose to join a Small Group Trip. CLICK HERE to see availability.
Where do I make a reservation?
CLICK THE GREEN BOX TO CONTACT OUR US OFFICE

We only need 2 things:  a copy of your passport and the dates you want to hike  Your hike will be private unless you choose one of our Open Departures for Small Groups. We list everything included in the cost. Click here to go to the page with the pricing, full itinerary and booking button. We will never ask you to pay any portion of your trip in cash. We pay all local, state and federal taxes. (Tip: permits for the 1 day hike don't normally sell out but we need 7 days advance notice)
Are permits needed?
Yes, permits are required to hike the Inca Trail. Individuals cannot buy their own permits. Only licensed tour operators can get permits. We will buy the permits for you. While there is a limited number available, it's rare for the 2-day permits to sell out.  

Is it possible to set this up as a 1 day trip?
Yes. The 2-day package trip can be customized on request for travelers who only need 1 day guide service for the hike. Contact our US office by phone 757-714-6649 or email from our contact page, and we will prepare a quote based on the number of people in your group and the services you need.
Follow this link to see other Machu Picchu News.
Can the 1 day hike be included in longer tours or trips?
The easy 1-day Inca Trail hike can be added to any itinerary including the 5 or 7-day Machu Picchu trip by train.  
Should kids hike the Inca Trail?  Go to the parent checklist for info about hiking the Inca Trail with kids. 
And what about the other end of the spectrum? Is there an age limit to hike the Inca Trail? Here's link to more information about how to decide.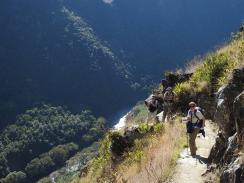 Are there any easier hikes? YES! Other easy hikes can be customized to your needs and include support vehicle. No permits needed.  Can be set up last minute
Quick Overview of the 2 day Inca Trail hike trip:
Day 1: Cusco - Chachabamba - Winaywayna - Machu Picchu - 12 KM
Pickup from hotel (about 5 am) to transfer you by car to the Ollantaytambo train station, where we board the train. The train winds us through the mountains and cloud forests with breathtaking scenery until it stops in the jungle at Km 104, the starting point of our trek. After crossing the Urubamba river on a footbridge, we check in with park rangers at the control point, then continue our hike to the archaeological site of Chachabamba, with an elevation of 2150m. From here we ascend a hill for about 2 hours until we reach a beautiful secluded waterfall and in a few more minutes, will arrive at the fascinating archaeological site of Wiñaywayna 2650 m (8,694.23 ft). After we explore the ancient ruins. we continue to hike through the semitropical cloud forest area, until we cross over the mountain through Intipunku (The Sun Gate) to get our first glimpse of Machu Picchu. After a short hike down (about 45 minutes), there is time to stop for photos before we descend by bus to Aguas Calientes for a comfortable night in our hotel. 
Note:  although this hike is considered "easy" when compared to the 4 day Inca Trail hike, hikers have a 5:30 pm deadline to reach Machu Picchu before closing if you want to take the shuttle bus down to the village. Once you get off the train to begin the hike at KM 104, there is no other option but to hike. Even if we wanted to send a car to pick you up, there are no roads, and you cannot board trains. It takes an average of 6 hours to do the entire hike.  If you have any concerns about being able to complete the hike in 7 hours, let us know when you contact us to make your reservations. We can discuss your issues and make adjustments to the schedule to give you more time or set up alternative hikes in the Sacred Valley with support vehicle.
Day 2: Machu Picchu - Cusco
After an early breakfast, we will take the shuttle bus up to Machu Picchu to enjoy the magic of the morning light and a private, guided tour. You return to Aguas Calientes by bus, then on to Cusco by train & private vehicle. With advance notice, we can make arrangements for you to spend one more day in Aguas Calientes and defer your return to Cusco at no extra cost unless you want us to book the hotel.
It's easy to make a reservation:
choose your dates: open departures for small groups at $637 USD pp, or any date for private groups at $702 USD pp (min 2)

contact our US office by phone or email

to ask questions or confirm availability - 757-714-6649 (eastern time) 
email copies of passport for each person (the passport you send us is the same passport you much show to enter the hike!)
call our US office to process your payment with any major credit card
Here is a detailed description of both days of the 2 day Inca Trail hiking trip to Machu Picchu:
Day 1.
Begins from your hotel in Cusco (or the Sacred Valley) and Day 2 ends at the same place.  We include one night in a hotel in Aguas Calientes.  Choose from 3* – 5 * accommodations.  Prices for this 2-day package can be found by clicking here. Includes full-time, English-speaking guide. We take care of all the details, so you can enjoy your vacation to Machu Picchu.

Start by packing a small backpack with essentials for your overnight & your hike:  sunscreen, camera, hat, warm layers, rain gear, snacks, bottled water & all your valuables.  You will leave your excess luggage in your hotel. For your overnight in Aguas Calientes, pack a few extra things including minimal toiletries, a change of clothes and jammies.  The train does not have baggage cars and the limit is one carryon size bag or backpack per person, which must be stowed under your seat or at the end of the carriage. (It's not like the airline where they measure your bag unless you try to sneak a megalithic bag on board!)  The thing to remember is that you are walking everywhere and you have to carry all your luggage.  Guides are incredibly helpful and will go all out to assist you, but one guide can only carry so many extra bags. 

The guide will meet with you in your hotel lobby the day before the hike to review the logistics. In the morning the driver and the guide pick you up from your hotel for 1.5 hour drive to the train station where you and your backpack will board the early train. When we book your train tickets we always use Perurail and we submit a petition asking them to allow you to get off. This is why you cannot set up your own trip.  At km 104, the train comes to a complete stop in the jungle and you jump down onto the side of the tracks.  At this point, you wave goodby to the train.

It's a pretty awesome experience to watch as the train pulls away and your little group is left standing in the jungle with no signs of civilization, not even a platform!  You cross a sturdy footbridge over the crashing Urubamba River, to the check-in station.  Your guide will present your permits (we take care of all this ahead of time) and you use the toilet one more time before you start hiking.  Now is a good time to slather sunscreen.  

The hike winds diagonally up the side of the canyon away from the river and the railroad tracks. It dips in and out of the shade and can get quite warm.  But never fear, cool temperatures are
always nearby.

You'll pass some impressive waterfalls, but more impressive are the stone steps that take you up through the center of  the steep, but fascinating Winay-Wayna ruins. Next thing you know, you'll pass through a wooden gate that takes you to the campground where everyone who hikes the 4-day Inca Trail sleeps on their last night.  You will not sleep here.

You'll stop for box lunch (included in the cost of your tour), restrooms and maybe slightly overpriced sodas, (if stocked) then continue through another check-point and before you know it, you're actually climbing downhill.  Don't worry, it goes up again.  The forest becomes dank and dark and might be raining as you tread over ancient roots and stone steps.  It looks like a place where fairies and gnomes live.

Finally, when you see a short wall of stone steps referred to as "the gringo killer," that literally requires you to use your hands as well as your feet, you'll know you are close to the Sungate. Inti-punku.  

Once you cross the Sungate, the sky opens and if it's clear, below you will see the hallowed ruins in the all their glory.  If it's cloudy, just wait 5 minutes, things could change and you could still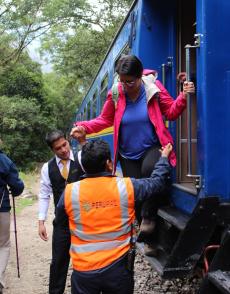 see the ruins. Take your photos quickly if it's clear and save the ooing and aaawwing for the cloudy moments. Rest a bit, then start the descent to the ancient city below.  You'll walk stone paths and stairs for at least 30 – 40 minutes.  

You will have walked 12 km by the time you arrive at the ruins. If it's sunny, take a few more photos.  A quick look around is enough before heading down to the park entry and the shuttle buses. The 30 minute bus ride stops in Aguas Calientes in 2 places. One stop is at Av. Hermanos Ayar by the Urubamba River.  Then it continues up the same street following the tributary a short distance before the final stop. If your hotel is near the top of the town, you'll want to ride the bus to the very end. Your guide will tell you which stop is yours. But it doesn't really matter. The town is small and aside from the shuttle buses and train, there are no vehicles or modes of transportation other than your feet.

A little rest, a shower, then it's time to check out the town. Remember, what goes up, must come down.  he town is steep and there are only 2 streets that go up;  achacutec and Hermanos Ayar.  njoy your evening in Aguas Calientes, then get a good nights sleep so you can enjoy your 2nd visit to the ruins the next morning.  (Hikers must finish the hike to Machu Picchu main entry no later than 5:30 pm in order to ride the bus to the village. In case you do not make it by the last bus -around 5:45 pm- the only option to get to the village is to continue walking in the dark about 1.5-2 hours. There are no taxis or cars)

Day 2.
Your guide has your train tickets and will discuss departure logistics which will determine what time you need to get up and eat breakfast. You may leave your backpack at the hotel and take a small bag with camera, sunscreen, hat, rain gear, bottled water, mini-first aid kit and snacks (or picnic lunch). All hotels offer an early breakfast and can prepare box lunches if requested a day early. The first bus gets loaded by 5:20 am for visitors who want to arrive by 6 am for the park opening. The line to board the buses can be very long. (1-2 hours wait time is not unusual).  Patience is a virtue and will serve you well in times like this.  Sometimes, there is no line. But it is unpredictable. Starting in 2019, buses only give preference to people with the earliest entry tickets to Machu Picchu. The bus ride is 25 minutes to the main entry.  There is one restroom located at the bus stop near the entry to Machu Picchu national park. The cost is 2 soles per person. There are no restrooms inside the park. You cannot exit the park to use the restroom and then re-enter the ruins.

Your guide will handle the tickets and steer you through the entry then assist you up the stone steps for about 20 minutes as you enter the magnificent Machu Picchu ruins.  There are 2 marked trails to choose from inside the park. All trails move in one direction and effective September 1, 2016, will leave through the next exit gate.  If you plan to hike to the Sungate or Inca Bridge you will need to do so before the guided tour. (general ticket entry limited to 1 per ticket).  Tickets for hikers are for morning from 6 am - 12 noon.  They will not chase you out at 12, however if you exit the park you will not be permitted to re-enter. 

Not wanting to spoil your visit, I won't go in to the details of the guided tour.  Rest assured you will be amazed.  Each tour is different.  Each guide is different.  Each group of visitors is different.  Your tour will be unique. The park is 32 acres of terraces and stone buildings, gardens & open spaces. There is something for everyone.  Adios guided tours can take up to 4 hours. If you prefer shorter tour, just discuss it with your guide.

Maintenance of the ruins is a year-round initiative and caretakers scrape plants from the cracks of the structures and plant grass in worn areas.  The treasure of Machu Picchu belongs to all of us and while the Peruvians bear the burden of the upkeep, it is incumbent upon the rest of us to do our part.  Whatever that is.  I'm sure you'll figure it out.

Your guide will make sure you know what time your train departs so that you know when your visit is over. It's usually before mid day. After the guided tour, the only way to re-enter is if you pre-booked tickets to hike to Huayna Picchu or Machu Picchu Montana. Be sure to allow enough time for the entire route as you are not allowed to turn around. Take the shuttle down to Aguas Calientes where you collect your luggage and (like running the gauntlet) passengers pass through the market to enter the station. Just try not to buy something. HA! 

You board your train which rambles through the Urubamba valley for 1H 45M to 2H, to Ollantaytambo, while stewards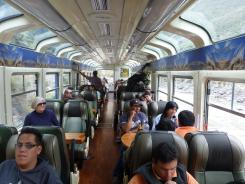 serve tea and coffee. You deboard with your daypack in Ollantaytambo and walk to the vehicle waiting to drive 2 hours back to your hotel in the Sacred Valley or Cusco.  

So ends your 2-day adventure to Machu Picchu.  A little hiking with the comfort of a hotel.  And your adventure to the Lost City of the Inkas becomes one of your fondest memories.