Volunteer Opportunities In Peru & Bolivia - For individuals or groups:


1) Privately run animal refuge in Bolivia for individuals or groups:
2) Short-term medical missions in Bolivia, Haiti, Africa & other destinations:
http://projecthelpinghands.org/
3) Indigenous school for girls in Peru:
http://sacredvalleyproject.org/
4) Veterinary Aid in Peru & other developing countries:
http://worldvets.org/volunteer/upcoming-projects/
5) Planning a trip to Machu Picchu? We can arrange service projects or delivery of gently-used backpacks or school supplies
 We are proud members of Pack for a Purpose, an initiative that allows travelers like you to make a lasting impact in the community at your travel destination. If you save just a few kilos of space in your suitcase and bring supplies for area schools or medical clinics in need, you'll make a priceless impact in the lives of our local children and families. 
Contact us for details:  info@adiosadventuretravel.com
There are many demands on government spending, and for a variety of reasons, the people in the Andes mountains receive little or no assistance with basic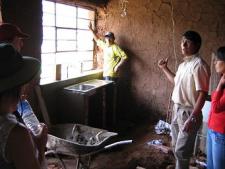 infrastructure. Many of the things that we commonly use, including faucets, lightswitches, heat or A/C, do not exist. For this reason, Adios Adventure Travel has been a conduit for materials and logistical support for travelers who are interested in working with our neighbors in the nearby mountain communities.
At no extra cost to you, we can arrange 1 or 2 days of service in your trip. We invite our traveling visitors to join any of our Peruvian service projects or ask us to set up a project for your family or group. We are able to invest a small percentage of our profits to assist people in rural, developing communities. You do not need special training and it's a great way to enhance your language skills as well as offer meaningful interactions with local people. You can choose to be personally involved in the projects or just observe. You can assist our crews for a few hours or a few days.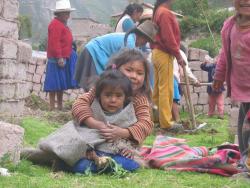 Adios Adventure Travel arranges all the logistics, including the purchase of tools and the hiring of local tradesmen services, if needed. Our preference is to focus on small villages. For example, we arranged the Pillao Matao Project and assisted school administrators with the installation of water pipes and a sink in their small kitchen. This is a small school on the outskirts of Cusco, in the San Jeronimo district. When mirgrant families relocate for work in the city, their children need to go to school. These are children who want to learn, even though they must sometimes walk great distances to school. Most of them bring a piece of wood to school each day to cook their lunch, which is frequently their only meal of the day.
Another is the Peru Backpack Project in Socma.  A group of U.S. high school students collected gently-used backpacks and brought them to Peru. Adios Adventure Travel arranged for the U.S. students to hike to the small village of Socma in the Sacred Valley. The students camped on the soccer field and stayed to work on a community garden, an adobe stove and an adobe wall. The U.S. students distributed the backpacks to the local students, who hike two hours over rough terrain each day to and from their school.