One Day Hike to Hidden Waterfalls and Unknown Inca Ruins in the Sacred Valley
When covid closed down all the archaeological sites in Peru, including Machu Picchu, for almost a year, our local, nature-loving tour guides headed to the mountains every chance they could. This is how they stumbled on this amazing hike to hidden waterfalls and a remote complex of ancient Inca ruins. Families and active people of all ages will enjoy this one day hiking adventure to explore lesser known areas in the Sacred Valley of the Inkas. Start this day hike from any hotel in Cusco or the Sacred Valley.
What is it? 1-Day Easy Hike to Perolniyoc Inca Ruins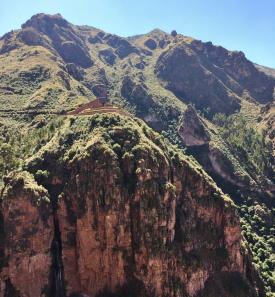 The word "Perolniyoc" means something like "the site with a pan below the waterfall" in the oral Qechua language, making this the perfect destination for would-be explorers looking for a little adventure. What do you get when you combine a myth about hidden Inca gold with a hike to a secluded waterfall, and mysterious unknown Inca ruins? You get an amazing step back in time to a lost world where the mysteries of living in ancient times simply cannot be explained. Imagine what it would be like to wander the remote Andes Mountains searching for clues from a past civilization while surrounded by stunning landscapes?
How do you get to Perolniyoc Inca Ruins?
At 8:30AM an Adios Adventure Travel tour guide and driver will pick you up from your hotel in Cusco or the Sacred Valley and begin a 1 hour/40 minute drive to a small village where the van will park. It takes about  2 hours to hike to the 2 waterfalls and up to the ruins. It takes about 1 hour to hike back to the van. From there you will drive back to your hotel in Cusco or the Sacred Valley.  The total time needed is about 6-7 hours. 
observe the Peruvian countryside before it was invaded by Many fortune hunters seeking gold have made the trip to the remote waterfall in hopes of striking it rich. No one knows if the myth of hidden golden treasure is true, but it makes for a great one day adventure! 
What do you need to pack for the 1-day Hike to Perolniyoc Inca Ruins?
Wear strudy waterproof non-slip shoes. Bring a daypack with raingear, warm layers, sunscreen, sunglasses, sunhat, drinking water and snacks. (optional box lunch can be included)
How difficult is the Hike to Perolniyoc Inca Ruins and the Hidden Waterfalls?
With a modest elevation gain of 1500 ft. the maximum elevation is 12,100 ft. It takes about 45 minutes to hike to the first waterfall, then continue another 30 minutes to the top of the Inca site. The ruins are located on a prominent knob overlooking the valley. The return hike is about an hour mostly downhill. 
What is the Cost for the 1-Day Hike to Perolniyoc Inca Ruins?
Cost based on the number of people in your group in USD: 
1-4 people - $250 USD (add $20 for box lunches for 1 or 2 people and $40 for 3 or 4 people)
5-7 people - $300 USD (add $20 for boxed lunch for 2 people)
 How Can You Add This Day Hike to Your Machu Picchu Itinerary?
There are several ways to integrate the Perolniyok hike with your itinerary. 
Looking for an adventure?