A Taste of Corn Beer in Cusco, Peru: the Ultimate Foodie Adventure
It's called Chicha de Jora, and consumption of authentic Inca corn beer is on the rise as foodies of all ages seek out hidden gastronomic experiences still available in Peru today. The production of home-made small batches of chicha beer is one of the most genuine examples of ancient Peruvian culture alive today. Brewed mainly by women, the process begins with selecting the perfect corn. Each brewer fosters her intuition for selecting the best ingredients for her signature brew. After soaking for just the right amount of time, the kernels are buried in layers with andean grass known as "ishu straw."  This creates the perfect micro-climate to anoint the corn before wheat is added and the concoction is boiled. The corn and wheat "juice" is separated into two special containers based on thickness, and in the final stage the two liquids are married and fermentation completes the process.
When you're driving through the Sacred Valley you may notice mudbrick homes displaying a pole with a red cloth or plastic tied to the end, sticking out the front of the house, telling everyone that the chicha is ready to drink!
Fortunately for Adios Adventure Travel, Vidal's mother, "Mama Trini," is a local legend when it comes to brewing chicha beer. The Jaquehua family established a small chicheria in their family kitchen, where local people in Cusco mingle for jubilant gatherings, which sometimes include traditional live music.
We are pleased to arrange by request, the opportunity to savor authentic chicha beer and traditional Peruvian food in Vidal's family kitchen.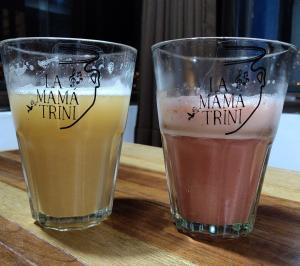 Here's what you need to know: 
available by private arrangement. This activity can be included in most trips to Cusco. Vidal will make the arrangements and usually he escorts you personally.
located in San Blas neigborhood (up hill in Cusco, about 15 minute walk from the main plaza)
food and beer are created using local ingredients and the daily menu is subject to change
food and beer in a traditional Picanteria (non-tourist place)
payment is in cash (Peruvian currency) after you visit
typical dishes include chicharron, churrasco al jugo, trucha and rocoto relleno
drinks like Chicah de Jora, Frutillada and Chicha de Quinua (non-alcoholic)
high quality products are sold to local restaurants
bathrooms are available
children are welcome
maximum number of people is 20
Just contact me through this website. If you want to add this to your itinerary I will coordinate with Vidal in Cusco who will take care of the scheduling and logistics. Everyone who travels to Machu Picchu usually flies into Cusco and spends at least 1 or 2 days exploring. This is the perfect opportunity to enhance your travel experience with an authentic gastronomic experience.
Here's a link to read more about Vidal's Mother written in his own words,
Looking for an adventure?