Travel After Covid: Why Small Groups are the Safest
Is big group travel dead? If one thing has become obvious after experiencing the biggest pandemic in modern history, we can all agree that there is an intrinsic health benefit to avoiding large groups as much as possible. Whether you're in your neighborhood or a far-flung destination, social distancing has become acceptable. And airports, airlines and hotels are updating and improving cleaning standards to minimize everyone's exposure to pathogens that could carry the potential for illness, whether it's corona virus or any other contagious ailment.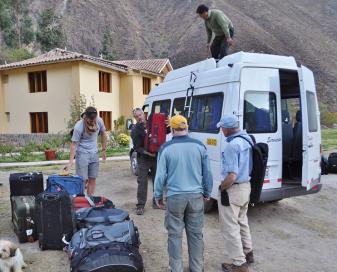 For all travelers' health and safety, the way we move around after we arrive in our destination will migrate up the list of things to be considered when planning any trip. It is no longer ideal to move around in large groups trailing behind a guide on big buses. Adios Adventure Travel has always used the small group model of travel because we believe it enhances the experience. But it turns out that there are many other advantages to this mode of travel. 
Avoid crowds.
Staying in small hotels and using private local vehicles may be preferable to "bigger is better" style of traveling. From the moment you arrive at your destination airport, it's possible to limit the exposure to larger groups by using private transportation, personal guide service and small boutique hotels. 
Tour and explore in your small group.
There's no need to join a group. Book your trip for your family with a minimum of 2 people. Stay in your private group with your private guide and your private driver as you move about to explore. This has always been the norm for some small boutique tour operators like Adios Adventure Travel. We are experienced in arranging activities, tours and logistics for small groups in South America. 
Flexibility to make last minute changes.
Although every group chooses their activities and an itinerary is sent in advance, you may decide when you get there to skip an activity or restructure the sequence of your activities to avoid colliding with other larger groups. While we do our best to schedule our activities during slower times, no one can control the flow of other people. But we can sometimes make last minute changes.
Use private guides, drivers and vehicles.
When it comes to sanitation, smaller can be better because it gives us control over standards of regular and frequent sanitation and reduces your interaction with excessive numbers of people.
How is the cost affected?
Is it more expensive to travel in small, private groups? No. Here are links to several trips that can be booked for a minimum of 2 people. And private trips for 1 person can be arranged on request at a slightly higher rate.
7-Day Machu Picchu Walking Vacation
2-Day Inca Trail Hike to Machu Picchu
See the list of all our trips
Can 100% of all risk be mitigated?
No. But experienced travelers know that there is inherent risk in travel in general. That's the nature of travel. Leaving the comfort and safety of your home environment has risks whether you're driving to the nearby market or flying abroad. It is certain that travelers can and should expect upgraded sanitation procedures and more attention to preventing exposure to pathogens of any kind no matter where they go. And travelers can expect to take some responsibility for their own safety and comfort by providing sanitizers, masks and perhaps even a personal thermometer when they fly.
When it's time to travel, we look forward to serving you. Our teams are ready to welcome you. Standby for more blog posts about travel to Machu Picchu in 2020. Peru is expected to reopen after June 30. Machu Picchu reopens on July 1. We'll be posting all the details as soon as they become available. 
Looking for an adventure?