After Closing for Covid-19, Machu Picchu Reopens With New Rules for Travelers
Whether you call them lucky or plucky, the first visitors to Machu Picchu post pandemic, are likely to enjoy their experience more than usual. New rules for visitors as Machu Picchu reopens offer optimum conditions for exploring the ancient Inca citadel.
Date of Reopening at Machu Picchu
Our guides in Cusco report that reopening will be in July, when rangers and agents have been asked to report for duty at the ancient citadel. It appears that July 24 is the target date but don't hold me to it. It shouldn't matter for international visitors because at this stage we don't know when the borders will reopen for foreigners. The new Machu Picchu procedures will be tested on the first domestic visitors.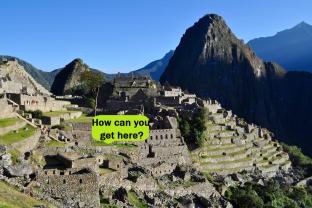 Social Distancing Rules at Machu Picchu
maximum of 75 visitors admitted per hour
up to 7 people per group (with or without a private guide)
spacing is 20 meters between groups
trains at 50% capacity
buses at 50% capacity
guided tours may be limited to 1 hour/20 minutes
How to Buy Entry Tickets to Machu Picchu After Covid-19
Machu Picchu website is up and running. But tickets are not available to buy directly by travelers or tour operators.
Pre-order with a tour operator who will buy as soon as tickets are available (valid passport needed)
Book a package trip with hotels, tours and all ground transportation including tickets
What do you need to know about trip cancellation? 
We can't speak for other tour operators but Adios Adventure Travel is offering free cancellation and 100% refund guaranteed for groups booking trips in 2020. Follow this link to see full details. Or contact our US office.
It is strongly recommended that travelers purchase (CFAR) "cancel for any reason" travel insurance. Policies vary. It's wise to read the terms. 
How to Get to Peru
Avianca and Latam Airlines both filed for Chapter 11 Bankruptcy protection. What does that mean for travelers trying to get to Cusco? Most international flights must go through Lima, Peru. It's not what you think. Each airline has a different story. 
Check back from time to time as I update information. We're expecting the Peru President to announce more details about the border reopening very soon!
Looking for an adventure?