Restricted Access to Machu Picchu Historical Landmarks
In the last 4 years, Peru authorities have made several significant changes that affect all visitors going to Machu Picchu. Tickets are now sold by the hour. circuits are one-way, and there is a dedicated exit gate, which some people seem to arrive at much sooner than they expect!
The most recent pilot project tested restricting access to 3 of the most popular and impressive sites in the citadel with limited visiting hours. I will explain how it works. The Sundial, Temple of the Condor and Temple of the Sun are now restricted to access only at certain times of the day. And slowly, the park officials are closing other adjoining areas to discourage lingering. They want people to keep people moving through the park. Most visitors visit only in the morning or only in the afternoon. For people who have interest in a thorough tour of the citadel and want to see all 3 of these major structures, I have included a 2-day itinerary below as an example.
#1 Intihuatana (Inti watana) / Sundial open 7am-10am
An intihuatana is a kind of astronomical marker used by priests to indicate significant celestial events. Many intihuatanas were destroyed by the Spanish invaders, but because Machu Picchu was never discovered by the Spanish, the sundial remained intact.
This feature is a monolithic stone column about 2m high, carved from a single granite slab. The diameter is 2m with 4 flat sides which are believed to represent norh, south, east, west. The stone was carved to align with the sacred sun on both equinoxes. On March 21 and September 21 the sun stands directly overhead creating no shadows. (too bad it's not open at 12N during the equinox)
#2 Kuntur Wasi  / Temple of the Condor open 10am-13:00pm.
Named because the rock is shaped like an outstretched wing reaching to the sky. Next to it on the ground is a chunk of bedrock carved with a shape of the head of the condor. Behind the carving is a cave where it is likely that ceremonies took place. Under the temple is a small cave that housed a mummy. And behind the temple is a prison complex with human sized niches and what could be described as a dungeon.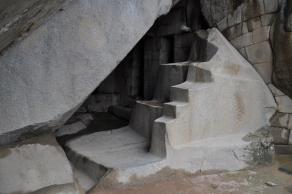 #3 Inti Wasi / Temple of the Sun open 13:00 to 16:00
Located in the heart of the urban sector, a semi-circular wall with windows that aligned with the summer and winter solstices, was constructed around a naturally occuring rock feature that could have been carved to serve as an altar. Only priests and nobles of the highest status were premitted entry. The quality of construction stands out from the surrounding structures which could indicate a building of importance.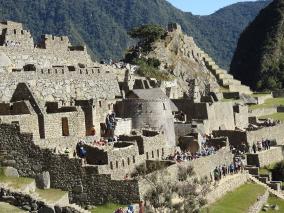 No one can guarantee that these visiting hours will not be changed or that the park will not close an exhibit. We do our best to stay up to date on changes. But keep in mind that when people book trips in advance, it's possible to show up and not be able to see one or more of these archaeological wonders in case the authorities make changes.
The best way to plan your visit to Machu Picchu to include all 3 of these sites is to set up a 2-day trip from Cusco or the Sacred Valley. This trip is designed for history enthusiasts, educators, and curious travelers who want to explore in depth. Visits to these archaeological monuments can be included in 2 days of guided tours. Adios guides will help you determine the best strategy to explore the ruins to see all that is possible in the time you have. A thorough guided tour can take up to 4 hours per day.

2-Day Tour of Machu Picchu Historical Landmarks (Private)
Day 1 - Train to Aguas Calientes / Optional Hike to Sungate & Inca Bridge / Temple of the Sun 
Travel 2H by van to the main station in Ollantaytambo where you take morning train no later than 8:30AM to the end of the line at Aguas Calientes. Our guide will meet you and walk with you to your hotel where you drop off your overnight bags (there are no cars, taxis or vehicles in the village). Depending on your plan you can board the bus immediately for 30 minute ride to Machu Picchu and enter the ruins to begin your tour. Here's where you need to decide if you want to include a hike to the Sungate or Inca Bridge, you must do that first. Then you enter the citadel. Or you can stop for lunch in the village then take the bus to the main entry and begin your afternoon tour to include the Temple of the Sun. The circuits are 1-way and it is not possible to backtrack. Once you reach the exit gate you take the bus to the village and walk to your hotel.
Day 2 - Sun Dial & Temple of the Condor (Could be combined with 10AM Huayna Picchu Hike) / Return to Cusco
After breakfast in your hotel, you meet up with Adios guide and take the shuttle bus to the main entrance where you begin a guided tour to include the Sun Dial and the Temple of the Condor. If you plan to hike to Huayna Picchu, you go to the checkpoint no later than 11AM. If not, you continue your guided tour through Machu Picchu. After you exit the park you take the shuttle bus back to the village where if time permits, you may stop for lunch. Walk to the train station at least 30 minutes prior to your scheduled departure. (we like the 14:55 Expedition train with this itinerary) Arrive in Ollantaytambo where you take private taxi 2H to your hotel in Cusco. (usually arriving by 6-7PM if you take the 14:55 train)
Cost: $312 USD per group (up to 5 people)
Includes: English-speaking guide and private guided tours 
Not included: Trains, shuttle buses, hotels, meals, entry tickets (all of which can be arranged on request) 
Can You Add the Easy 1-day Inca Trail Hike?
Yes, if you're fit enough to do the 12KM hike then go right in to Machu Picchu citadel to see the Temple of the Sun before it closes at 4PM. The next day you would enter as described above on Day 2. In addition to booking the 2 day hike you would still have to buy another entry ticket to Machu Picchu.
What you need to know about Adios Adventure Travel guides:
all guides are licensed
all guides speak English
most guides live in Cusco or the Sacred Valley and will travel to meet up with you in Machu Picchu, unless you book a multi-day trip in which case they will travel with you every day beginning on your first day in Cusco. 
guides are your advocates to solve problems and assist you in any way they can
we do not schedule multiple groups with one guide on the same day
your guided tour of Machu Picchu is private
guides can provide trekking poles if requested in advance
Looking for an adventure?