New Machu Picchu Airport Scheduled to Open in October 2024
Setting an opening date is probably a sure sign that the Peru government intends to go forward with plans to build a new Cusco international airport in the (soon-to-be-not-so-quaint) village of Chinchero, famous for small co-ops of qechua weavers, not to mention an indigenous market and a beautiful colonial church. 
After years of wrangling over property rights and other legal mumbo-jumbo, the controversial airport project is now under construction and scheduled to be open by October 2024. I"m not holding my breath that it will open on time, but for sure it appears that a new airport in Chinchero is inevitable. 
The new airport is likely to affect many things in the region. Some of which will be determined after it opens. Most importantly is, which way will the money flow?
Why is the Location Important?
The location of the airport is important in determining which direction the flow of tourist money will go. Chinchero is located about 30 or 40 minutes drive on a congested 2-lane road from Cusco. The village is on the way to the Sacred Valley and Ollantaytambo, which happens to be where the main train station to Machu Picchu is located. The big question is, how will the location of the new Chinchero airport affect the flow of visitors whose main objective is to see Machu Picchu? Will they make the effort to backtrack to Cusco?
Chinchero Sunday Market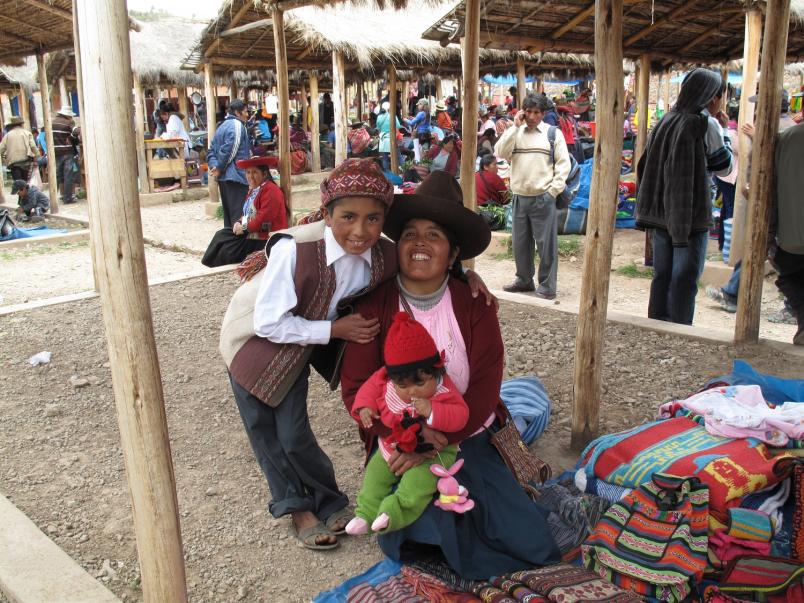 How Does Altitude Affect the Movement of Travelers?
Because of the high altitude, 12,000 ft at Chinchero, which is 1000 ft higher than Cusco, it's not likely that many visitors, most of whom are coming from sea level, will choose to arrive and hang out near the village. Frankly, there is no infrastructure in place to accommodate visitors. However, I"m betting you'll see restaurants and hotels pop up nearby. But it's a dangerous investment in my opinion. Most people will opt to arrive and head out of town immediately to avoid the potential affects of altitude sickness. The new airport will be that much closer to the Sacred Valley which is why I predict that the Sacred Valley will explode with new hotels and restaurants. Infrastructure baby!
What will Happen to the City of Cusco?
I expect to see a drop in overall traffic to Cusco, but by no means an abandonment. Hotels will have to lower their rates to entice visitors away from the Sacred Valley. For people who are planning to spend a week or more in Peru, Cusco is a must-see destination. It's exotic and has enough infrastructure to handle the needs of travelers seeking to explore and dine close to their hotel. But for cruise passengers and other people booking short vacations to Machu Picchu, it will now be possible to fly in to Chinchero, travel to the Machu Picchu ruins, then fly out without seeing Cusco at all. Nada.
Back to the New Airport
Chinchero airport is expected to receive more than 6 million visitors a year. That's a 60% increase from 2018/19! Currently Alejandro Velasco Astete International Airport in Cusco receives an average of 30 flights per day and estimated 3.5 million visitors in a year. The new airport will be 3.5 times wider than the old airport and the airstrip extended by 17%. I find it interesting that the Republic of South Korea will provide technical assistance for the construction. 
What's the Biggest Issue for Handling Such a Huge Increase in Visitors to Cusco?
In my opinion, the roads are the stumbling block. The road system in and out of Cusco is horrendous. The road through the Sacred Valley is 2-lane traffic and subject to congestion from slow vehicles, local people and curves. The only thing good I can say is that the roads are paved. There's no public transportation in the region and the majority of travelers move around in private taxis and tour operator buses and vans. Using roads. I can't picture all the additional vehicles needed to move an extra 2.5 million people!
How Far is the New Airport from Machu Picchu?
Instead of being 4-5 hours travel time each way from Cusco. The new airport will knock off 30 minutes of driving to the train station in Ollantaytambo. There is a small train station in Poroy with limited service from May-Dec. This reduction in driving time is not a substantial impact on the time it takes to get to Machu Picchu. It's not likely that visitors will be able to trim down the current 3-day minimum needed to visit Machu Picchu, even with the new airport. The impact of the new airport will most likely affect the comfort of people on short vacations. Skipping the congestion around Cusco is a bonus for short trips to Machu Picchu. Unless of course there's a trade-off with vehicle traffic. 
Looking for an adventure?