Should You Dine at MIL Restaurant in Sacred Valley Peru?
If you build it in the middle of nowhere, without public transportation, and charge scandalous prices, will they come? Chef and culinary pioneer Virgilio Martinez is confident they will. Why? Because after launching a successful restaurant empire in Lima, he knows foodies. Like sailors beckoned by the seductive song of the siren, gourmet diners will travel to the ends of the earth for the chance to sample foods that excite their palates. Connoisseurs don't let earthly concerns like money or logistics prevent them from attending a potential gastronomic convergence.
Hubert and I spent nearly $200 USD per person to dine at MIL restaurant in Sacred Valley. If you know me, I'm frugal and practical, but I don't mind splurging if the value can be justified. I often stay in hostels that cost $20 a night, so I could not accept that any meal on the planet would be worthy of that much bread. So. We forked out the dough (all the puns intended) for the meal, plus $100 USD for roundtrip transportation from Cusco. After we got over the fact that we paid what is more than a month's food budget for most Peruvian families, we predicted that this restaurant would not be able to live up to the hype. The total damage was over $500 for 2 of us including the tip.
In spite of the fact that we expected to dislike the entire premise of this experience, we were won over and utterly yielded to the wisdom of the culinary expert who apparently knows what he's doing! Some people you can trust, and Virgilio is one of them.
How to get to Mil restaurant. 
Private transportation needs to be arranged for the 31 miles (50km) from Cusco city center. There is no public transportation in the Sacred Valley and local buses do not go to tourist spots. I supposed you could rent a car if you have the nerve to drive around Cusco. But I don't. Once you get out of the city, the 2-lane road is paved until you turn onto a dirt road for the last few miles to Mil, overlooking the largest Moray sinkhole. The route is not well marked so you're advised to study, if not pour over a map, then commit to memory as if you were preparing for an SAT test. Relying on GPS or a tiny map on your phone is risky. While it could be cause for alarm to get lost, missing the meal would be a greater tragedy.
It's a 2 hour drive from Cusco each way. The roads are not fast and it's easy to get bogged down behind slower moving vehicles. You'll know you're getting close when you see herds of tourists on ATVs creeping along the dusty dirt road, blocking traffic. (that's another topic for discussion!) There's plenty of parking outside the restaurant but there's no place for drivers (or guides) to "hang out" while you escape the world for 3 hours. Yes 3 hours is the average time it takes to complete the meal. The village of Moray is 10-15 minutes away and this is probably the best place for drivers to wait.
The Setting.
The 1-story mud-brick building stands alone on a knoll overlooking the largest sinkhole in the Moray Greenhouse Archaeological ruins. There is an interior courtyard with the dining room on one side and the food lab on the opposite side. Both interior walls are glass from floor to celing. There is no substantial view of the ruins outside unless you stand next to one of the windows in the dining room. The lighting is natural daylight from 3 modest sized windows, and spa music sets the stage for what may be the ultimate gastronomic experience for most people. Including me.
Modern scandinavian(ish) wood tables and comfortable padded chairs are pre-arranged for that day. The room is intentionally not heated so as to avoid releasing impurities generated by combustion into the atmosphere.  If you get chilly they will wrap you in an alapaca wool blanket on request. Every detail of the table setting has been carefully considered. There are no condiments on the table. You are truly in the hands of culinary pros and you don't need to fix or adjust the taste of anything at the table. Each cup, the napkin, the silverwear and the serving vessels have been crafted and chosen to convey something. That something is a feeling you get when you eat certain combinations of foods that trigger chemical reactions and delightful emotional responses in the brain. I'll leave the neurological analysis to the pros.
The Meal.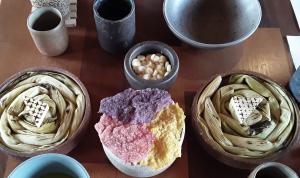 Like floats coming by in a parade, each of eight courses is presented at our table one by one. I almost expected the waiter to bow during the presentation. But he didn't. This is not a pig-out kind of meal. The portions are bite-size and should be consumed one molecule at a time. I remind myself to eat slowly to savor each small morsel. After each course is completed dishes are removed and we wait for the next one. By now we trust Virgilio. He knows what he's doing. This experience is not an accident. Combined with his passion for finding twigs, berries, seeds, roots and other imaginative ingredients, this meal is a showcase of the various eco-systems found only in Peru. Virgilio and his well-trained staff endows us fortunate patrons (and my God, are we fortunate!) with a sensual experience that begins with our eyes, continues in the mouth and then what? Oh there's much more. But what? Our body's meridian lines? Emotional memories? It doesn't matter. We sit back and enjoy the ride. Wave after wave of anticipation, surprise and glee as each course arrives. After 2-3 courses, we fall into a rhythm and something happens in our brains that turns us into true believers.
That is how the meal flows.  Finally ending on a crescendo with an unsuspecting frozen concoction of cacao and coca leaf.  Trust me. It works!
The Ending.
This is not the kind of meal you want to wear a watch to. If you're planning to catch a train or plane, don't plan this experience on the same day. Allow time to linger and enjoy table side pour-over coffee, or hot tea, before you walk out with a big, fat smile on your face and a belly that should be adequately satiated but not stuffed.
What you need to know:
Reservations are required and can be made online with the payment.
Groups of 8 or more need to make reservation by email
Midday is the only time service is offered. The restaurant is not open for breakfast or dinner.
Vegetarians, vegans and gluten-free tasting menus are available.  Request at time of reservation. And notify them if you have food allergies.
You get what you get. You don't order dishes a la carte, and you can't get "extra servings." There are 8 courses and portions are modest.
You may have time to stop at Chinchero weavers village on the way from Cusco, but it's not possible to "incorporate" this experience in a full day Sacred Valley guided tour. It would be gauche to expect your guide to wait for you while you dine in ecstasy.
There is a children's tasting menu
A menu of liquid extracts and infusions before each course can be included at extra charge. Choose alcoholic or non.
Drinking water and hot tea are included with the tasting menu. Sodas and flavored beverages are not offered as they would interfere with the experience.
In my opinion, this is not so much a meal as it is an experience, similar to Machu Picchu. In order to see the ruins, people understand the costs and logistics to get there. Going to MIL restaurant falls into the same category. It's a gastronomic tour of Peru and it's worthy of adding another day to your itinerary to do this activity.
Adios Adventure Travel offers 2 options for groups who want to arrange this activity:
#1 - Sacred Valley Modified tour with MIL Restaurant / Including the guide in your online reservation
At 7:30 am your guide and driver pick you up from hotel for 45 min drive to Chinchero village where Quechua women do live demonstrations of traditional dyeing & weaving. Enjoy time to explore local ruins. From late May to early July, your guide will look for local people who may be processing **Chuno (dehydrated potatoes). Drive 30 min to Moray ruins for a tour of terraced sink holes before you begin your 3 hour culinary experience at MIL. After lunch, you return 2H by car to your hotel in Cusco. Or if you can continue to Ollantaytambo. If time permits you drive about 20 min to Maras Terraced Salt Ponds on the way to the village of Ollantaytambo. 
Notes: the only option for same day train service is 19:00 Expedition. There is not enough time to get from MIL to Ollantaytambo in time for the afternoon trains.
#2 - Roundtrip service with private driver beginning/ending from your hotel in Cusco or Sacred Valley to and from MIL
10AM Pickup from hotel in Cusco (or later if your hotel is in Sacred Valley, and drive to the restaurant where driver will leave you, then return 3 hours later. Return to your hotel in Cusco or Sacred Valley. 
Looking for an adventure?