3 Tips For Finding Your Guide Upon Arrival in a Foreign Airport
It's common for people who book guided tours and trips abroad to make their own international flight arrangements to their destinations. Their first contact with the tour company could be at the airport when they arrive. Even if they work through a travel agent, they probably won't know anything about the person who is scheduled to meet them when they arrive in the airport. These tips will help people prepare to locate that one designated person waiting for them in a sea of strangers in a foreign land.
We also use these tips for bus stations and cruise ships.
How to prepare to find your dedicated escort upon arrival at the airport:
Set up a system of communication as a backup in case it's needed. Here's link to our blog about how to set up What's App. We like it because it's free and works on all phones. But it may not work without WIFI. 

Many airports have free wifi. Here's a map with the list of Free WIFI networks and passcodes around the world.
Find out before you depart for your trip how you will identify the person who's meeting you at the airport. Will it be by company clothing with logo, or a sign with your name or the name of a company? It's very likely you will be approached by random taxi drivers or people offering transportation.  And in some cases they may lead you to think they are your assigned driver just to get your business. It can be a scam, and it's best to ignore them. 
Know where the designated meeting place is. If there is more than one exit after clearing customs, the meetup spot should be determined in advance. 
What to do if you can't find your guide or driver:
Ask your agent/operator what the protocol is before you depart. We help our groups set up What's App on their smartphones and send a test text to our local contact before they travel. Flights between Lima and Cusco are often delayed. We tell people where to access free wifi so they can notify their local contact in Cusco.
Have the name and address of your hotel or other accommodation readily available
Find out if the airport has a designated taxi stand with flat rate and go to your hotel on your own.
Uber is not recommended in Lima and is not available in Cusco. Find out how to arrange last minute transport before you go.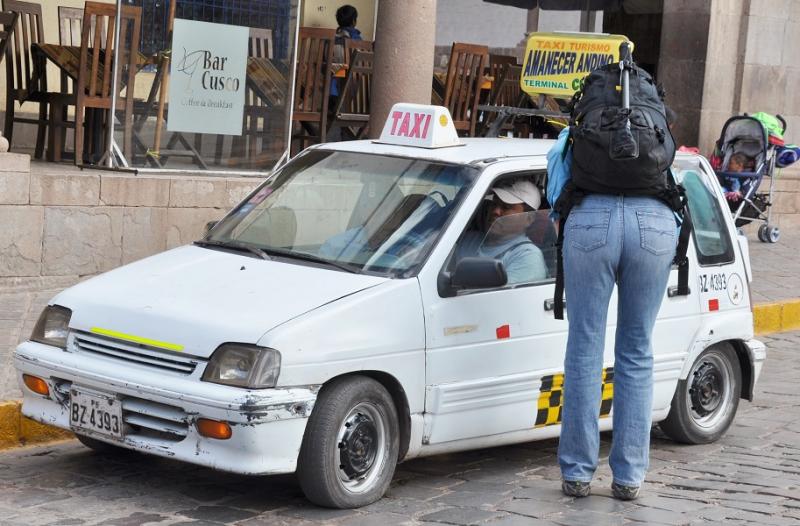 How to tell if you're getting scammed by taxi driver:
They don't have a sign with your name or the company name
They tell you your guide is delayed and sent them to meet you but they don't know your name or your hotel
If the cost of your pickup is included in your tour, and the driver is asking you to pay, that's a clue.
If you get in the taxi and the driver tells you the rate is higher than you agreed upon. Get out.
If you take the taxi and they try to charge you more at drop off, don't pay it. If they lock the doors, roll down the window and yell for police. (I actually had to do this once in Cusco!)
If it's safe, take a photo of the driver/taxi/license plate and report the incident to your hotel or guide.
Looking for an adventure?