Hidden Benefit of Perurail Bimodal Service to Machu Picchu
Hidden in plain view. This secret benefit on Perurail can save you money and add convenience to your trip to Machu Picchu. How?
During the rainy season in Peru, PeruRail shuts down the train station in Poroy from January 2- April 30, because weather is more likely to interrupt train service on that leg of the journey to Machu Picchu. Poroy is a small station and is the nearest to the city of Cusco for visitors traveling to Machu Picchu. (about 30 minutes drive)
During this period, the railway operator offers bimodal service, which combines bus and train travel beginning in Cusco center city and arriving in Aguas Calientes. In Cusco, you start with private bus from Wanchaq station and ride to Ollantaytambo station, for both Expedition and Vistadome service. Then continue by train (about 2H) to the end of the line in Aguas Calientes. Bimodal service is offered both ways. This is an amazing opportunity to save money on the hidden cost of transfers to the stations, and have the convenience of transportation from downtown Cusco to Aguas Calientes. 
The added value is the transfer by bus from Cusco to the Sacred Valley at no extra cost. At all other times of the year, everyone going to Machu Picchu by train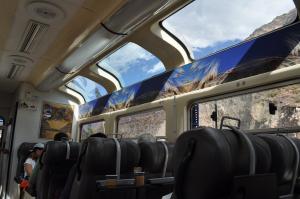 must hire a taxi or arrange private vehicles for 30 minutes to Poroy, or 2 hours to Ollantaytambo station. Perurail does not include these transfers. Independent travelers are responsible to arrange their own transportation to the stations. (Most tour operators include this service with package tours and activities). The cost of transfers to the stations varies from $50 USD - $90 USD per group each way depending the number of people you have. There is no public transportation. 
Note: there is a local mode of inexpensive transportation using family-run "collectivos," which can be used by tourists if desired. 
Limitations of Perurail bimodal service to Machu Picchu:
there is only 1 departure daily on Expedition service and 2 daily departures on the more expensive Vistadome service. After comparing the cost, I think even with the extra cost for Vistadome service, the overall expense is still less than setting up the transfers separately.  However, it may depend on the size of your group.  
bimodal service is only available from January 2- April 30. 
 Benefits:
For couples and small families the savings can amount to $100-$200 for roundtrip service.  
Convenience of having reliable transportation from center of Cusco historical district to the main train station in Aguas Calientes. (through the Ollantaytambo station)
How to take advantage of this benefit: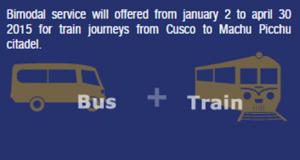 Must be traveling by train to Machu Picchu from January 2 - April 30
Go to the Perurail website and select departure from Poroy (Cusco) for one way or round trip service as needed. (Tickets are sold each way. There is no disadvantage for buying one way tickets)
Rates for the Hiram Bingham luxury service are lower this time of year than the rest of the year. Bimodal service is offered with bus service from Cusco to the Rio Sagrada hotel near the Urubamba station. Tickets are around $350 USD pp each way if you're willing to pay for service that includes travel in a tourist bus with the luxury train ride.  
Bimodal Service Does not apply:
for inbound service for hikers on any of the Inca Trail hikes.
to travelers going to Puno. Service begins in Cusco city center at Wanchaq station. (transfers are not needed)
from May 1 - January 1
NOTE: New road from Cusco to Ollantaytambo is now open (In January 2019). This will reduce the amount of time it takes to travel by car (or bus) between Cusco and Ollantaytambo, by an estimated 30 minutes.  
Looking for an adventure?