Machu Picchu Overtourism Update - It's Better Than You Think
Finally some good news. If you follow my blog you know I'm a straight shooter. I say it like I see it. And I double check my facts with my local contacts. I've been reporting on the travel trends and changes at Machu Picchu even before 2016, when the Peru government initiated the first big change to visitor access. They began the first of several steps to shrink and restrict access for visitors. The news has been negative for a couple of years. Worried travelers wonder what will happen next? What could they possibly do now? Finally, I get to share a positive update about Machu Picchu. Here's what I have to say about recent trends at Machu Picchu.
Over the last 2 years, the Peru government started off by setting up 1-way circuits in the ruins. No more wandering around willy nilly exploring on your own. The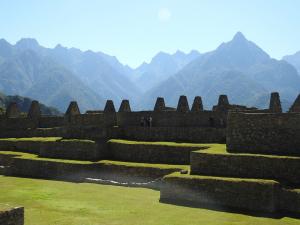 next big change was limiting tickets to half day, and most recently they implemented a "one ticket - one entry" rule. And guess what? It seems that the effort is paying off. Our guides are reporting that the crowds and congestion at Machu Picchu are sometimes barely noticeable. (There are exceptions to this trend, but I'll deal with that later.)  
I visited Machu Picchu in June and July 2018.  Mid-June is good time to go apparently. It was busy but not as crowded as July, which was pretty busy. Based on ticket sales, July ranks as 2nd busiest month in 2018, right behind August, which was the most busy so far this year. I predict that the month of August will remain in the #1 position for having sold the most tickets in 2018. 
Follow this link to see how each month ranks in ticket sales so far in 2018.
On the last weekend in Sept 2018, (which ranks as the 3rd busiest month this year) Vidal was in the ruins guiding a group, and noticed that it was quite pleasant. Even the waiting line to board the shuttle bus was quick and easy. It was simple to enter the ruins and there was very little congestion. Vidal has been to Machu Picchu hundreds of times, and said he actually enjoyed walking around last week. 
The most congested times are during the months of July and August. This is when US students, teachers and families take their annual big vacations. Early August is when Peruvians take their "winter" break and schools are on vacation, so it makes sense that Peru will dominate as the country with the most visitors to Machu Picchu. We noticed this past August that for most dates, every single ticket sold out for every possible entry option!  That included all the hikes inside the park and the permits for the 1-day Inca Trail hike, all of which include entry to Machu Picchu.
Planning to visit Machu Picchu in July and August 2019? Here's what you need to know about the Pan American Games and how it will affect the travel experience.
Looking for an adventure?