How to Travel to Machu Picchu and the Pan American Games in Lima in 2019
Get ready everyone! One of the busiest travel destinations in the world is about to share the summer spotlight in 2019 with The Pan American Games XIV. If you were to combine a tsunami sporting event with a hurricane travel season, you get an idea of what is about to happen. The Pan Am games will be the largest sporting event ever hosted by the country of Peru. And the event is timed during the busiest travel season at Machu Picchu. The games take place in the coastal city of Lima, the main gateway to Peru, and the first portal for travelers going to the Inca citadel. Machu Picchu is one of the most popular travel destinations in the world. How will the overlay of these 2 occurences affect travelers? And what about athletes, officials and their families who may want to visit the Inca citadel? With careful planning you can organize a sensational vacation in South America. 
When are the Pan Am Games? 
The opening ceremony for the Pan Am games is scheduled for July 26, 2019 and the closing ceremony on August 11. This coincides with the busiest season for travelers going to Machu Picchu. July and August are the most crowded months for visitors going to Machu Picchu and other sites in Peru. Almost every entry ticket and permit sold out during the months of July and August in 2018! 
Where will the Pan Am Games take place?
Pan Am games will be staged in the coastal city of Lima, a sprawling, bustling metropolitan hub most well known for it's culinary activities. Sporting events will be held in various districts with the most concentrated in San Luis district. The 23-day torch relay will begin in Machu Picchu and travel around the country before arriving in Lima for the lighting ceremony on July 26. 
What are the dates for the Pan Am Games Torch Relay?
As is the tradition in years past, the Pan Am torch will be lit by the Aztec people in Mexico City. Then it will move to Machu Picchu, the capital of the ancient Inca empire. On July 4 it begins a 23 day relay, stopping in Ollantaytambo, Cusco, Lake Titicaca, Arequipa, Ica, Nazca and then up north to Trujillo, Piura and Cajamarca, and other towns, before it makes the final stop in Lima in time for opening ceremonies on July 26. 
How will the Pan Am Games and Torch Relay impact travelers going to Machu Picchu?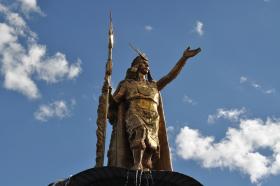 It is certain that travelers can expect more competition for flights, hotels, tour operators, hike permits and other infrastructure like ground transportation and restaurants in Lima as well as Cusco. It's reasonable to expect that a large percentage of the 9500 athletes, officials, and their families will go to Machu Picchu. The extent of the impact to travelers is unpredictable. Rates could be higher, and you can expect additional congestion around popular tourist areas like Cusco, Ollantaytambo, and of course Machu Picchu during the dates of the torch relay as well as after the conclusion of the games.

Can you go to Machu Picchu and back to Lima in one day?
No. It takes an hour to drive to the Lima airport from the city center. Checkin 2H before flight departs. Fly 1H/20M to Cusco and from there it's another 5H by car and train to get to Machu Picchu ruins. Then return as well. There's simply not enough time to do it in one day.  It takes at least 2 days /1 night. 
What can you do to prepare for your trip to the Pan Am Games and/or Machu Picchu in July and August 2019?
Plan early. Book everything you can in advance.
Even experienced independent travelers should "Work with a Pro" to assist with at least some of their travel arrangements.
Be flexible with hotels. Fortunately there are plenty to choose from in case your first choice is not available.
Use a taxi you order by phone or ask your hotel to arrange a driver to meet your flight or take you around the city.
Build in extra days to allow for delays, especially with flights. Book local flight with Latam Airlines for best reliability.
Travelers who plan to continue to other destinations in South America, like Galapagos or Brazil, should add buffer days between segments.
Carry emergency cash reserves. Recommend $500 USD per person
Buy comprehensive travel insurance that covers all your expenses.  We like WORLD NOMADS. 
Work with a reliable tour operator who can set up all your logistics and even assist you when travel interruptions occur
Make sure your train tickets are coordinated with your entry tickets to Machu Picchu. It does no good to have entry tickets if you can't get a train!
Can you drive a car to Machu Picchu? No. Click here to find out why you can't drive
Can you take a bus from Lima to Cusco? Yes if you don't mind 22 hours on 2-lane windy mountain roads (paved)
We have a team of "boots on the ground" in Lima, Cusco and other places in Peru. Vidal Jaquehua is our local connection for all our logistics and up to date information. Vidal and I are in touch almost every day.  I will keep this post updated when new facts become available.  
Here's a link to US government State Department website with VISITOR INFORMATION
Here's a link to Machu Picchu News.
Got questions? Feel free to ask. There's no cost for advice. Call me 757-714-6649 in Virginia or send an email. I'm in our US office.
Looking for an adventure?