There are 3 Routes to Hike to Rainbow Mountain
There are 3 routes to get to Vinicunca Mountain (Rainbow Mountain)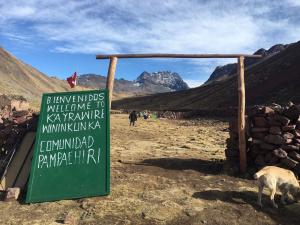 1. Original route via Chekacupe through Pitumarca community. Average 3 Hours to hike up and 2.5 hours to hike down. Hikers arriving in large buses will use this route because this road is the only one big enough to accommodate larger vehicles like buses.  
2. Recently another route was opened through the village of Combapata. This route also includes the option to stop at "Bosque de Piedras" (forest of stone trees) The road allows smaller vehicles to get closer to the trail, therefore the hike time is 1 to 1.5 hours.  
3. The newest route is through the community of Cusipata. The road is narrow and there is a small wooden bridge which can only accommodate small vehicles. The hike is about 1.5 hours. When this route opened, there was a feud between the wranglers in Cusipata and Pitumarca, who were competing for tourist dollars. The community of Pitumarca lost business from traffic being diverted to Cusipata. The 2 communities were in competition for tourism that brought economic benefits.  
However, the authorities told everyone the conflict was about land ownership in an effort to downplay any fears that tourists might have for visiting the area.  But in fact, the bickering was about the distribution of tourists going to the hike. Local people rent horses and mules for people to ride to the top. And when Cusipata opened, tourism to Pitumarca decreased.  
We can arrange private 1 day or 2 day trips to Vinicunca (Rainbow) Mountain. Follow this link to see the hike description.
Note: Local tour operators in Cusco now offer inexpensive bus trips to Rainbow every day. This hike has become a prominent destination for lots of people. Most of the buses arrive at the same time which creates some congestion at the trail head. When Adios sets up our private trips, we leave Cusco earlier in the morning to avoid the congestion at the trail head. For the comfort and safety of our groups, we always send a driver, private vehicle and an English-speaking guide.
Looking for an adventure?