What Happens if You Book an Inca Trail Hike to Machu Picchu and You Can't do it?
After months of planning and organizing your Inca Trail adventure, you arrive in Cusco, then calamity strikes. Maybe you get a sudden gastro-intestinal bug or slip in the shower and break your arm. (it's happened!) Or you don't realize how out of shape you are until you walk around Cusco or the Sacred Valley. 
What You Need to Know About Your Inca Trail Hike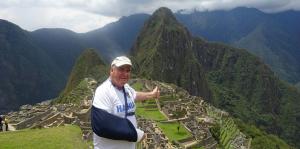 First thing to know is that there are 2 Inca Trail hikes. One is the strenuous Classic 4-day hike, and you need to be in good shape for this one. The other hike is known as the "easy" 1-Day Inca Trail hike, which is part of the 2-Day trip to Machu Picchu. And includes 1 night hotel.  Make sure you understand the difference and choose the right hike. Even the "easy" hike requires a minimum standard for fitness. Hikers need to be strong enough to carry a small daypack with everything needed for the hike and 1 overnight in a hotel. There's no turning around or getting pickup from either hike.  Click here for more details about the different Inca Trail hikes. I can tell you the 1 thing that most people underestimate is their ability to hike at altitude. I'm not referring to altitude sickness. I'm talking about the lack of awareness we have regarding the affect that altitude has on our stamina. At age 62, I can hike (more like scratch and claw!) my way up to 14,000-15,000 ft. I'm sure it's only because I'm stubborn and I've done physically challenging things like this before. It's painful, but I do it anyway. If you don't want to be in pain on your vacation, then don't book high altitude hikes. I'm willing to suffer for the tradeoff of seeing remote places and the personal satisfaction I get from doing it. 
Unless you're a resilient athlete, who is used to leaking bodily fluids on the trail, you might want to think about how you would handle your situation if you couldn't begin your hike. This is perhaps the most important thing to decide BEFORE you book your Inca Trail hike.  Over the years, we've had a few cases where people booked a hike and paid in full, then showed up and couldn't do it. In case you didn't know, permits and hikes are 100% non-refundable. There's a lot of moving parts to set up hikes, including guides, porters, drivers, cooks, food, equipment and transportation.  
What is the Impact of Not Being able to start your hike on the Inca Trail?
The biggest tragedy is probably the heartbreak of not being able to fulfull your dream. After planning and preparing for months, for whatever reason, you are confronted with an impossible situation that prevents you from doing the hike. This is why choosing the right tour operator is one of the most important decisions you can make. Not price. Not logistics. Not hotels. None of that will matter if you can't begin your hike. What matters is what can the tour operator do to help you with your situation. Who can you consult with to assess your options and redesign your entire trip if necessary?  Tour operators who aggregate individuals into small groups are not likely to be your friend when it comes to finding solutions to your problems. If you bought your hike through a 3rd party agent, they have no idea who you are. If you don't show up, they go without you and you're on your own to figure out what to do next. 
The second blow will be the loss of finances. If you didn't buy comprehensive travel insurance, or a policy known as CFAR (cancel for any reason), you can kiss every dime of your money goodby.  Or flush it down the toilet. Doesn't matter. You won't see it ever again. And to add to the disaster, you are confronted with the unplanned expense of finding a hotel last minute, not to mention medical attention or acitivities for the days after you recover from your incident.
The good news is that your Inca Trail permit includes entry to Machu Picchu, and the tour operator should provide at least 1 way shuttle bus ticket and 1 way train service. If you have a private hike, you should be entitled to guide service. If you are on a group hike, you can kiss him/her goodby. The bad news is that what you don't have, and will need to get to Machu Picchu, is transfer to the train station, 1 way train service to Machu Picchu and 1 way shuttle bus to the main gate. And probably 1 night hotel in Aguas Calientes, the village near the ruins.  And you'll need it all last minute. 
Real stories about real people who had to kiss their Inca Trail hikes goodby
A middle aged couple booked a private 10 day trip to Peru including a 4 day Inca Trail hike. After months of preparing they arrived in Cusco (1 day late due to flight cancellation out of JFK airport!) But fortunately they had planned a couple of extra days on the front to acclimatize. On the first full day, their guide takes them to spend the day touring the Sacred Valley by car. The wife is not able to keep up as the couple walks through the super easy rolling terrain around Moray Greenhouse ruins. The guide realizes that the woman is not fit enough to hike the Inca Trail. She realizes it too and bursts into tears. Her dream trip is ruined. Not only that, she has no hotel or activities for several days. She and her husband were in limbo in the Andes.
God bless Vidal Jaquehua. He offered his house at no cost.  He salvaged the food, the cook, the guide and the transportation he had set up for the Inca Trail hike, and reused it to set up small, easy day hikes and activities around Cusco and Sacred Valley.  The only additional out of pocket expense was 1 way train tickets and 1 way shuttle bus tickets to Machu Picchu. The couple still had an amazing vacation although it wasn't the one they planned!
In another case, a family of 4 arrives in Cusco with plans for a private family hike on the 2 - Day Inca Trail.  Fortunately, the father scheduled a 1-Day Sacred Valley tour by car the day before the hike. The guide noticed that the 17 year old son was badly out of shape and was not capable of doing the easy hike. Altitude was not a factor. The guide was able to arrange for the son to stay on the train all the way to Aguas Calientes while the other 3 family members did the hike without him.  In this case, and most cases with the 1 Day Inca Trail hike, the consequences of making a last minute change have no impact financially.  But the 17 year old young man could not have been pleased with the outcome.  
Main reasons for last minute hike cancellations:
Fitness/Out of Shape - underestimating the impact that altitude will have on your stamina is a huge factor.
Flight Delays - always plan at least 1 if not 2 buffer days in Cusco before any hike
Illness - gastro-intestinal issues can strike any time. Wait until after the hike to try the street food or experiment with unknown restaurants 
What can you do?
Buy full coverage travel insurance. We recommend WORLD NOMADS for adventure travelers, but you are free to choose any provider.  Please note that the insurance offered when you book your flights on airline websites is usually not full coverage.  Read the terms before you click the button. 
Reserve with an operator who includes travel assistance. There's never any guarantee of what they can do, but they should try to assist you with getting medical attention, booking hotels or setting up alternative activities. It's your responsibility to cover the cost, but someone can make calls on your behalf or set up services. 
Book a private hike. You have a greater chance of getting assistance and it's possible that some of the services you paid for can transfer to a new itinerary in the event that you have to cancel your hike.
Carry emergency cash fund of at least $500 USD per person.
Plan a day or two of easy hikes around Cusco and Sacred Valley to test your stamina as well as give you time to acclimatize.  
Get in shape before you travel. Set up practice hikes with the footwear and backpack you plan to use on your hike.
Visit your physician if you have any concerns about your health. Ask about prescription for acetazolamide (aka Diamox)
Looking for an adventure?