Adventures in Flying to Machu Picchu: Avoid These Mistakes
Personal note: Before you dive into the topic of this post, I want to explain why you don't see ads, popups, tracking codes and requests for your email. It's because we want Adios Adventure Travel website to be a haven for ad-free browsing, not to mention inspiration. We're not beholding to advertisers or investors. We're here for you. If you have any questions, contact us by email by clicking the BOOK NOW hyperlinks which take you to our contact page. To call us, look for a cute graphic image of a puppy with a phone number. We will not contact you unless you contact us first.
Why don't we offer online payment links? We're not opposed to it, but we want to make sure people understand that some activities are very strenuous. And. We love talking to our clients! We don't mind chatting and answering your questions. So give us a call in Virginia.
Now. On to the info you came to see.
Which airlines are the best? When is the best time to fly? Can you get direct flights to Machu Picchu? Are there alternative modes of transport? Can you get flights to Machu Picchu from Lima? And possibly one of the most important questions, "Does it matter what flight I book?" 
Where is the best place to book my flight?
there are now many 3rd party travel metasearch engines for finding flights. Google Flights, Skyscanner, Expedia, Kayak, Easyjet, Momondo are some of the most popular. I use these sites to search for good rates and schedules, then I go to the airline website to look for the exact same flight to see if it's the same rate. I prefer to book my flight directly on the airline website in case changes are needed or if there's a problem and I need to talk to a human. My one hard fast rule. I don't book on any websites that don't have phone numbers.  
M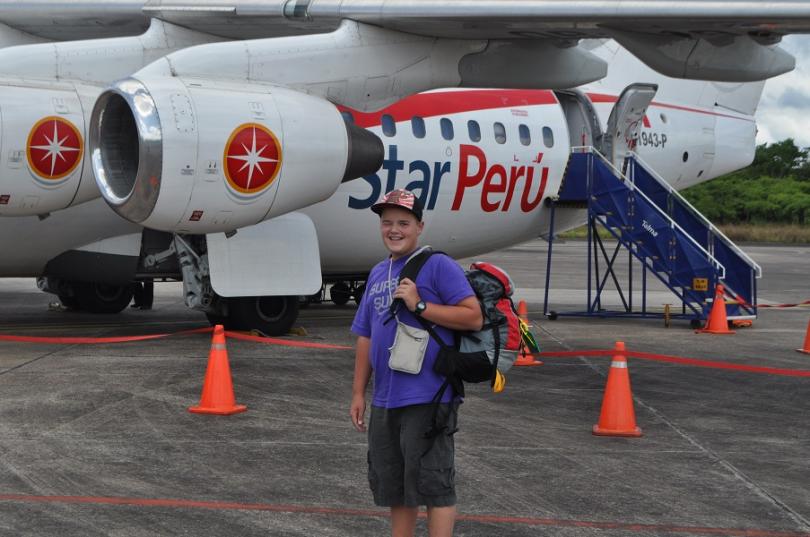 Main Modes of Transportation Between Lima and Cusco:
Daily flights take 1 hour/20 minutes and operate from roughly 5 am - 7 pm. There are no night flights.
Several companies offer bus service that takes about 22 hours one way over paved 2-lane roads that wind through the mountains.
Latam airlines has the most flights available. Latam Airlines offer the most reliable service. (in my opinion)
How to bypass travel through Lima, Peru:
Avianca Airlines usually offers 1 flight per day from Bogota, Colombia to Cusco
Latam Airlines usually offers 1 flight per day from La Paz, Bolivia to Cusco
What you need to know about local domestic airlines in Peru:
(Latam Airlines - Avianca Airlines - Sky Airlines - Viva Airlines)
Several local airlines have gone out of business in the last year for various reasons. When you book your local flights in Peru separately from your international flights, the local flights are not "protected" in case you miss the connection. International flight delays are usually not an issue if you arrive in Lima at night because you can't fly to Cusco until the next morning. American and Latam Airlines have a few flights that arrive Lima early in the morning. (note that Latam Airlines is leaving the ONEWORLD Alliance in 2020 and I've been told that booking flights on Latam through ONEWORLD partner airlines has been scaled back. However Latam flights booked by partners are expected to be valid through October 2020. Check before you book!) And it makes sense to continue to Cusco the same day.
Unless you book the international and local flight in one transaction to protect the 2nd leg of your journey, please allow at least 3-4 hours layover in Lima.
For flights arriving Lima in the evening you can book the Wyndham hotel at the airport, it's a short 3 minute walk from terminal to lobby. So you just walk to the hotel when you get there. It only becomes an issue if your international flight is cancelled completely or rebooked for the next day at the same time. This has happened to me a couple of times in 13 years I have been flying to S. America. If you're able to contact the Peruvian airline from the US to reschedule, and if they have availability, they're pretty good about rebooking you on a new flight. You may or may not have to pay a penalty. You are at the mercy of the airline to get rebooked. I just showed up at the airline ticket counter a day late and explained my situation. I was prepared to have to buy a new ticket. But thankfully, I was rebooked to Cusco with small penalty. ($50USD)
One issue affecting rebooking is availability. Smaller airlines have limited departures. We have had several groups miss connections, tours or trips to the jungle due to flight changes.
The next issue will be penalty fees. Even if there are flights available, you may be charged a penalty to get rebooked.  (worse case scenario: If you're at risk of not making it to Machu Picchu or your jungle lodge due to flight changes, and your airline cannot rebook a flight that will keep you on track, you should consider going to another airline immediately to book brand new tickets to your destination. This could cause some pain to your wallet, but the trade off will be that you get to your destination)
Luggage fees. Latam Airlines is now charging extra for all checked bags. The other airlines are following the trend. A few times that I've booked my ticket, I go back and add on checked luggage and pay separately. I usually don't pay extra for seat selection. They automatically put me in a middle seat but I have been able to move. The flight is only 1H/20M. For me the seat assignment is not an issue.
Latam offers the most departures and the most reliable service. (in my opinion)
Latam airlines is moving from the OneWorld Alliance (with code share partner America Airlines) to Skyteam Alliance in 2020.
we advise everyone going to Puerto Maldonado (jungle tours) to check availability for their flights with Latam before you confirm your lodge. This is the only airline offering service to PEM! Sky Airlines has a few flights to PEM but not everyday and the schedule is not compatible with the transfers to the lodges. Keep that in mind.
what about flights booked on 3rd party websites like Expedia, Orbitz etc? I called Expedia and asked about bundled multi-carrier international flights.  They told me that if you bundle your flights, and for instance, you fly Delta or United to Lima, with a confirmed reservation with a local carrier, the 2nd leg of your trip may not be protected. If your flight from US to Lima is delayed and you miss your connection to Cusco (or other destinations) Expedia says you are to contact the airline that provided the service to Lima. Don't expect to go to the airline counter and talk to someone. American-based airlines will usually open for business in Lima airport exactly 3 hours prior to scheduled departures. Delta, United, Jet Blue open late evenings. Your only option would be to call them. I've had this happen to me a couple of times with different local airlines. Both airlines were able to rebook me on a later flight, but one of them charged me a $50 USD penalty. Latam airlines did not. You are at the mercy of the local airlines in this case. But it's not necessarily a big issue. You may not have time or ability to contact a US based carrier to resolve the problem. I have found that if I can politely explain my situation, many airline agents are willing to work with me to make changes. However there are no guarantees.  
We have had complaints about VIVA Airlines charging people not only for checked bags and carryon bags but for printing of boarding passes.  
Travelers have reported that after booking their local flight on 3rd party website they have been able to contact the airlines directly to book seats and confirm checked luggage, for an extra fee. 
What's the worst that can happen? (real life stories)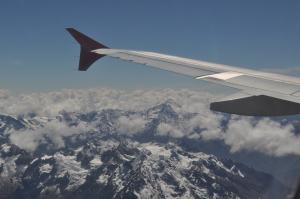 one group of 14 people booked last flight of the day from Lima to Cusco, and when they checked in they discovered it was cancelled. They were rebooked at 5 am the next morning, and then the airline covered the cost to transfer 45 minutes by car and the cost of their hotel in Lima for the night. The next morning they were up at 3 am and back to Lima airport for the flight to Cusco where our guide and driver were waiting. Their train to Machu Picchu was departing at 8:30AM and there was not enough time to get to the station. They didn't make it for the scheduled departure. Fortunately there was space for all 14 on the next train, but unfortunately the group was charged $30 USD each for ticket change. They made it to Machu Picchu in time for their afternoon tour. But on the flight back to Lima, they were again delayed getting out of Cusco and rebooked on a flight that stopped in Arequipa. They had prepaid for a private guided tour of Lima the same day, but due to the delays, they never saw it. Peruvian Airlines refused to cover the cost for their tours or changes to train tickets.  
Lesson: don't book flights back to back with other activities with strict timelines. Allow a buffer between your flights and your activities. Buy comprehensive travel insurance that covers ground expenses like trains, entry tickets, guide services and missed activities.
A family of 2 planned an 8 day trip with a hike to Lares Valley. On the day they left the US, the father got notification from Star Peru Airlines that their flight to Cusco the next morning was cancelled. No explanation was offered. The website showed no availability from Lima for any flights to Cusco (or Puerto Maldonado) for 5 days!  While they were flying to Lima, we were able to use their passport info and confirmation codes to call the local Star Peru airline office and get the family rebooked the next day on another local airline, Peruvian Airlines. Although their arrival in Cusco was delayed a few hours, they stayed on track with their original itinerary. 
Lesson: have a local connection who is willing to assist you when unexpected things happen. Make sure they have all your details and permission to make decisions on your behalf if you're out of touch.
a family of 6 planned a 4 day trip to Puerto Maldonado to visit the jungle, then continue to Cusco to visit Machu Picchu. But on the flight to Puerto Maldonado, Star Peru turned the plane around and returned to Cusco.There were no other flights that day so Star Peru provided a hotel for 1 night and vouchers for 1 meal. Meanwhile the airline could not find availability for flights to Puerto Maldonado on any airline the next day. Or the following day. The trip to the jungle was cancelled by circumstances beyond anyone's control. Adios Adventure Travel was able to organize accommodations and activities for the additional days in Cusco. Star Peru refused to cover the cost of the missed trip to the jungle (about $3500 USD for the entire family) or the cost for the last minute activities and additional services in Cusco.
Lesson: choose your airline carefully when flying to remote regions. Buy comprehensive travel insurance that covers all your activities and ground expenses. Work with a local company who is willing to help you when things get out of control.
we have many more stories of "ordinary" flight delays from Lima to Cusco, and Cusco to Lima. It's not uncommon for flights to be delayed for 30 minutes to several hours.  We consider it a blessing when people arrive on the day they were scheduled to arrive.  
Lesson: avoid scheduling ticketed activities on the same day as your flights. There is usually no refund. The ideal plan would be to fly to Cusco and spend the night before beginning your trip to Machu Picchu or proceding with other activities.
Traveling to Machu Picchu.
Nearly 100% of international flights go through the sea level coastal city of Lima, Peru. The nearest airport to Machu Picchu is located in the mountains in high altitude Cusco, Peru. (11,000 ft / 3350 m elevation) Although Cusco is considered an international airport, the majority of flights will come through Lima. Here's why it matters:
getting to Cusco is a 2 day process for most visitors and that increases the chances for exposure to flight delays and cancellations
many flights from US arrive late evening in Lima and an overnight is needed. There is one hotel at the airport. Wyndham is easy 5 minute walk from the terminal. Any other hotel you book will require transportation. Miraflores is at least 45 minute drive each way. Hotels do not have free shuttles and it's best to arrange transportation with the hotel in advance. Average cost is $35 - $50 USD each way for small groups 2-4. More for larger groups. The airport is not a comfortable place to rest for even a few hours. The VIP lounges are not open at night. 
Cusco, Peru is the gateway airport for 100% of all Machu Picchu visitors who arrive by air. 
local domestic airline services can have issues with reliability due to weather, flight availability and the potential for mechanical problems
from Cusco it's another 5-6 hours by train and bus each way to get to Machu Picchu ruins.  
Recommendations:
include a day in Cusco on the front of your trip to Machu Picchu. If you're delayed, you won't miss anything critical. Cusco is a great place to walk around and enjoy on your own or we can arrange guided walking city tour.
avoid scheduling outbound flights from Cusco to Lima on the same day as your visit to Machu Picchu.  
avoid scheduling the last flight of the day between Lima and Cusco.  
allow at least 4-5 hour layover in Lima airport for connecting flights. There is a risk of flight delays from high altitude Cusco.
Expedia, Orbitz, Kayak have no control over local airlines. Know their rules before you go.
if you're traveling to both Machu Picchu and Galapagos, protect your flight between Cusco and Ecuador by booking flights in one transaction. There is no direct flight. Airlines will stop in Lima where you will change planes and clear immigration. Don't book Cusco to Lima separately from Lima to GYE (or UIO) in Ecuador on the same day.  Latam and Avianca have daily flights from Cusco to Ecuador.  
If you have time, include a "buffer" day in GYE or UIO between your trip to Machu Picchu and Galapagos Islands.
buy Travel Insurance (real insurance, not the cheap, money-making insurance click-bait offered when you book your flight!) Read the terms of the insurance you buy. Even comprehensive insurance has different levels of coverage. If you need to "cancel for any reason" then buy CFAR insurance.  It will cost you a little more, but it will not only give you peace of mind, it will give you a return on your travel investment in case you do need to cancel. For any reason!
Have at least $500 pp cash emergency fund and VISA or MASTERCARD credit cards with several thousand dollars available credit.
It is customary to pay cash (or credit) for medical services at the time they are rendered. Then file a claim to recover your expenses after you get home.
Allow longer airport layovers in Lima and Cusco during the rainy season (Nov-April) when flight delays due to cloudy, misty conditions are more likely.
We provide everyone with information to set up free texting service on WHAT'S APP to stay in contact with our manager, in Cusco. Don't expect your guide to have access to accurate status updates or flight tracker info for your flights to Cusco. Free wifi is available in most restaurants in Lima airport. It's ideal to let our manager know if there are any changes to the status of your flight and arrival. 
There will always be unforseeable circumstances that are out of anyone's control. But by employing a few simple strategies when booking your flights you can avoid pitfalls and unnecessary stress during your big adventure to Machu Picchu. You don't just want to get there, you want to enjoy the journey!
Looking for an adventure?