Machu Picchu Update: One Ticket One Entry
"One and done." That's one of the biggest changes at Machu Picchu. Each general entry ticket entitles the holder to enter one time.  
And there are now new options for buying entry tickets in 2019. Visitors can buy tickets to enter on the hour.  
About the tickets: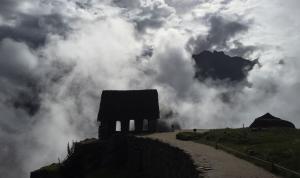 Peru launched new website in December 2018 for entry tickets in 2019
Entry tickets are purchased based on entry time beginning 6 am and every hour up to 14:00 pm
Ticket availability varies by the hour
there is no advantage to rushing to enter at 6 am. Mornings can be cloudy and misty. It usually burns off by late morning. This is most likely to happen in dry season. (Click here to see more details about Machu Picchu weather and seasons)
The entry tickets for Huayna Picchu and Machu Picchu Mountain have specific hourly entry times for the first entry, and Vidal has told me that even people with tickets for the hikes may need to do both the hike and the tour of the citadel back to back. The exception are the 7AM hikes.   
If you buy tickets for the later hikes at 9AM or 10AM, your tour of the citadel is before the hike. After the hike you will walk to the exit gate.
visitors can purchase additional general entry tickets for the same or other days in the office in Cusco or Aguas Calientes. 
Other things to know:
the line to buy bus tickets in Aguas Calientes has improved and they have 2 agents selling tickets.
the waiting line to board buses varies but can be 1- 2H to go up and 1H to go down in busy season (May-Oct). The duration of the ride is 25 minutes.
Fit visitors can walk back to Aguas Calientes in about 1-2H. And it's downhill. In that case you should buy 1 way bus ticket and save $12 pp
the new rule requiring guide service is still not being enforced
there is one restroom located at the main entry. People who leave the park are not permitted to re-enter on the same day unless they have tickets that include one of the hikes and you're re-entering before the scheduled time of the hike on your ticket, or 12N if you have 7AM hike.
you can buy another ticket for re-entry on the same day. But. You have to buy it in advance or take the bus back down to the village where the ticket office is located.
How much time can you spend in Machu Picchu?
The one thing that determines how long you can spend in Machu Picchu is not what you think. Once you are inside the main citadel, they have no way to monitor what time you entered. With one-way circuits and marked paths, most independent travelers may not know how to get to the nooks and crannies to have a thorough exploration of the ruins. But even if they do, the one thing that really determines the duration of your visit is how long you can go before you need to use the toilet!  Follow this link to read more about toilets at Machu Picchu.
Want More Time to Explore Machu Picchu Ruins? 
Even with tickets for the hikes, you may not have time to re-enter because all morning tickets are invalid for entry after 12N. (once you're inside the citadel, it doesn't matter.) After the Montana hike you are adjacent to the entry to the citadel. There is a small gate with rangers who are sometimes checking the entry time for tickets. And sometimes not. Morning tickets are not valid after 12N. Once you get past that checkpoint you are inside the citadel and you could easily take 3-4H to explore if you know your way around.  We've had reports that people on their own, accidentally ended up on the path to the exit gate. They will not allow you to go back. Huayna Picchu hike is on the other side of the park and after the hike you have to follow the path which takes you to the exit.
Here's a photo of Machu Picchu essential features: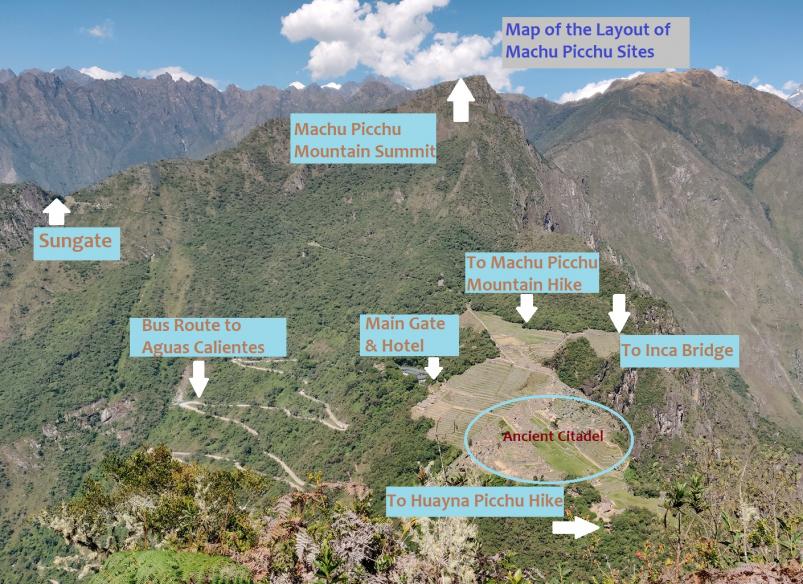 Adios guides know how to maneuver through the ruins so you don't miss things. They only do 1, or maybe 2 guided tours per day at most. And their tours can be up to 3-4H long.  If you hire a "pickup" guide at the main entry you will have an average of up to 2.5 hours for your tour. They will return to the main entry to pick up new visitors for more tours.
Click here to see the latest Machu Picchu News stories
If you have any questions, we'll do our best to answer promptly.  We try to stay up to date.
Looking for an adventure?