Guide to Arranging Taxis in Cusco and Lima Peru
Thanks to Machu Picchu, Lima, Peru is home to one of the busiest airports in South America. Visitors from Europe, United States, Australasia, and all corners of the planet flock to Lima by air on their way to the Andes Mountains.  Some visitors will stopover in Lima, the foodie capital of South America, while others will scurry on to their flights to Cusco as soon as possible.  
You would think that finding and arranging local taxis and transportation would be low on the list of important things to do to prepare for your once in a lifetime adventure. But this is not New York City or London. Travelers are surprised to discover that what should be a minor blip on their epic trip to Machu Picchu, can cause headaches and notable unplanned expenses due to a lack of planning for airport logistics and little experience with the local taxi culture.
Are there hotels near Lima Airport: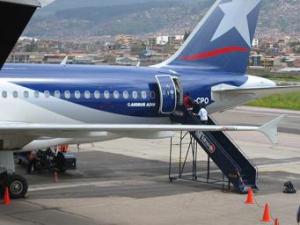 Lima airport has only 1 hotel on site. Wyndham (Costa del Sol) can be booked online for the best rates, and takes less than 5 minutes to walk from the airport terminal to the hotel lobby.  The convenience cannot be beat.  Most international flights arrive in the evening and this is the best choice for a "quickie" overnight. If it's full, there is also a Holiday Inn but it's across the street. The are one of the few hotels that offers a shuttle bus. Please don't try to walk to the hotel. (Last flight to Cusco departs 7:30 PM)
While there are a few small hostels and AirBnb nearby, the area surrounding Lima airport is industrial and not tourist-friendly. The nearest haven for globetrotters is in Miraflores (or my favorite district Barranco), about 1 hour by car. There is no organized public transportation from the airport.  
If you book accommodations near the airport, ask them to arrange your transfer and have a driver to meet your flight. You might find that the cost of the transfer combined with the accommodations are close enough to the cost of the Wyndham, that the convenience of being able to walk a few steps to your hotel will outweigh any cost savings for the cheaper hotel. (we have studied this, and gone around and around trying to find cheaper option, but we have not found one)
I don't advise sleeping in the airport. Although it's open all night, it is not a relaxing place. There are no areas with comfortable seating or carpet and there are annoying recorded announcements about every 4 minutes. All night and day. VIP lounges are located on the other side of security. 
How to get from Lima Airport to Lima City Center (Miraflores, Barranco etc)
If you're planning to explore Lima, it makes sense to reserve a hotel in the city. The best way to get from the airport to the city is to arrange with your hotel in advance, to have a driver waiting for your flight. S/he will be holding a sign with your name on it and will walk you through the sea of drivers who will hound you with offers to drive you to the city, regardless of the fact that you are with a local driver. Hotels charge anywhere from $40-$60 or more depending on the size of your group and the time of day you arrive.
I found this website called TAXI DATUM which gets good ratings on Trip Advisor. But I have not used it personally. They offer personalized transfer services.
Here's a link to a reliable airport express bus service that seems to have their act together. 
Should you use Uber or UberX? If you have the savvy to pull it off good luck. Here's feedback about using Uber in Lima.
Can you store luggage in Lima airport? Yes. A new operation has moved from domestic side to international side of the airport
Where? After you clear customs on the International side of the airport you will exit the controlled area to a sea of people waiting for arriving passengers. On your left side against the back wall is LEFT LUGGAGE (this is not lost luggage. This is what we call "luggage storage" in English)
Choose to store by the hour or by the day. Up to 1 month limit unless you negotiate for longer. You must show ID to use it. Open 24 hours.
Payment is in cash only when you pickup. They take Peruvian soles or US dollars. No credit cards accepted.
Cost is S/.6.50 per hour ($1.95USD), or S/.39 ($12USD) per day.  Lockers for small items are less. Rates for oversized bags are higher.
How to get from Cusco Airport to Sacred Valley or Historical City Center  
I don't recommend renting a car in Peru.  Where do I begin to exlain why?  No roadside assistance. No dependable road signs. Gas stations may or may not be open and could be a barrel in someone's back yard. No parking. No up to date information about road condtions.
Hailing a taxi from Cusco airport should be easy and affordable. The problem is that every driver is out for himself and there is no standardization for rates. If the driver can get you to pay $25 (or more) for 15 minute ride to Cusco city center, he will gladly take your money. And if you think you're going to the Sacred Valley for anything less than $60, you need more oxygen. Native Spanish speakers have an advantage. I've watched Vidal (Adios co-founder) walk up and arrange a taxi for less than $10 to the center. But when I tried to do the same thing, the driver took me to the center, locked the car doors and wouldn't let me out unless I paid more money.  (I rolled down the window and screamed "Policia!" which ended that little scenario)
Ask your hotel to arrange a driver to meet your flight. They will charge a fee for this but you will know the amount in advance. Some hotels in the Sacred Valley do not offer airport transfers. Look before you book if you know you need transportation to the valley.
Once you're in the Cusco city center, it's pretty easy to wave down taxis and get short rides from one side of the center to the other. The rates are very affordable. Usually a few soles for 10-15 minute ride. And your hotel reception can call you a taxi and negotiate a rate on your behalf.
Taxi Datum offers custom services in Cusco and Sacred Valley area as well as Lima.
There are no taxis to Machu Picchu. Because there are no roads. The train is the only means of transportation (other than hiking). There is a back door jungle route, but it is not a realistic option for most people. We are not including it here.
How to get a taxi on the fly (not at the airports)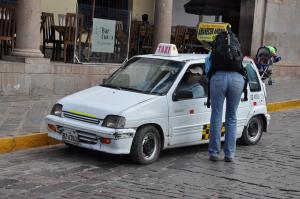 How's your Spanish? Most drivers don't speak English. They might speak just enough. 
Decide if you are paying in US dollars or local Peruvian Soles. Make sure the driver understands the currency you are paying with.
Make sure you tell the driver how many people are riding
Confirm that the driver understands the location of your destination. Some hotels are located on pedestrian-only streets and the driver may drop you nearby.
Adios Adventure Travel offers private, reliable transfers, guides and drivers in Lima and Cusco.
Please contact me through this website to get full details.  
Here's a link to Machu Picchu News. We keep this updated. Did you know that the cost of Machu Picchu morning entry tickets will double in 2020?
Looking for an adventure?