Machu Picchu Concierge-Level Service for All Budgets
Let's say you are DIY traveler.  There's nothing wrong with that.  Lots of people enjoy the process of researching, selecting and reserving flights, hotels, lodges and other services on their way to destinations in South America, including Galapagos Islands and the mysterious and amazing ruins of Machu Picchu.  Or both.
And for travelers who prefer to let someone else arrange their all-inclusive tours with guides, hotels and tickets, it's available through personal travel agents or online from companies like ours. We have an office conveniently located in the US.
When Do You Need Help?
One of the disadvantages of self-booking everything for your trip to Machu Picchu or Galapagos Islands, is that you may not have access to assistance in case of travel glitches. Foul weather, unplanned strikes, illness and other calamities have been known to pop-up without notice. By the time the annual rainy season in Peru tapers off in late March and early April, and just in time for the beginning of the busy travel season, loose soil can lead to mudslides that cause delays and wash out trails, bridges and roads. And June, July and August of 2017 will linger in our memories for quite a while because an ongoing teachers' strike led to road closures, delays and logistical headaches for all Machu Picchu tour operators. Did you hear about the volcano rumbling in Galapagos Islands in January? We did. And what about delays due to illness? There's nothing more miserable than getting sick on your trip. It's always untimely and may require last-minute changes to hotel reservations, trains and even Inca Trail hikes.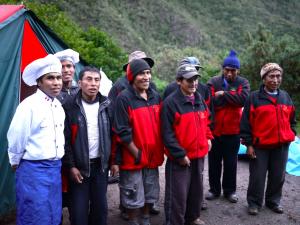 Get Access to Free Travel Assistance
When you book any portion of your trip to Machu Picchu with Adios Adventure Travel, you gain access to a network of support from our teams in the US, Ecuador, Peru, Bolivia and Chile. Before you leave the comfort of your home, we provide pre-departure information to get you ready. You can travel on your own schedule. We set you up with a free mobile app so you're in touch with real people in each country. Having access to up to date information, last-minute services and problem solving is something we may be able to provide while you travel.
"We're here to get you there!"
We've been quietly doing this for 10 years. We have the stories to tell. There was the time that a woman fell and broke her arm on a muddy path in the jungle, and we arranged for her to get on the last flight to Cusco where the ambulance and doctor were waiting for her.  Or the time that an entire family of 4 missed their scheduled flight to Lima due to icy conditions in Chicago. We rebooked their flights, hotels and jungle lodge in the Amazon while they were en route. Not to mention the autistic boy who left his favorite toy in a jungle lodge and we arranged for the toy to ride the bus to Cusco and meet up with his pal. There may be some problems that no one can fix, but we at least try!
Got a question?  Or a problem?  Contact our US Office and we'll see what we can do.
Phone a Friend.  Call Jacquie Whitt in Virginia - 757-714-6649 (Cell / What's App)
Looking for an adventure?