Travel to Machu Picchu for the Ultimate Team-Building Trip
Bring your employees to Peru for training, community service and rejuvenation. Not to mention a little side trip to Machu Picchu! Team-building does not have to be boring. We can't think of a better way to get their attention. Let Adios Adventure Travel US office help you coordinate flights, hotels, activities and all logistics.  We make all the arrangements with our local team of experienced, licensed, English-speaking guides, logistics managers, and drivers, to organize a trip that will restore enthusiam, energize your employees, and make your company objectives come alive.  
Improve your organization's performance through the following activities: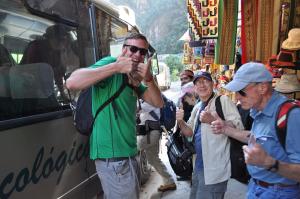 Stimulate learning through the exploration of culture and art of the ancient Inca
Recalibrate individual well-being in nature-based surroundings
Celebrate with food and drinks of the Andes Mountains
Customize team-building challenges
Participate in community service projects
Observe how intuitive collaborative behaviors are cultivated in indigenous communities
Allow the thrill of Adventure to bring your staff together toward a common goal
What documents are needed for employees to participate?
Valid passport must not expire within 6 months of your arrival in Peru.  (we can work around passports while being renewed)
No special vaccinations are needed for US citizens (travelers are reminded to review their routine vaccinations with their physicians)
No visas are required for US passport holders
Who should not participate in this kind of trip?
Women who are pregnant
People who are not able to walk up and down steps on their own
People who have COPD or other chronic illness that affects their ability to breathe
What does it cost?
$1500 USD pp - Average for ground expenses for 7 day trip to Machu Picchu based on double room occupancy in 3* hotels with private bath and breakfast
$700-$1100 USD pp - Round trip flights from major US hubs to Lima, Peru
$300-$400 USD pp - Round trip flights between Lima and Cusco
$30 pp per day lunches/dinners/bottled water
Can you take your employees on team-building trips to other destinations?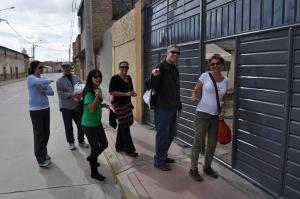 Yes, we have established and trained teams in several countries.  We can put together a customized journey for any organization.  Santiago, Chile - Lake Titicaca, Peru - Quito, Ecuador - Galapagos Islands - Amazon Jungle (Cruise or lodge)
Sample Itinerary for 7 Day Machu Picchu Team-Building Trip
Day 1 - Fly from US to Lima, Peru (flights usually arrive late evening)
Hotel overnight
Day 2 - Fly from Lima to Cusco (1 h/20 m)
Adios team will be waiting at airport with van to transfer you to hotel for checkin.  Followed by guided walking city tour to explore local markets, streets and Inca temples.
Activities are flexible as everyone adjusts to 11,000 ft altitude.
Day 3 - Sacred Valley Community Service Project and Qechua Homestay
Adios team will pickup from hotel and drive about 1 h/30 m to local village where you will assist farmers and village leaders with designated projects as determined by the village leaders. Qechua communities have hundreds of years of experience in collaborating. They are the best role models for learning how to: identify and prioritize problems, find most effective solution for issues, work around scarcity of resources, operate together effectively, manage authority, and determine work responsibilities.
Accommodations will be in private rooms with beds with linens.  Shared bathrooms with plumbing.  May or may not have hot water.
Day 4 - Qechua Community Service Project and Pachamanca Celebration Meal
Continue with projects which may or may not result in completion.  Share Pachamanca community meal with Qechua families who prepare an "earth oven" to cook vegetables and meats with herbs and spices. Say farewell and continue by van to the village of Ollantaytambo where you visit the prominent ruins overlooking the Sacred Valley. These ruins are the last Inca stronghold when Emperor Manco defeated the Spanish in a famous battle in 1536. Drive to your hotel for checkin.  Walk to local restaurant for dinner. 
Day 5 - Hike 1 Day Inca Trail to Machu Picchu
This will be your most challenging day as you prepare to hike after distilling all your belongings down to 1 small backpack. After early breakfast, you walk to the station with your daypack and board an early train for 1 hour ride to KM 104.  Pass through the checkpoint to begin the 12 KM hike on one small section of one of the most famous network of trails in the world. For the next 5-6 hours you will tread in the footsteps of the ancient ones. Gradually hiking up the canyon on Inca paths and short stone steps to the ruins of Winay Wayna.  Unlike Europeans, the Incas used a road system that included steep stone steps instead of lengthy zigzag switchbacks. This reduced the amount of road building needed and was an efficient way to travel on foot with llamas who were adapted to higher altitudes in the Andes mountains. This was critical to the expansion of the empire. This system was a hindrance to Europeans and armies mounted on horses as they could not negotiate the steep steps as well as switchbacks.  Pass by waterfalls and lush landscape of the cloud forest as you make your way to Inti-Punku (Sun Gate) for your first glimpse of the famous citadel of Machu Picchu.  Descend another 45 minute to one hour stopping for photos before exiting the national park.  Board shuttle buses that run every 10-15 minutes for 25 minute ride to the village of Aguas Calientes.  Walk to hotel for checkin, then enjoy dinner in local restaurant. Box lunch included.  
Day 6 - Machu Picchu Guided Tour / Cusco
After an early breakfast, you walk to the boarding area for your shuttle bus back up to Machu Picchu where you enter with your guide for a private tour of the ruins. (earliest bus departs around 5:20 am)  Visit the guard house overlooking the agricultural terraces and then enter the main gate of the city to get up close to the temples, structures and fountains. Exit ruins followed by free time to re-enter and explore in small groups on your own.  Take shuttle bus down to meet up in Aguas Calientes for a quick lunch then walk to the station to board the afternoon train to Ollantaytambo. Our driver will be waiting to take you 2 hours by van to your hotel in Cusco.
Day 7 - Cusco / Lima / Conclusion of Program
Wind down the program will free time in the historical center of Cusco.  Expore markets, restaurants or other sites on your own before you transfer to Cusco airport for flight to Lima where you make your international connection home.  Most flights arrive US the next day.
Contact Jacquie Whitt in Virginia to arrange an appointment by phone to discuss your company's vision for the ultimate team-building travel experience.  
757-714-6649
Looking for an adventure?