Peru 2017: Teacher Strike Update
August 29 Update:  
At this time the teacher strike has tapered off and is not affecting travel to Machu Picchu. Since the new rules for half day entry tickets went in to effect on July 1, the biggest delays are the waiting line for shuttle buses from Aguas Calientes to Machu Picchu main entry.  Go to MACHU PICCHU HALF DAY ENTRY TICKETS for more information 
It's important to understand that labor strikes and protests are part of the political landscape in Peru. If a group wants to transmit a message to the Peruvian government, it's an acceptable practice to organize a public protest.  Strikes can pop-up with very short notice. Sometimes as little as 12-24 hours, or without any notice at all.  Strikes can last for 1 or 2 days or sometimes several days.  In the case of the teachers, this protest about wage increases has been going on since mid-June.
There is no greater way to get the attention of your government than to restrict or cut off the flow of money into it's pocket.  It is not uncommon for groups in Cusco and the Sacred Valley to disrupt access to Machu Picchu in order to enhance leverage or get attention of the Peruvian government for their cause.  Thanks to the experience of Vidal Jaquehua, over the years, we have developed strategies to prepare for, and work around marches and protests. 
How protests affect tourism in Peru:
creates congestion in the city center and curbs interest in dining, shopping or exploring museums 
complicates movement of tourists trying to get to/from Machu Picchu
deters future tourism in Peru due to worries about violence or trip interruptions
taxis and buses used for tourism can become potential targets for vandalism (rare but possible)
safety of guides, drivers and locals who accompany travelers 
Teacher Strike Begins Mid-June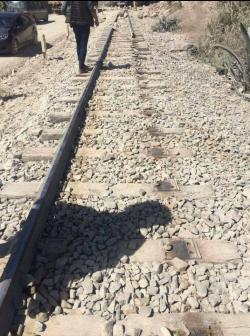 Around the middle of June 2017, Peru public school teachers went on strike to protest low wages.  Schools were closed and groups of teachers marched around the main plaza in Cusco and sometimes blocked traffic to main roads.  Protests continued in other places around the country into July, joined by opposition groups for the new Chinchero airport and by parent supporters.  The size of protests swelled, causing ongoing problems for tour operators and hotels who were trying to maneuver their guests around the demonstrations to get to Machu Picchu and other places around the country. Railway tracks between Ollantaytambo and Aguas Calientes were vandalized around July 12 causing 2 days of trip interruptions for travelers trying to take trains to and from Machu Picchu.
Perurail Service Stopped for 2 Days
Visitors to Machu Picchu who were able to hike with their bags, could choose to walk out 3 hours through the (flat) jungle route around the back side of Machu Picchu, to Santa Maria, where they could access local transportation for an 8 hour bus ride back to Cusco.  Those who couldn't or didn't want to walk out, stayed in Aguas Calientes and waited for train service to be restored.  In some cases, plans had to be changed.  Still the teachers continued to strike.  And train service was restored.
Mid July 
By the middle of July, rumors and threats of protests, road blocks and marches were the curse for all operators attempting to get their groups to and from Machu Picchu.  At the mere hint of a pop-up protest, logistics managers were moving groups of tourists a day in advance, or as early as 4-5 am, to avoid delays, even if the rumors turned out not to be true.  The teacher strike was becoming a way of life.  And whether or not rumors about road blocks and protests turned out to be true, operators had to be responsive or risk stranding tourists.  
The Peru government agreed to wage increases beginning the next school year in March 2018.  Yet, the teachers refused to return to school, and asked for higher wages to be implemented immediately as they approach the mid-year break around the end of July.  Schools have been closed for at least a month and if not resumed soon, it's possible that the school year will be lost.  As of July 24, the Peruvian government reported that if teachers do not return to work their pay will be suspended.  Up to now they have been receiving pay checks.
Has Anyone Not Been Able to Make it to Machu Picchu Because of the Teacher Protests?
All of our groups made it to Machu Picchu. And I'm not aware of anyone who was not able to get there at all. We had 2 groups who were delayed getting out by 1 day when the Perurail service was interrupted on July 12 and 13.  Vidal Jaquehua who coordinates all our logistics in Peru, has received some incredibly favorable feedback about his dedication to assisting our groups when interruptions occur.  He and his team have changed flights, hotels, trains and rearranged itineraries.  This kind of travel assistance is one advantage of booking a trip with a reliable tour operator.  It seems that things have calmed down now and protests that interrupt travelers are rare.  But good operators will maintain vigilence in monitoring local rumors. 
What is the Status of the Teacher Strike Now?
July 21 Update - a state of emergency was declared in Cusco, Wanchaq, San Sebastian, Machu Picchu and Juliaca districts and is valid for the next 30 days.  This means that constitutional rights including the freedom of assemply have been temporarily suspended. People are not allowed to hold protests, block roads and interrupt travelers. Activities in Cusco are almost back to normal. Police are enforcing the restrictions to prevent public marches and other interruptions to daily life. 
August 10 - Lima is now the center of negotiations and President Kuczynski has set up a meeting with teacher delegates on Thursday Aug 10 at 11 am at the Government Palace.  Over 15000 teachers are expected to arrive in Lima and San Martin Plaza should be avoided as this area will be congested because teachers will congregate. 
August 11 - Teachers in Cusco marched into the Plaza de Armas carrying white balloons to celebrate the end of the strike and the completion of the agreements with the Peru government.  Classes will be restored on Monday, August 15.
General recommendations for travelers going to Machu Picchu
If you have the flexibility to add a buffer day on the front and back of your trip to Machu Picchu, this will allow you to make last minute changes. This should not be a problem for people traveling to Cusco at least 5 days or more.
Find out if your hotel or local guide service will advise and assist you in case you need to make last minute changes 
Buy travel insurance. Review the terms to ensure you can get reimbursed for trip interruption expenses due to strikes and protests. 
---
If you would like assistance with your trip, or have questions  Click here to send me an email.
Looking for an adventure?