How Many Days Should You Spend in Machu Picchu?
After traveling sometimes several days by air, train, bus and even on foot to get to Machu Picchu, you want to make sure you have enough time to visit and explore the ruins. Most visitors exert a great deal of effort, not to mention expense, to get to the middle of nowhere in the Andes Mountains.  How much time should you spend inside the ruins?  Should you go 1 day, 2 days or longer?  The first thing you need to know is that it takes about 5 hours to get to Machu Picchu from Cusco. (this is by train and it's the fastest route. It's not possible to drive directly to Machu Picchu. Read more about driving)
The Answer: 2 days / 1 night is ideal for most people going by train or on foot
Here's why: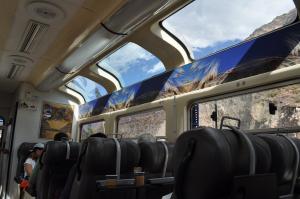 From Cusco, the average travel time one way to the main entry of Machu Picchu is 5 hours:
2 Hours - Cusco hotel to main train station in Ollantaytambo (over 2-lane paved roads through rural communities in the Sacred Valley)
2 Hours - Train ride through Urubamba Valley to Aguas Calientes (Machu Picchu Pueblo) station
5 Minutes - 2 Hours - Waiting line for shuttle bus service from Aguas Calientes to Machu Picchu main entry
30 Minutes - Shuttle bus ride from Aguas Calientes to main entry Machu Picchu (buses run every 10-15 minutes and wait times vary from couple of minutes to couple of hours
2 - 60 Minutes - Restrooms at main entry (these are the only restrooms at the ruins)
2 - 30 Minutes - Entrance to Machu Picchu
What's the biggest obstacle to overcome to get to Machu Picchu?
Each morning, the wait line for the shuttle buses can be 1-2 hours or more from Aguas Calientes to the main entry of the national park.  The line has been known to stretch from the bus stop near the railroad tracks up to the top of the village.  The Peruvian government has stated that it has no intention of providing more buses to ease the congestion, because of the environmental impact.  (nevermind the impact from doubling the number of visitors per day since July 1, 2017!) Based on feedback from our guides who enter the ruins frequently, we have come up with a general estimate for wait time.  Machu Picchu Open Hours - 6 AM-5:30 PM every day of the year.
Average waiting time going up from Aguas Calientes to main entry of Machu Picchu:
Early AM - long lines 1-2 hours / 4:30 - 6:30 am is busiest. From 6:30-7:30 the line is shorter, maybe 45 minutes. Then the train arrives and the line gets long.
Late AM - short lines less than 30 minutes
Mid-day - short lines less than 30 minutes
Average waiting time coming down from Machu Picchu to Aguas Calientes:
Mid-day - short lines less than 30 minutes
Mid afternoon - long lines 1-2 hours
Late afternoon - short lines less than 30 minutes
Once inside the ruins, you select the best circuit for your visit.  There are 3 main routes to choose from.  Each route offers a different level of difficulty to meet the needs of visitors with a wide array of physical abilities.  The Inca built the ruins with uneven stone steps, ledges and terraces in mountainous terrain. There are no modern structures, conveniences or amenities inside the citadel.  This includes handrails, guardrails and other modern protection from falls that are possible due to the nature of the site and its location.  For safety reasons, Children should be under the control of adults at all times.  
It is not possible to bring in strollers, wheelchairs or walkers.  Visitors who cannot walk without assistance should not plan a trip to Machu Picchu.  Trekking poles with rubber tips are permitted and we can provide poles on request.  
Link to up-to-date Machu Picchu NEWS 
How much time CAN you spend inside the ruins?
Once you have entered Machu Picchu, the guided tours will last about 2-3 hours and will conclude at the exit gate. Rangers are located throughout the park to direct people to stay on the marked paths moving in one direction only. Your entry tickets may entitle you to enter again on your own, in which case you can go back to the main entry and begin the process of waiting in line to enter again. Visitors can buy tickets for multiple entries on the same or different days. (it's best to buy tickets in advance) There are 3 main entry times:
6 am - 12 pm (1st shift) 152/s. Adults (About $47.50 USD) (As long as you don't leave the park to use the restroom or get refreshments, they are not able to enforce the 12 pm deadline to exit)
12 pm - 5:30 pm (2nd shift) 152/s. Adults (About $47.50 USD)
1 pm - 5:30 pm (Vespertino - afternoon entry) 100/s. Adults ($31.25 USD)
Inca Trail hikers - 4-day hikers arrive in the morning and can stay for guided tour before returning to Cusco. 2-day hikers arrive afternoon, but will not enter the city. They are entitled to go back the next day for a guided tour in the morning 1st shift.
How much time SHOULD you spend inside the ruins?
The answer to this questions varies, but generally speaking, most people complete 1 round on tour with their guide, and if there is time, they may re-enter again on their own. Both visits can be concluded in one shift. (Morning shift 6 am-12 Noon / Afternoon shift 12 Noon-5:30 pm) This is enough for most people. Unless you're on the short 3-Day Machu Picchu Express Tour, by the time you get to Machu Picchu you will have seen Inca ruins in Cusco, Inca ruins in the Sacred Valley and if you're hiking?  Guess what?  More Inca ruins!  They are everywhere.  For families traveling with children, they can reach the point of "ruin fatigue," which is exactly what it sounds like.  Lack of interest in ruins resulting from excessive or prolonged exposure.  After several visits all ruins tend to look alike. Unless you're doing your PHD on engineering practices of ancient Inca, most visitors are satisfied with 1 or 2 visits during 1 shift.  
Do you have to hire a guide to enter the ruins?
Although the new rules state that you do, it is not being enforced.  Get more details about 1-Day Guide Service Click Here
Should you spend the night in a hotel near Machu Picchu?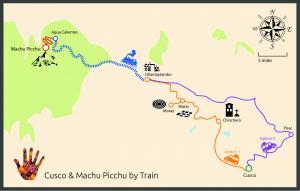 Although a 1 - day trip from Cusco to Machu Picchu is feasible, it's brutal test of travel tenacity to endure all the transitions beginning with the transfer by vehicle from Cusco, the train ride, the bus ride and the standing in line for the restroom as well as standing in line to enter Machu Picchu. Not to mention walking up and down through the ruins. With the new half-day shifts, it doesn't make sense to buy a morning ticket if you're doing a 1-day trip to Cusco.  By the time you enter, it will barely leave enough time to complete 1 circuit at most.  For the 1-day trip, it makes sense to buy the afternoon ticket and visit from 12 pm - 5:30 pm.  But we recommend an even better option.Take the train to Aguas Calientes the day before you want to visit and spend 1 night in a hotel and then get up early to take the shuttle bus to the main entry for 6 am opening.  
Another option if you want to skip the morning visit when it's most likely to be congested, is to take the morning train from Ollantaytambo to Aguas Calientes, have a quick lunch in the village, and visit in the afternoon.  After the visit, take the shuttle bus to Aguas Calientes and overnight in a hotel.  The next morning enjoy breakfast at normal hours, then sashay over to the station for the 8:53 AM train to Ollantaytambo.  The pace will be more enjoyable and you'll have better chance of avoiding the ruins when it's most crowded. One night is plenty unless you plan to return to Machu Picchu for a second day.  
How to spend more time in Machu Picchu
Let's say you know for sure you want to spend more time in Machu Picchu. For some travelers, there's no reason not to. After July 1, 2017, the new time limitations kick in with morning (6 AM-12N) and afternoon (12N-5:30 PM) shifts. Anyone can buy both morning and afternoon tickets on the same day. Visitors in the morning may want to add on one of 2 hikes that begin inside the National Park. The most popular, and the one that sells out weeks if not months in advance, is Huayna Picchu. The other is Machu Picchu Mountain. Here's a link to compare the two hikes.
Or buy Machu Picchu entry tickets for the afternoon on day 1, then stay the night and buy entry tickets for the morning on day 2, returning to Cusco in the afternoon.
If you are on the ball and manage to snag a coveted ticket to hike Huayna Picchu, the park will allow you additional time to explore the ruins.  It's much easier to get tickets to hike MP Mountain, because they rarely sell out. This hike also comes with the added benefit of more time to explore the ruins.  
Reasons not to spend more than 1 night in a hotel in Aguas Calientes
If your goal is to see Machu Picchu, it can be done at a reasonable pace with 1 overnight in a hotel in Aguas Calientes.  Most people agree that there is no compelling reason to spend any more time than necessary in Aguas Calientes.  As the closest modern human settlement near Machu Picchu, Aguas Calientes, or Machu Picchu Pueblo, has just enough infrastructure to call itself an urban setting.  There are hotels, restaurants, cafes, bars, a soccer field, a market (strategically located at the entry to the train station) and the train station.  Otherwise, there are no cars, no entertainment, no swimming pools, (unless you want to include the local hot springs for which the town was named.  Small stone-lined pools are strategically located at the top of the village and surrounded by lush semi-tropical vegetation. I find the natural setting more enticing than the pools.) As long as you keep your focus on Machu Picchu, the rest will hopefully become a blur, soon forgotten, until someone forces you to jog your memory by asking you what hotel you stayed in.  
One might assume that a world-class ruin should be surrounded by stunning resorts and commercial establishments worthy of being in the shadow of "The Great One."  But that is simply not the case.  For sure you will be safe, and your basic comforts will be met and there's no need to go hungry.  But if you expect TVs, spas and the best restaurants, you will surely be dissatisfed.  Keep your eyes on the prize.  That prize is Machu Picchu.  And you will not be disappointed. 
The Machu Picchu trip-of-a-lifetime for people with an unlimited budget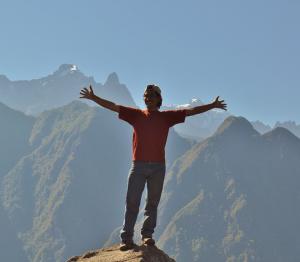 If you happen to be lucky enough to fall into this category, there is a way to maximize the pleasure of your trip to Machu Picchu as well as separate yourself from a bundle of cash. Book the Belmond Sanctuary Lodge, the only hotel located on the front steps of Machu Picchu. If not available, then head down to the village and go slumming at Inka Terra 5* luxury hotel.  Both hotels provide all your meals as well as luggage service to and from the train station. ("luggage" means your overnight bags.  Your excess luggage will be stored at your hotel in Cusco or Sacred Valley) Arrange for a guide to accompany you inside the ruins for a private tour. Buy both the morning and afternoon tickets to ensure you have enough time, although there's nothing wrong with scheduling time to be in your luxury hotel to enjoy the amenities.  And top off the trip by booking the Hiram Bingham Luxury Train service departing Aguas Calientes at 5:50 PM for an evening of old-school dining elegance.  
Looking for an adventure?