1-Day Guide Service to Machu Picchu
Click Here to get the latest information about the NEW RULES for entry to Machu Picchu After Covid-19
Adios professional, licensed guides live locally. They speak English and are experts on local history, lore and culture. Scroll to bottom for information about booking our guides.
What is the status of the regulation that states you need a guide to enter Machu Picchu?
The new regulation (released in 2018) that requires visitors to hire a guide for entry to Machu Picchu is not being enforced. There are simply not enough guides available. Don't worry about hiring a guide. Just go. There would be an uproar of momentous proportions if people showed up without a guide and were not permitted to enter. When you check in to your hotel in Cusco or Sacred Valley, ask about the status of this rule as I'm sure that eventually they will want to enforce it. But not today or anytime soon.
Restricted Access to 3 Historical Monuments at Machu Picchu
Park authorities have limited access to Intihuatana (Sundial) from 7-10AM, Kuntur Wasi (Temple of the Condor) from 10AM-1PM) and Inti Wasi (Temple of the Sun) from 1-4PM. For people who want to set up a plan to include comprehensive guided tours with all 3 structures, and perhaps Sungate and easy 1-Day Inca Trail hike.

Here's a link to more information. Restricted Access to Historical Monuments.
Machu Picchu "Pick-up" Guides.
The cost of a "pick-up" guide found standing at the main entry of Machu Picchu will usually be cheaper than pre-arranging a trained professional guide. Pickup guides are supposed to be licensed and should carry official identification. Seasoned, experienced guides will not be found standing at the entry to Machu Picchu. These guides live in Cusco and they are booked in advance. At the end of this post I've included info about rates.
What to Know About Pickup Guides.
If a pickup guide at the main entry tells you that the guided tour is limited to 1 hour, please do us all a favor and walk away immediately. The new hourly entry tickets affect the entry time only, not the amount of time inside. If a guide is trying to limit tours to 1 hour so he/she can get back out front to hook up with another group, I wouldn't hire that guide. I truly support local guides, porters and drivers earning living wages. But this is deceptive. I could see offering people a different rate for a short guided tour or higher rate for a long guided tour. And maybe someone will figure that out after the new system has some time to settle in. When we set up guide service, Adios guides will serve 1 group per day maximum. Their tours are an average of 3-4H. 
Machu Picchu entry tickets are valid for one entry only.  Whether it's guided or not is immaterial.  (click here to get more details)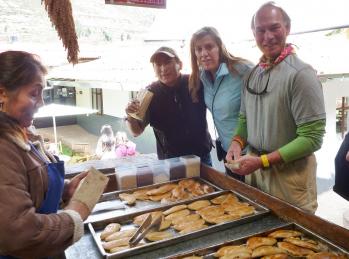 The biggest obstacle to entering Machu Picchu is not what you think:
Your biggest obstacle to getting in to Machu Picchu is not the lack of guide service or problems with tickets, it's the shuttle buses. Since the new hourly entry tickets have been implemented, we have noticed that you can wait up to an hour to board the bus in either direction during busy season. If you don't mind walking back to the village you could buy 1-way bus ticket up to Machu Picchu and walk back (about 1 - 2 hours) to Aguas Calientes. It's ridiculous that the Peruvian government went to all the trouble to set up entry tickets that will more than double the number of visitors per day without adding additional shuttle buses to transport those people back and forth between the village and the entry to the citadel. Their stance is that they will not bring in more buses because of the negative environmental impact. 
With the change to entry tickets in 2019 being sold on the hour, we have seen long waiting lines for buses. But the bus agents are now only letting people board the bus if they have tickets for entry within the hour. Machu Picchu authorities have stated they will work the the bus company to make sure people have timely and reliable transportation between Aguas Calientes and the main entry. One thing we do know is that visitors can enter any time after the time stamped on their ticket. You cannot enter even 1 minute earlier.  It's to your advantage to buy a ticket for entry earlier than you need and then show up and enter when you get there. Our guides report that as long as you enter after the time on your ticket (and before 12N if it's a morning ticket!) you can get in anytime.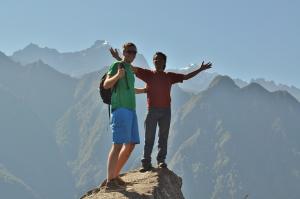 The regulations about having Guides for the hikes state that:
Visitors with tickets to hike to Huayna Picchu are not required to have guides during the hike.
Visitors with tickets to hike to Machu Picchu Mountain are not required to have guides during the hike.
Finding Guide Service at Machu Picchu:
New hourly entry tickets in 2019 and 2020 affect your entry time only. Once you're inside the citadel, a good guided tour should take about 2 hours. (Adios guided tours can take up to 4 hours because they are more thorough. We do not use "pickup" guides)
There are local guides standing at the main entry for immediate hire. English skills can vary. Guided tours take 2-2.5 hours depending on the circuit you choose and your pace. The more groups they guide, the more money they make. Ask how long the tour will take before you agree. 
During the guided tour, re-entry is not allowed. (the only restrooms are located at the main entry and should be visited prior to entering the citadel. Follow this link to get more details about restroom situation at Machu Picchu)

In case there are no guides available, visitors are still permitted to enter. (although new rules state that all visitors must be accompanied by a licensed guide, it is not being enforced)
Average cost to hire pickup guides at the main entry: (guides will determine their own rates and these are subject to change without notice) Experience and training will vary. 
$60 USD - 1 or 2 people
$25 USD pp for 3-5 people
$15 USD pp for group of 10 (maximum group up to 20 people)
How to Hire an "Adios" professional, licensed, English-speaking guide for your visit to Machu Picchu: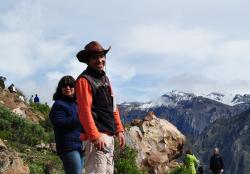 All groups who book multi-day trips that include a visit to Machu Picchu include the services of our licensed guides.
Adios guides can accompany you on hikes to Sungate, Inca Bridge, Montana and Huayna Picchu on request depending on the type of entry tickets you have.
Having a great guide can make a difference in having a satisfactory trip and a Great Trip. Our guides are your advocate for solving problems and providing advice. Our guides live in Cusco except Ishmael who lives in Santa Teresa and travels back and forth on hidroelectric train.
For 1-day guide service, our guide will meet you at the train station or your hotel in Aguas Calientes. If you're staying in Cusco, we'll arrange for the guide to come and meet you at your hotel lobby for a briefing. (midday or afternoon entry is best. There's not enough time to travel from Cusco on the same day as the morning entry. The earliest they can get to AC is 6:45AM)

Service is subject to availability and is best arranged in advance

Cost covers guide wages, and travel expenses to and from Cusco

Guide service beginning from Cusco can be arranged on request

Other guide services including Cusco Walking City Tour / Cusco Historical Outskirts Tour / Sacred Valley Tour, can be arranged on request
Cost for private Adios guide per group in USD: $212 (up to 5 people)  
Please provide the following information to make a reservation in advance:
Date of service required
Entry time for your Machu Picchu ticket
Name of hotel including name the reservation is made in, or train arrival information. 
Name of group leader, age of each person and number of people in the group
Contact Adios US Office to make full payment.  All major credit cards accepted.
Looking for an adventure?