1-Day Guide Service to Machu Picchu
What is the status of the regulation that states you need a tour guide to enter Machu Picchu?
In 2022 announcements were posted on the official Machu Picchu government website recommending that visitors should hire a tour guide for entry to Machu Picchu. The reason is because people misunderstand many of the new and ever-evolving regulations at Machu Picchu. And the various circuits can be confusing with upper and lower. There are now 5 circuits (including circuit 5 for Inca Trail hikers/) I'll just be honest that if the public can't understand your regulations, maybe you need to cut back a little? But that's just my opinion. If you're able to figure out the logistics to get your trains, hotels and tickets on your own, you should be OK to manage the tour of Machu Picchu on your own. Although I do think there is value in having a tour guide to share the history and stories of the Inca culture responsible for creating this ancient masterpiece. Not to mention how helpful a local tour guide can be to navigate the one-way circuits without missing anything. There are sad stories of visitors who somehow made a wrong turn and mistakenly ended up at the exit prematurely. Thre's no forgiveness for this blunder.
Adios professional, licensed guides live locally. They speak English and are experts on local history, lore and culture. Scroll to the bottom for information about our guides. If you need all-inclusive 1-day service to Machu Picchu, including the tour guide, train tickets, bus tickets and train station transfers, send an email with the number of people in your group, their ages, and the date. We'll send you a quote.
Restricted Access to 3 Historical Monuments at Machu Picchu
Park authorities have limited access to 3 main historical monuments based on specific opening times and the type of entry tickets you have. Intihuatana (Sundial) is open from 7-10AM if you have tickets for circuit 1 or 2.  Kuntur Wasi (Temple of the Condor) is open from 10AM-1PM if you have tickets for circuit 1, 2, 3 or 4, and Inti Wasi (Temple of the Sun) is open from 1-4PM if you have tickets for circuit 1, 2, 3 or 4. For people who want to set up a plan to include comprehensive guided tours with all 3 structures, you will need entry in the morning and afternoon. I think a 2-day trip is the best way and can also be combined with easy 1-Day Inca Trail hike. provided you buy another entry ticket.

Here's a link to more information. Restricted Access to Historical Monuments.
What you need to know about "Pick-up" Tour Guides at the Machu Picchu main entry
Machu Picchu pick-up tour guides will no longer be found hanging around the main entry of Machu Picchu. Tour guides have now relocated near the bus stop in the village of Aguas Calientes. The extra time it takes to ride the buses will be included in the amount you pay for a guided tour. However, the cost of a "pick-up" guide will usually be cheaper than pre-arranging a trained professional guide, The entry time printed on your ticket is the window for entry to Machu Picchu, not the duration of the tour of Machu Picchu. Tours of Machu Picchu by pickup guides are about 1 hour to 1.5 hours. This is a fast tour. Seasoned, experienced guides will not be found standing at the entry to Machu Picchu. These guides live in Cusco and they are booked in advance. Machu Picchu tours done by experienced guides booked in advance will be 2-3 hours or longer if you have the stamina (and the right entry ticket!)  At the end of this post I've included info about booking professional tour guides.
Are Machu Picchu "pickup" tour guides licensed?
Machu Picchu "pickup" tour guides must be licensed and must be able to demonstrate basic skills. It's fair to say that many have emerging skills and may have just graduated from tourism school and are looking to develop their technique as a tour guide by practicing their English and public speaking on visitors who show up at Machu Picchu. Now the tour guides are standing near the bus stop in Aguas Calientes. There are still a few standing at the main entry to Machu Picchu, but most are in the village. 
Machu Picchu entry tickets are valid for one entry only.  Whether it's guided or not is irrelevant  (click here to get more details)
Why Do Machu Picchu Circuit 3 and 4 ticket holders have a separate entry point?
This is because people with entry tickets for the lower circuits were somehow managing to hike up to the upper terraces. Why were they donig this? To get the classic view of Machu Picchu! The only way to access the classic view is from the upper terraces. We wrote an entire blog post about this new emerging issue.  Park officials are now separating ticket holders at the main entry. Apparently the rangers who were strategically posted inside the park were not able to verify every single ticket holder going to the upper terraces and visitors with tickets for the lower circuits were sneaking through. Now look what you've done! You bad kids. You broke the park and now Dad is punishing you. But I think Dad did a poor job of splaining the rules. So this is what happens! On the plus side, the lower circuit tours are kind of melting together. In other words, the park rangers are not making you stay on circuit 3 or 4. However, you still can't sneak up to the upper terraces!
Are Tour Guides required to accompany visitors on the hikes inside Machu Picchu?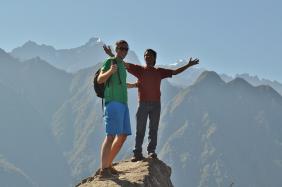 Visitors with tickets to hike to Huayna Picchu are not required to have guides during the hike.
Visitors with tickets to hike to Machu Picchu Mountain are not required to have guides during the hike.
Sungate access is not possible from inside Machu Picchu.. Hiking the Inca Trail is the only way to access the Sungate.
Inca Bridge is open and includes access to circuit 1 or 2. (Tip: in case Machu Picchu Llaqta tickets are sold out, these tickets will gain you access to the upper circuits. The hike to Inca Bridge is optional)
Finding Guide Service at main entry to Machu Picchu:
Although there may be a few "pickup" tour guides still loitering around the main entry, it's best to arrange your guide at the bus stop in Aguas Calientes
New hourly entry tickets affect your entry time only. Once you're inside the citadel, a good guided tour should take about 2 hours. (Adios guided tours can take up to 4 hours.. We do not use "pickup" guides)
During the guided tour, re-entry to Machu Picchu is not allowed. (the only restrooms are located at the main entry and should be visited prior to entering the citadel. Follow this link to get more details about restroom situation at Machu Picchu)

Machu Picchu visitors can enter without tour guides. (although new rules recommend that all visitors should hire a tour guide, you can still enter on your own)

You pay your pickup tour guide in cash. They will take US dollars or Peruvian currency. Here's what you need to know about money-handling in Peru
Average cost to hire pickup guides for tours of Machu Picchu: (guides will determine their own rates and these are subject to change without notice) Experience and training will vary. 
$80 USD - 1 or 2 people
$30 USD pp for 3-5 people
$20 USD pp for group of up to 8 people 
How to Hire an "Adios" professional, licensed, English-speaking guide for your visit to Machu Picchu:
All groups who book multi-day trips that include a visit to Machu Picchu have the services of an experienced and licensed Adios tour guide.
Adios tour guides can accompany you on hikes to the Montana and Huayna Picchu trails on request depending on the type of entry tickets you have. 
Adios tour guides can enter Machu Picchu more than once without extra cost, if you have tickets
Having a great tour guide can make a difference in having a satisfactory trip and a Great Trip. Our guides are your advocate for solving problems and providing advice. Our guides live in Cusco (except Ishmael who lives in Santa Teresa)
For 1-day tour guide service, our guide will meet you at the train station or your hotel in Aguas Calientes. 

Tour Guide service is subject to availability and is best arranged in advance

Cost covers guide wages, and travel expenses to and from Cusco and can be prepaid with a credit card

Full day trips to Machu Picchu including trains, buses, van, tour guide and entry tickets, beginning from Cusco can be arranged on request

Other guide services including Cusco Walking City Tour / Cusco Historical Outskirts Tour / Sacred Valley Tour / Rainbow Mountain, can be arranged on request
Cost for private Adios guide per group in USD: $212 (up to 6 people)  
Please provide the following information to make a reservation in advance:
Date of service required
Entry times and the types of Machu Picchu tickets you have
Name of hotel including name the reservation is made in, or train arrival information. 
Name of group leader, age of each person and number of people in the group
Contact Adios US Office to set up a private guided tour. 757-270-9293 (Text or call on What's App). All major credit cards accepted.
What do you need to know about toilets at Machu Picchu? Find out before you go! 
Link to view our recommendation for essential gear including the best water filter for traveler. I used it for 40 days without buying a single plastic bottle. We now offer a discount code. 
Looking for an adventure?