Rainbow Mountain Hike in Peru: what you need to know
It's known as the Rainbow Mountain hike.  But the Qechua people of the Andes call it Vinicunca Mountain. The Rainbow Mountain hike is ranked by National Geographic as one of the top 100 places you should visit before you die. Vinicunca is a Qechua word that means "7 Color Mountain." The colors are caused by mineral deposits that formed in layers over millions of years resulting in colored rock strata. The colors are most vibrant on cloudy days when the treeless landscape collides with the open sky to become the backdrop to a dazzling kaleidoscope of natural pigments.
The trip begins and ends in Cusco, Peru.  And because of the high altitude at Vinicunca, it's recommended that you save this hike until the end of your vacation. This allows you as much time as possible to acclimatize.  Please review all the notes below to get an idea of what to expect.
1-Day Budget-Friendly Rainbow Hike (private guide with local transport)
$118 USD pp for 2 / $84 USD pp for 4
4 AM. Our English-speaking guide will meet you at your hotel in Cusco historical center and accompany you on foot to pickup for local transportation. Ride about 3.5 hours to trail head where hike to Vinicunca (Rainbow Mountain) begins and continues for 3-4 hours.  Hike back to vehicle and drive back to Cusco, arriving your hotel around 8 pm.

Includes: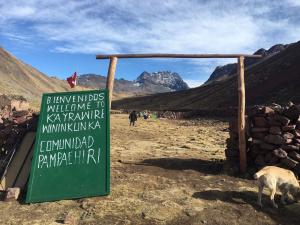 English speaking licensed guide
local transport
light snacks
Not included:
Trekking poles
Mule rental
Meals / bottled water
Hotel
Insurance
Tips
2-Day Luxury Rainbow Hike (private)
$258 USD pp (4 or more) $337 pp (2-3)
Day 01 Cusco - Tinqui - Camp
8 AM Leave Cusco; drive to the southern valley about 1 hour. Along the way we pass small Andean villages. In the village of Urcos the road ascends for 2 hours to the town of Tinqui. We begin driving on dirt roads to the tiny village of Pacchanta where we stop for lunch. Our trail chef will prepare hot meal while you enjoy the hot springs. Altitude about 14,000 ft.
The guide arranges for local horsemen (wranglers) to carry the food and camping gear. You will need to carry backpacks with personal equipment for the overnight.
After lunch you hike about 3 hours to the campsite and have a delicious homemade dinner prepared by our trail chef.  About 4100 m / 13,450 ft.
Day 02 Camp - Vinicunca Pass - Cusco
5 AM After an early breakfast, the hike takes an average of 3 to 4 hours to Vinicunca pass
(5020 m /16,470 ft)
Here is were you see colorful layers of rock sediment; turquoise, oranges, browns and reds.
If it's a clear day you can see Ausangate Mountain.
 

There is time for photos and rest before we hike back down the hill for an average of 3 hours.
At the camp, our chef will have lunch ready and we drive back to cusco arriving by 6 pm
 
Includes:
private transport and driver beginning and ending from your hotel in Cusco
English-speaking guide
trail chef and 3 meals (dinner breakfast lunch)
camping gear (tent, mattresses, sleeping bags, cooking equipment)

1- Day Superior Rainbow Hike  (private)
$157 USD pp (4 or more) $247 USD pp (2-3)
Our guide and driver will pickup at your hotel in Cusco at 3 am to begin drive for approximately 3 hours to the trail head at Vinicunca Pass. We begin hike for 3-4 hours.  Hike back to vehicle and drive back to Cusco, arriving your hotel around 8 pm.

Includes:
private transport and driver
breakfast in the car
English-speaking guide
box lunch
Notes:
best time to go is in dry season from April through October. (trail can be muddy during the rainy season)
option to stop for a dip at the thermal hot springs.
horses can be rented. (but we cannot guarantee availability. Cost not included)
because of the high altitude, it's best to schedule this hike at the end of your trip to allow you extra time to acclimatize.
pickup from hotels in Sacred Valley are not convenient for doing the 1 day hike.
it's possible to rearrange the itinerary so you sleep at lower elevation on the 2-day hike.
there are no hotels or lodges available for overnight on the 2-day hike.
To make a reservation:
Send email

or call or text our US office 757-714-6649 
Let us know your preferred dates and we will confirm availability for guide service
Tell us how many people are in your group and their ages
Give us the name of your hotel in Cusco and the date of your arrival
Pay 30% deposit (can be cancelled up to 14 days prior to arrival)
 Contact our US Office if you have any questions.  757-714-6649
Looking for an adventure?