What is the Cost of a Trip to Machu Picchu?
If you're contemplating a trip to Machu Picchu, we've listed the real costs,  Including flights, hotels, guided tours, ground transportation and meals. Here is the break down of the cost of a trip to Machu Picchu based on minimum of 2 people sharing a hotel who self-book everything. Followed by a detailed description of each individual expense. Luxury travelers can expect to pay more for hotels.  On average about $400 - $700 per night for double room.  All values are expressed in US dollars.
Find out how to setup Layaway payments for your trip to Machu Picchu
In 2019, the Peruvian government changed entry tickets. The new rules affect every visitor to Machu Picchu. Follow this link for more info

$2022 USD per person total cost (based on double occupancy & including flights)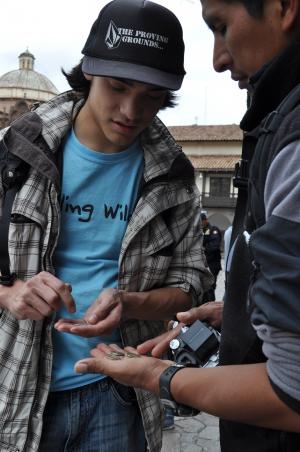 Here's what each person can expect to pay for the average 7-day trip to Machu Picchu: (updated 2019)
Budget - friendly trip:  
$700 or more international flight (low estimate)
$275 domestic flight (Viva and Sky Airlines have budget-friendly rates / Latam and Avianca Airlines have higher rates but offer more flights and best reliability)
$330 3* hotels for 6 nights (not including hotel in Lima)
$170 RT train tickets
$180 RT transfer from Cusco to Ollantaytambo train station
$50  MP entry tickets (same cost for morning 6 am-12N or afternoon 12N-5:30pm)
$24  Shuttle bus round trip
$210 lunches/dinners/bottled water
$70 gratuities (7 days)
Optional expenses per person based on minimum of 2:
$50 per day private guide service (based on 2 people sharing)
$50 Turistico Boleto (tourist ticket book for entry into secondary archaeological sites)
$100-$200 transportation to Sacred Valley to visit archaeological sites)
$80 travel insurance
$100 personal spending
$100 cost of 1 night hotel in Lima airport if your flight arrives late evening
Click here to compare to the cost of a 7-Day all inclusive trip
(does not include flights)
International Flights:  
Possibly the single most expensive part of your trip.  (unless you plan to overnight at the Sanctuary Inn at Machu Picchu). All flights go through Lima, Peru for now.  (except Avianca Airlines has 1 flight per day from Bogota to Cusco. And Latam Airlines has 1 flight 3 days a week from La Paz to Cusco. subject to change) Search for flights from your nearest airport as well as "hub" cities like Washington DC, LAX, Paris, Madrid or Hong Kong for best rates.  Use search engines like Kayak, Expedia or Orbitz.  Pay with points, frequent flier miles or cash.  We've seen roundtrip flights to Lima on Delta airlines from BWI for $645 pp. Also check Avianca and Copa Airlines from LAX or DC.  It usually includes a stop in Bogota or Panama, but you should arrive in Lima on the same day. If you find a good rate for a flight, it's better if you try to book it directly on the airline website if you can find the same rate.  Rates can vary from $545 pp to $1500 pp for economy class tickets.
Tip:  if you use credit cards, choose a card with benefits that include points for every purchase. Points can be transferred to hotels or airlines. (we use Chase Ink Business Plus or American Express Platinum cards which offer benefits to offset the annual fees)
Domestic Flights:
It's necessary to fly from Lima to Cusco and ultimately back to Lima (unless you plan to travel overland to other destinations). It's not possible to book flights to Machu Picchu directly. Cost varies, widely sometimes, from $300 USD pp for roundtrip flights on LATAM or AVIANCA airlines, to $200 USD pp for roundtrip flights on Viva or Sky Airlines. Note that local airlines are now charging extra for checked bags, assigned seats, and even printing boarding passes. There is no train service. Bus service is mostly used by locals.  It's over 20 hours on 2-lane mountainous roads. (Click here to see our recommendations for booking flights. And how to avoid mistakes!

Hotels Lima:
There is one hotel at the Lima airport. The Costa del Sol Wyndham Hotel is conveniently connected by skybridge and is only a couple minutes walk from the international arrivals area.  Book online and plan to pay over $200 with taxes for double room. Or try to book it on an booking.com or hotels.com. If you want to skip hotel and rough it in the airport, it is rough.  There's no place to sit or relax comfortably.  The floors are cold tile.  The lounges are on the gate side of the airport and not accessible.  If you don't want the Wyndham, there are hotels in Lima which require 45 min-1 hour transfer one way at a cost of $30-$50 each way.  Not ideal, but these are the only options right now. Here's link to info about arranging taxis in Lima.
Hotels Cusco:
If you have points, Starwood properties include Palacio del Inka and Marriott hotels in Cusco, and Tambo del Inka in Sacred Valley. (about 1 hour drive from Cusco) Ramada and Hilton have properties in Cusco as well. (Hilton is outside city center and requires using taxis to and from)  Otherswise there are plenty of 3* and 4* properties with prices that run from $60 - $150 per double room per night.  Search hotels.com or booking.com for deals. Swimming pools are not customary. Most travelers are on the way to Machu Picchu and are not hanging out in the hotels. Tambo del Inka has small pools reserved for adults getting services in their spa. Don't get your hopes up that the kids will be kicking and splashing their way to Machu Picchu!
Hotels Machu Picchu:
The gateway village at the base of Machu Picchu is called Aguas Calientes or sometimes Machu Picchu town or "Pueblo."  There is a limited number of hotels with no room for expansion. Unless you are prepared to pay $700 + per night, it's best to keep your expectations in check. Most 3* hotels don't have TV,  good WIFI coverage and certainly not pools or amenities like clocks or phones in the rooms. In the afternoons there is a mini rush of hikers coming down from the Inca Trail and the demand for hot water is temporarliy high. The cost of hotels in AC is slightly higher than Cusco. Expect to pay $80-$200 per night for a double room.  And 4* hotels will be $200-$400 per night. The Sanctuary Lodge located at the main entry of Machu Picchu will lighten your wallet more than $1100 for 1 night. 
Tip:  you can sometimes find discounted rooms at Belmond Sanctuary Lodge on Expedia, Kayak, Booking.com, Orbitz.
Trains & Tickets:
Perurail offers Vistadome and Expedtion service from:

Cusco, (Poroy station 30 minutes from city) or the main Ollantaytambo station (2 hrs from the city) to Machu Picchu (Aguas Calientes station).  The cost of RT tickets from Machu Picchu to Ollantaytambo station is roughly $150 USD pp.  

With the taxi transfer from Ollantaytambo to Cusco, add on $40 per group each way.  

From Machu Picchu to Poroy, the train tickets will cost $20-$30 pp more with longer train ride.  

With the transfer to Cusco, add on $20 per group each way.  

The Hiram Bingham luxury train is once a day from Poroy and will set you back about $450 USD pp each way.  It is recommended to take the luxury train in one direction and take a different train in the other direction.

Tip: most travelers cannot tell the difference between Vistadome and Expedtion service.  The seats, views and tracks are all the same.  However, Vistadome will serve you 3 peanuts in a lovely basket, while Expedition service offers 2 peanuts in a cardboard tray.  You can save a little by booking the Expedition service. Here's a link where you can take a virtual tour to compare each train service.
Tip during rainy season: Poroy station is closed and Perurail offers bi-modal service from Jan 1 through April 30. Service begins in Cusco which saves you on the cost of hiring a taxi to get to the train station. Book your ticket from Cusco. Follow this link to see full details.
Machu Picchu adult entry tickets for foreigners cost about $55 USD pp. Children under 8 years old are free. Students 16 and under can qualify for 50% discount, but college students with ISIC cards no longer qualify for discount. (student tickets cannot be purchased in advance because you have to present passport in person. But we can get discount because we send guide to the office with your child's passport. This works best for groups booking other services with our company.  For people who only need us to buy tickets, by the time we add our cost, you will pay about the same online for a student ticket as you do for an adult ticket)
Shuttle bus roundtrip tickets between Aguas Calientes and Machu Picchu are $24 pp Bring exact amount in cash in USD. Sometimes the cc machine doesn't work.
How does the exchange rate affect your cost?  Hotels, meals, entry and train tickets are all based on the relationship between the Peruvian Nuevo Sol and the USD.  Right now it's working in favor of the USD!  Go to Peru.  Adios Adventure Travel  works with independent travelers as well as those who need full service. Check out these 5-day and 7-day  Machu Picchu Travel packages
Adios Adventure Travel accepts all major credit cards including AMEX, VISA, MASTERCARD and DISCOVER in our US office.  There are no additional or hidden costs for paying with a credit card.  
Here's a short video that explains the best way to organize your flights to Peru
Looking for an adventure?