After Machu Picchu: your long Lima layover
You're all set for your trip to Machu Picchu. Flights. Check. Hotels. Check. Entry tickets. Check. But there may be one little thing you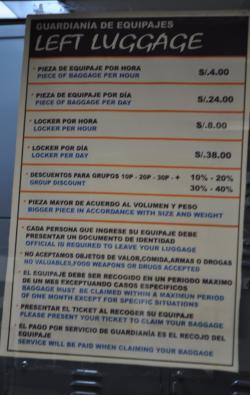 overlooked.  Your return flight home may include a really looooong layover in Lima, Peru on the last day of your trip.  It's easy to overlook the length of that layover because you've been focused on the important details and the reason for your trip: how to get to Machu Picchu. 
Link to the latest news about Machu Picchu. Did you know plastic water bottles are banned?
If you're reading this before you book your flights, we offer a few tips to reduce your long layover.  If you're reading this after you have all your flights booked, we include tips to set up things to do in Lima.
Review your International Flights from Home to Lima, Peru

Many flights from the US, arrive late evening in Lima.  There are no night flights to Cusco. You can stay on the floor in the airport or pre-book a hotel. There's one hotel at the airport (Wyndham) and it's best to reserve in advance. Other hotels are in Miraflores and will require 45 min - 1 hr transfer each way. Ask the hotel to schedule a driver to meet you.
Review your International Flights from Lima to Home
Check your flight schedule to see if you have a big gap between the time your flight from Cusco arrives in Lima until the time your international flight departs Lima.  The reason for the gap is because most international flights on US carriers depart Lima late evening/early morning.  Usually beginning around 10:30 pm until about 01:30 am, Delta, American Airlines, United Airlines and Jet Blue flights will depart.
Review the Choices for Your Flights in Peru - Avoid Booking the Last Flight of the Day
Daily flights from Cusco to Lima begin early in the morning, with the bulk of those domestic flights occurring during daylight hours. It's not as bad as it used to be. Latam airlines is pushing the limit for later flight times and has a flight that departs Cusco around 6 pm and another departing around 7 pm.  But it is quite common for most travelers to have long hours to wait in the Lima airport between their domestic and international flights.
When booking your domestic flights to/from Machu Picchu, here's a few things to be aware of:
plan to arrive and stay in Cusco the first day of your trip and don't schedule anything critical.
when you check-in for your flight from Cusco to Lima, you may not get boarding passes to continue if you have an international connecting flight.  You'll have to check-in again in Lima.  Please allow extra time. (in case you don't have long layover!)
checked bags to/from Cusco will not be checked through to your international connection and must be claimed in Lima.
airlines in Lima may not open for checkin until exactly 3 hours prior to your scheduled departure. (Delta, Jet Blue and United in particular)
booking the last flight of the day out of Cusco adds to the risk of missing your international connection in Lima if the Cusco flight is delayed or even cancelled.
Lima airport is not comfortable place to hang out for more than a couple of hours. There is no comfortable seating and until you checkin for your flight, you cannot access the VIP lounges. There is nothing, absolutely nothing within walking distance of the Lima airport. It's surrounded by industrial shipping and run down neighborhoods.
if you're continuing to Galapagos Islands after Machu Picchu, book 1-way ticket from Cusco to GYE (or UIO). Do not book Cusco to Lima separately from Lima to Ecuador.  If you book them together, the airline is responsible to rebook the 2nd leg without penalty if the 1st leg is delayed or cancelled.
Taxis in Lima and Cusco
LimaEasy website with tips about how to hail a taxi in Lima
Easy Taxi is an APP you can preload on your phone to call for service when you need it. (Similar to UBER and LYFT) You may need WIFI access to use your phone depending on the service provider you have.  Most hotels and restaurants have WIFI.  Lima airport does not.
Taxi Datum is a website where you can pre-book your service in Lima or Cusco.  You provide flight and arrival info and they will have a driver waiting for you.  
What can you do in Lima when you have long layover?
ditch your luggage for $12 per bag in the storage area next to international arrivals and head in to the Lima city center for afternoon or evening activities and dining. Plan to return to the airport at least 4H prior to your scheduled departure. It takes 1H to ride to the airport.
pre-book the Wyndham Hotel (the only hotel at the airport) or visit the walkin day spa at the hotel.  Short walk over the skybridge on the 2nd floor from the terminal to get to the hotel. Rooms are full price if places are available. There are no "day" rates and they will not allow more than 3 people per room.  
pre-arrange for a transfer in to Lima city center for a guided tour, then asked to be dropped at a restaurant to hang out until time to return to the airport.  You have to include the cost of round-trip transfer with the cost of the guided tour because guided tours normally begin from hotels in the city center. (if you don't have transfer to Lima set up, hail a taxi on arrival.  We recommend the "Green" taxis, Taxi Easy or Taxi Datum, especially if you are a gringo. 
take an early flight from Cusco and plan a full day in Lima:  skykitchen.com offers market tours and cooking classes.
to reduce your expenses at the end of your trip, skip the guided Lima tour & set up a round-trip transfer to one of the following neighborhoods:
1. Drop off at Amaz Restaurant, 5 blocks away from Larco Mar and go to the cinema or walk around. 2.   Drop off in Larco Mar where there are many restaurants and other options.  Pick you up later. 3.   If you want to walk a bit,  drop you off in a restaurant in Barranco and from there you can walk to the main plaza of Barranco and enjoy a stroll through the Bajada de Baños.  Later we can pick you up from the park in Barranco. 4.  Visit to MINIMUNDO - it´s a permanent exhibition of Lima in miniature & Magic circuit of waters featuring multicolor water fountains at night in a very pleasant walk inside a park in Lima. Both places need entrance tkts and are near downtown Lima. (Minimumdo)       (Parque de las Aguas)
Notes:
there are exceptions to the late night flights to the United States.  And to Europe, Asia & Australia. You'll find day time flights on Avianca Airlines, Copa Airlines and Latam Airlines. For international flights departing Lima in the morning it is best to fly from Cusco to Lima the day before your flight departs. The most convenient option is to overnight in the Wyndham Hotel (the only hotel at the airport) or less convenient, set up a transfer to another hotel in Miraflores.
If you plan to spend 1 or 2 nights in Lima, there are many options for guided tours & activities.
With a little extra planning, your last day in Peru can be fun (or relaxing).
Looking for an adventure?