Essential passport advice for travelers to Machu Picchu
Why is a valid passport needed to make reservations for your trip to Machu Picchu, your Inca Trail hike, or other destination in South America?  And what are your options if your passport is expired, about to expire, or you haven't applied yet?
The simple definition of a valid passport is - a government-issued document that allows you to travel across international borders.  And how can you tell if your passport is valid?  By the expiration date.  It must not expire within 6 months of your scheduled arrival date in your foreign destination.  Expiration policies may vary from country to country.  It's your responsibility to verify that your travel document meets local guidelines for every country you will visit.
Why do you need a valid passport to book a trip to Peru?
to reserve internal flights
to reserve hotels (this can be deferred for short time, but must be sent to us in order to avoid 18% hotel tax)
to get Inca Trail permits (we can work around this as long as you have an old passport in your possession)
to get train tickets
to get entry tickets to Machu Picchu
Click here to see if you need a visa to enter Peru.
Adios Adventure Travel's policy is that we will accept any passport if the expiration date is at least 6 months beyond your date of arrival for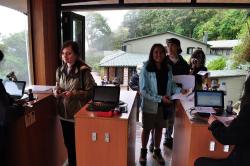 any destination we organize trips to in South America.  If you are renewing your passport, pleaset let us know at time of booking.
For a trip of short duration, 3 weeks or less, this is a conservative policy that allows time to work around problems with expiration dates.  But if you are visiting more than one country or planning an extended stay abroad, it is wise to confirm your passport is valid for your entire trip.
What if you don't have a passport or can't find your old one?
Simply put, you will not be able to reserve anything including flights, Inca Trail permits, trains or Machu Picchu entry tickets.  
Looking for an adventure?