Family Adventure Travel: taking Grandma & the kids to Machu Picchu?
Family adventure travel is the new frontier for families seeking to spice up their vacations.  All-inclusive resorts are nice places to relax, but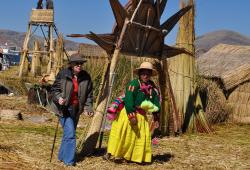 many busy, well-educated families seek more.  They want to learn something meaningful and generate lasting memories.  And they want to do it together. That's why family travel to South America is popular. 
All Ages Can Travel
It is feasible for parents, kids, grandparents and extended family members to visit multiple exotic destinations including Machu Picchu, Lake Titicaca, Amazon Rain Forest, Galapagos Islands and even Bolivia Salt Flats. How do you fuse various diversified places into one smooth trip?  Can you accommodate the needs of older adults and active children on the same trip? How complicated is it? We're here to tell you that it's not only possible, but Adios Adventure Travel is already doing it.  We are experts at crafting customized travel itineraries that meet the needs of different abilities for multi-generation families and groups traveling to South America. Our families have been on all the trips you see.  
Here's what you need to know:
Each trip is customized to the needs of everyone in your group
We guarantee our departures and travel quotes
Mix and match activities at the main attractions with hidden spots off the beaten path
We provide private, knowledgable and attentive English-speaking guides.
Our pre-departure information is personal and thorough.  We answer all your questions.
What activities can you do?
Where do you want to go?  Each itinerary can be modified to include your favorite destinations.  We know how to stack the activities to minimize backtracking and "wear & tear" on older folks, who may need recovery time between adventures.
What do you want to do?  There are many choices for hiking, biking, cooking, horseback riding, nature-based, dipping & maybe just a little relaxing in hot thermal pools, that can be adjusted to the different physical abilities of your group.
What about flights between countries?  To travel from Machu Picchu to Galapagos Islands requires an international flight between Peru and Ecuador as well as domestic flights within each country.  We can book the domestic flights for you and help you choose the best international flights.
We close the gaps.  Direct flights between multiple destinations are not always possible.  And we have mastered the details needed to make sure that every step of the way is organized so you don't have to worry.
We save you money.  It's not always more cost effective to do everything yourself.  Mainly because there may be shortcuts and options that you are not aware of.  We can set up your trips so you see more and do more, without spending more.
How do you prepare?  We provide pre-travel assistance with everything:  packing, travel documents and are available to answer your specific questions.
Happy Trails!
Got questions? Contact Jacquie Whitt or Heather Corona in Virginia 
Looking for an adventure?