Peru medical mission trip: why I chose to lend a hand
Sister Lucia leaned in close and spoke loudly, but calmly, into Aurelia's deafened ear.  The Catholic Nun asked the elderly, blind woman, in her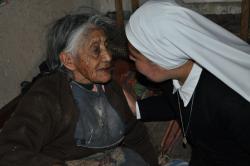 native Qechua language, if she had chronic pain or discomfort.   Aurelia touched her upper abdomen and pointed to her pain hidden by layers of worn clothing.
Our team of 3, accompanied by 2 local nuns, visited Aurelia and another elderly woman, in their homes to assess their medical needs and hopefully offer relief from chronic pain.  It was our last day of work with the medical mission in Ayaviri, Peru.  Several teams were sent to the homes of local residents unable to get out to visit the medical clinic.   Even with addresses and names, it was not easy to find the homes of our patients. I was paired with Lydia, a Peruvian doctor who spoke very little English and Erin, an American nurse.  Without translators, Erin and I were challenged to put our basic Spanish-speaking skills to the test.  At least until the nuns arrived.
If you've read my bio, you know I'm a teacher and certified in Wilderness First Aid by SOLO. Medical mission participants are not required to have medical backgrounds.  The most useful skill, in my opinion, is compassion.  And you don't have to be Catholic, but it helps if you can tolerate comments or discussions from religious viewpoints.  Being from a Quaker community and a diehard agnostic, I felt comfortable with everyone. 
Thank God there's no evangelism, or I would not have gone. Before we departed for the home visits, we walked through the make-shift pharmacy at the clinic, selecting from the remnants of drugs, medications & supplements that we thought might be useful for elderly patients.  The pharmacy had run out of multi-vitamins, adult ibuprofen and several other essential medications, so we improvised with what was available.  We saved our lunches and brought bags of rice and lentils.
Aurelia is blind.  She and her husband Teodoro, live in a tiny 1-room, typical mud-brick dwelling on the outskirts of the city center.  I guess you could call it the Ayaviri suburbs.   Mud-brick walls lined the wide, dirt streets of the same color, in the peaceful town.  Except for the parades and beep-beep of the moto-taxi horns, you could hear the sound of silence in Ayaviri.  It had a presence of its own.  It's nothing, but you know it's there.  You feel it with " your third eye."
This was my first medical mission trip.  I've been to Peru many times with special interests groups.  High school students, hikers, photographers, women, families, but never with doctors and nurses.  I've been to villages where we worked with the local people to build a mud-brick wall or a community garden or played soccer with the kids.  But a medical mission is different.
The first day we arrived in Ayaviri, Peru (12,500 ft above sea level) we settled in to our dorm rooms at the local seminary, then walked through town to the school to set up the clinic.  This was the 4th year the clinic had visited the town. We entered through a metal door into a small courtyard surrounded by classrooms where each specialty would set up.  Tents and chairs from the classrooms served as waiting rooms in the courtyard which included registration tables.  Then each person would go to a large room and wait to see a triage nurse. This was, in my opinion, one of the most most difficult jobs of the entire mission, (except for pharmacy!), because the nurses (each with a native translator) would discuss the patient's health issues and decide if it could or should be treated. 
Most complaints were not life-threatening but a couple of individuals were taken to the local hospital for immediate treatment.  Someone from our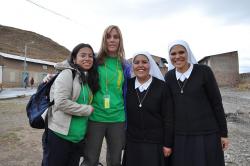 team would accompany that person to make sure they made it. It was heartwarming to get a visit from past patients whose lives were not only improved, but in a couple of cases, saved, by the actions of participants from previous medical clinics.  And Nuns from the local diocese floated in and out of our midst like angels, stepping in to help wherever needed.  There was no job too menial or tedious for them.  They knew things like where to find scissors or staplers.
The clinic offered services including dental, opthamology, gynecology, pediatrics, internal medicine, pharmacist and even hair cuts.  Everyone was a volunteer and paid their own expenses to be part of the mission.  The team was comprised of doctors, residents, nurses, LPNs, medics and non-medical helpers.  Each person was treated as a valued member of the team and I felt honored to be included. I was invited to join the team by a local nurse from Virginia Beach who contacted me to organize a visit to Machu Picchu prior to the start of the clinic.  So I joined her in the pharmacy, writing instructions and filling prescriptions. 
In spite of the planning that is done all year long, you have to expect a few surprises.  This trip was no different in that respect.  All the drugs which were collected and purchased in Peru, arrived in giant cardboard boxes.  When we opened the boxes in the classroom where the pharmacy was housed, we discovered that everything was in Spanish.  Not only would I have to learn how to group medications on the shelves, but I would have to do it in Spanish.  Oh well.  There was no time to fret about it.  We worked in to the night in our unheated rooms to get ready for the first day.
The flow of human beings coming through our little system meant that the pharmacy was the last stop before leaving.  In the pharmacy, our mornings were spent organizing and leisurely filling occasional prescriptions but by midday there would be a line of patients waiting outside our door and the pharmacy became the hotbed of activity, at times even chaotic.  And it stayed that way, heating up to a frenzy of activity that carried throughout the evening.  It was exhausting, and when my aching back acted up or my stomach growled, it only took a quick glance outside to see the throngs of people waiting to remind me that my discomfort was barely measurable compared to that of our patients.
I handled all the medical records for each patient for whom I wrote prescriptions and noticed their complaints had common themes originating from their hard lives.  "Shoulder pain when carrying loads,"  or "knee pain when herding livestock," were indicators of the life-affirming activities that must be performed.  Even when it hurt.
Our team in the pharmacy included 2 persons whose job it was to hand the completed prescriptions to the patients and verbally explain the instructions we had written in Spanish and a 3rd person who could translate to the local indigenous Qechua language. Before I left the US, I had downloaded a Spanish/English dictionary app onto my ipod.  I thought it might come in handy on the trip, but never anticipated that it would become my daily Bible.  I used it all day and every day.  We were the last to leave each evening, staying until every prescription was filled.
Dinner would be waiting in the dining hall back at the seminary which was also our only opportunity to make announcements to everyone.  "Would the doctors who are prescribing "icy-hot" packs, please stop? We're not in the US.  There are none."  Dental and opthamology services were desperately needed.  Some kinds of suffering goes unnoticed.  Gaping wounds will eventually heal, but teeth and eye problems can be ignored for long periods of time.  There were many instances where we handed out children's chewable instead of adult chewable vitamins to men and women who could not chew anything hard.  I suspect that some of those people were younger than me.
On the last day of the clinic, after we closed the front door, a family showed up asking for food.  Most of the family were barefooted and one of the women was leading a blind man with a stick.  We gave them blankets, sunglasses, toothbrushes, lentils and rice.  And hugs.  They were grateful.
How has this changed my life?  There is no doubt it's changed.  But it's a slow process.  The changes are still creeping into my consciousness.  I question my needs more.  Before buying anything, I stop and think about it.  I see perfectly useful objects being thrown away.  My new awareness causes me to cringe at my own indulgences, and perhaps judgmentally, at those of my family and friends. Because this is the life we know.  The life where we have all our physical needs addressed.  Of course we have suffering.  Perhaps our suffering comes from not knowing or seeing the suffering of others?  It's a different kind of suffering.  The suffering that comes from having access to too much.  Even our poor people are overweight.
Each day I become more thankful.  Thankful that I have access to healthy clean water, electricity and amenities like heat.  Let alone all the other benefits!  HOT water, comfortable furniture, more clothing and footwear choices than I deserve, and all the food I want. Whenever I want it. Next year I plan to return to Ayaviri in October to do what I can to help out.  If interested, you're welcome to join our team.  Feel free to contact me to find out if this kind of travel is right for you.  info@adiosadventuretravel.com
Looking for an adventure?