Less than world-class hotels at world-class Machu Picchu. Why?
Why are there so many complaints about the hotels in Aguas Calientes that serve travelers going to Machu Picchu?  It's the only town close enough to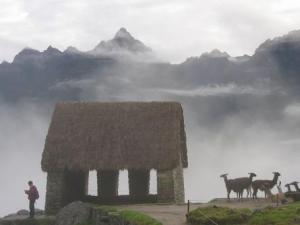 Machu Picchu to offer services for the thousands of tourists who make the trip to the mysterious & magical Incan ruins. 
Over 6000 people can enter the ruins each day.  Many will stay in the town of Aguas Calientes at least one night. The comment below, taken from an online forum about a 4 star hotel in Aguas Calientes, sums up the reasons why there are so many negative comments about MOST of the hotels in Aguas Calientes.  Expectations! "Frankly, I expected a bit more. My room actually had a semi-nice view: I just could not look sideways, since the view there was of a shanty-town. But the food in the restaurant was good - dinner was included in our rate. But there isn't much to do at the hotel: no pool, no gym."
Anyone traveling to Machu Picchu who has any expectation of hotels with views, amenities, concierge services, pools or gyms, should NOT be staying in anything less than the 5* luxury Belmond Sanctuary Lodge or InkaTerra Machu Picchu Pueblo Inn, which costs anywhere from $700-$1200 per night for a double room. Even the Sanctuary Lodge, which is the only hotel located adjacent to the Machu Picchu National Park does not have rooms with views of Machu Picchu. And there are only 2 rooms with mountain views, which will lighten your wallet by more than a grand. Pools? Gyms? Really?
On Trip Advisor website, all the 5 star luxury hotels in Aguas Calientes have an average rating of 4.5 (on a scale of 5) The Sanctuary has "the" location.  Their front door spills out to the steps that enter Machu Picchu National Park.  The Belmond Sanctuary has the service and they have fabulous food & fabulous thread count!  But the rooms are a little small and the hallways are dark & narrow.  Is is worth the cost?  You'll have to read the reviews and decide. One says, "adequate for the night," and another "excellent value." Fortunately most visitors are there to see one thing:  Machu Picchu. They only need hotels that offer basic comforts in a clean, safe environment.  It's rare to find a 3* hotel without any negative reviews.  It might even be impossible. And here's why:
The town of Aguas Calientes is one-of-a-kind. There is no other village (it's really a village, not a city) in Peru, if not the world, with such a prestigious location. Right under the elbow of a high-profile world-renowned travel destination. Visitor expectations are high. The flow of visitors to the ruins is steady every day of the year.
There's no economic incentive for hotels in Aguas Calientes to cater to the whims of travelers. Normal hotel occupancy is enough to support a family-owned hotel business, in spite of negative reviews. The hotels with the fewest bad reviews will fill up first. And those with marginal reviews will fill up last.
The majority of hotels are owned by families & real people, some of whom love their jobs, and others not so much.  There are no hotels that participate in rewards programs that allow guests to use points.
The town infrastructure is limited. Roads & other municipal services have geographical limitations. The only access to the town is by hiking in on the Inca Trail or by rail.
There is no competition.  Even if someone wanted to build a new town, there is nowhere to build.
There are no cars, taxis, vans or trucks. Building materials arrive by train & are hauled to construction sites on 2-wheeled carts or on the backs of local men.  Making improvements is expensive & cumbersome.
Most hotels don't have extensive WIFI or TV's because the maintenance is not worth the expense.  Hoteliers know that people are there to do one thing:  explore the ruins.
At some time or another, Adios Adventure Travel has booked many of the hotels in Aguas Calientes for our groups. We've whittled our list of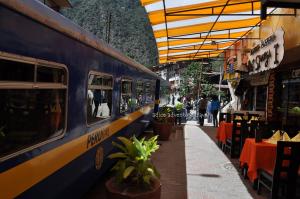 preferred hotels down to the following. Our first choice for 3* hotels are Terraza de Luna or next door Waman Hotel.  For upgrades, we like Tierra Viva, El Mapi and Hatun Inti Boutique. And for our luxury travelers, we steer them to InkaTerra, which we prefer over Sanctuary Lodge. (Some of our travelers have found good rates for the luxury hotels on Expedia and Kayak) If the hotel experience is important to you, please, please reserve, or ask your tour operator to book, a 5-star luxury hotel.  Here's a list of survival tips if you must go slumming in tourist class hotels in Aguas Calientes:
temper your expectations:  hope for clean rooms & basic comforts.  If you get more, you'll be thrilled
when reading reviews about hotels, analyze the bad reviews closely to drill down to the underlying complaint. Did the complaint have anything to do with cleanliness or safety or basic comforts?  Do you really care if the view was marginal or there was "nothing to do?"
check the date of the review. If it's more than 8-10 months old, things could have changed. Focus on the recent reviews.
plan to use the internet cafes if you need access to the internet. There are plenty & they are inexpensive
remind yourself why you're there. (Machu Picchu, Machu Picchu, Machu Picchu!)
skip the hotels in Aguas Calientes. You could stay in Ollantaytambo. It's 2 hour train ride each way & trains start at "o'dark thirty" until after my bedtime! (book early because trains sell out more quickly than other services & this will determine the flow of the rest of your itinerary)
Although we don't recommend that visitors tour Machu Picchu from Cusco in one day, it can be done if you're willing to start your day in the middle of the night. The average travel time from Cusco to the main entry of the ruins is about 5 to 5.5 hours each way. (if you have the wind at your back)
Machu Picchu is an amazing place to visit and we hope that the hotel experience is not the defining factor in your overall impression of your trip. Fortunately, Aguas Calientes is a unique situation and this is not the case with hotels elsewhere in Peru. There is healthy competition & awareness of critical reviews, that enough hotel proprietors know they have to be serious about their service. What should your expectations be for average hotels in Aguas Calientes?  As one traveler wrote in her review, "Nice enough for Aguas Calientes."
Looking for an adventure?