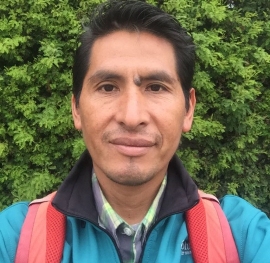 My family came from a small Qechua farming community called Yanoaca Canas, south of Cusco, at an elevation over 14000 ft /4200 m. We grew potatoes, and super grains like quinoa, kiwicha and caniwa. It's called the highlands, or "altiplano," in Spanish.  
My parents were looking for better opportunities for my 4 siblings and me, so our family moved to the lowlands in Cusco.  My mother learned how to brew chicha and my father became a builder.
We knew about ancient Inca structures all around us, but we never really cared about Machu Picchu. But one of my neighbors told me about working on the Inca Trail as a cook. And from time to time the postman delivered letters to him from former clients from far away places. All us kids were excited to see the postman and went to find the neighbor to tell him every time a letter arrived. He would get pictures from the trips he worked on. That was when I learned about Inca Trail. So I was curious to find out how it works.  
I was about 17 years old and enrolled in local law school the first time that my neighbor took me with him on the Inca Trail. I went as a porter and probably earned $30 USD.  My first day of hiking was really tough. It was the hardest thing I have ever done.  I didn't want to go to Machu Picchu. I just wanted to throw away the things I was carrying. My feet hurt and my back was tired.  I arrived at Aguas Calientes and all I wanted was a good meal.  
After a couple of trips I realized I didn't want to be used as a mule on the Inca Trail. I looked for a guide school where I could get trained and licensed.  Every time I worked as a porter I used that money to pay for guide school.
In those days, the guides were not that great and it often happened that on the hikes the guide would go in their tent and sleep after the hike. The cook would ask me to talk to the clients to tell them what to do.  So I learned to speak English. And I would talk to the foreigners more and more during the hikes.  I found a pocket dictionary and music tapes and taught myself the English language.  
Eventually I got my guide license and started working for different companies and traveled all over Peru with private groups. I started my own little company so I could work for myself and be closer to my family in Cusco.  
After Jacquie came to Peru, she started sending more groups.  Eventually we set up our own company and I did go to the US to attend Adventure Trade Shows.  This is when more people came to find out about our company.  And here we are ready to help you organize your special trip.  Just for you.